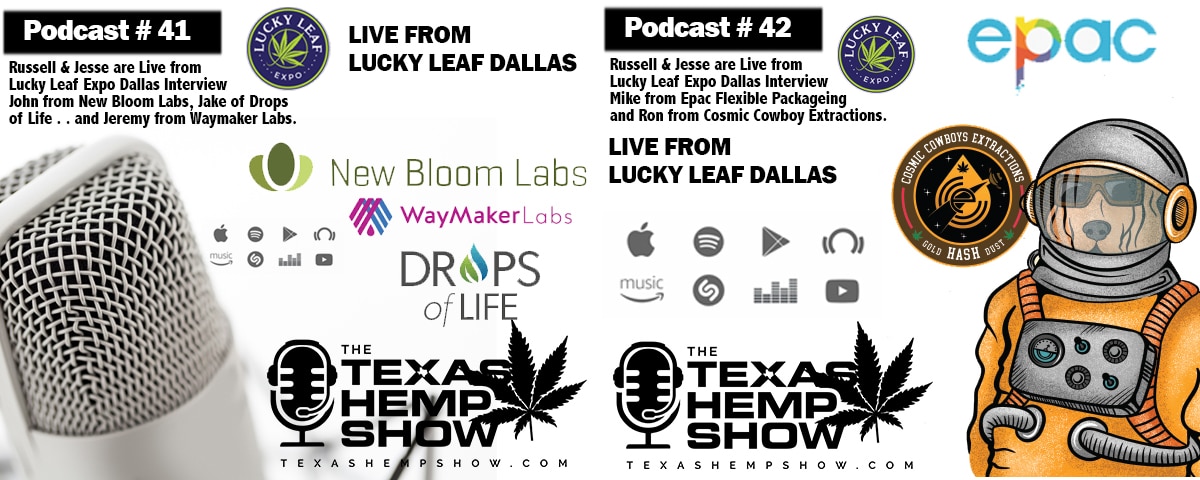 DAY 1
Jesse and Russell work the booth at the Lucky Leaf Expo in Dallas.
Several folks stop by for the podcast recording. Todd Bean from Imperial CBD Extractions, Jeremy Bigham from Waymaker Labs, John Kerns of New Bloom Labs and Jake from Drops of Life talk to the Texas Hemp Show.
DAY 2
Russell & Jesse are Live from the Lucky Leaf Expo in Dallas and the two Interview Mike from Epac Flexible Packaging as well as Ron from Cosmic Cowboy Extractions. Lucky Leaf Expo. Lucky Leaf Expo Irving Convention Center at Las Colinas. 500 West Las Colinas Boulevard. Welcome to the Cannabis/Hemp Expo in Dallas. This event focuses on everything you need to grow your business—suppliers, mechanical, attorneys, growers, distilleries, and lighting companies. The Texas Hemp Reporter was there at booth #122 in 2021.
Hey Thanks for the kind words . . I'll try to make that correction

I recommend the Texas hemp reporter ? Be seen and be heard with Russell ✌️

Hey, yall had great coverage of the event, any way yall can email me photo one of your lady photographers…

Hello Stacey, I really enjoyed your article about Shayda and Sydney Torabi at Re-Start CBD. Their cannabis knowledge, enthusiasm, and…

Aw, this was an extremely nice post. Taking a few minutes and actual effort to generate a really good article……