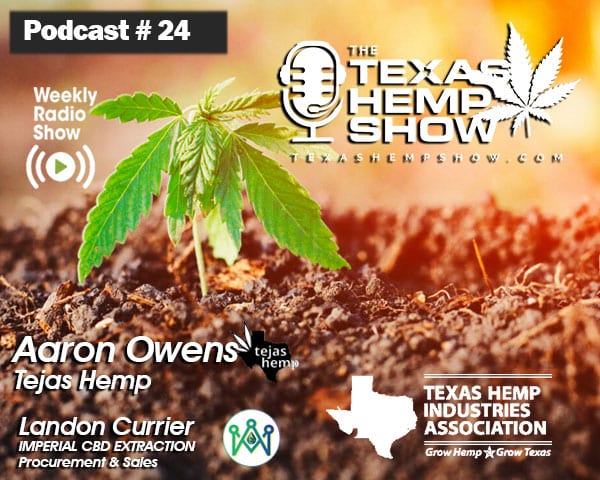 A couple of family-owned farmers on the program this week, one from California and a local Farmer here in central Texas.
Aaron Owens – The Tejas Hemp family combines these longstanding friendships and business relationships to realize our vision of providing the highest quality of Made In Texas hemp products. Tejas Hemp is a privately held corporation headquartered in Dripping Springs, Texas, just west of Austin. Visit https://www.tejashemp.com/about
Landon Currier: Procurement & Sales for Imperial CBD Extraction and is owned by Andrew and John Currier. Andrew and John Currier have over 30 years of produce and hay growing experience in the Imperial Valley and are two of the first farmers to grow hemp in the area. John Currier is currently an acting Board Member of the California Hemp and Advisory Council. Both Andrew and John Currier are active members of The Imperial County Farm Bureau. Visit https://www.imperialcbdextraction.com/our-team for more info.
Video Clip we discussed with Aaron at Tejas Hemp
Sheet from action day as discussed at end of podcast.
Hey Thanks for the kind words . . I'll try to make that correction

I recommend the Texas hemp reporter ? Be seen and be heard with Russell ✌️

Hey, yall had great coverage of the event, any way yall can email me photo one of your lady photographers…

Hello Stacey, I really enjoyed your article about Shayda and Sydney Torabi at Re-Start CBD. Their cannabis knowledge, enthusiasm, and…

Aw, this was an extremely nice post. Taking a few minutes and actual effort to generate a really good article……