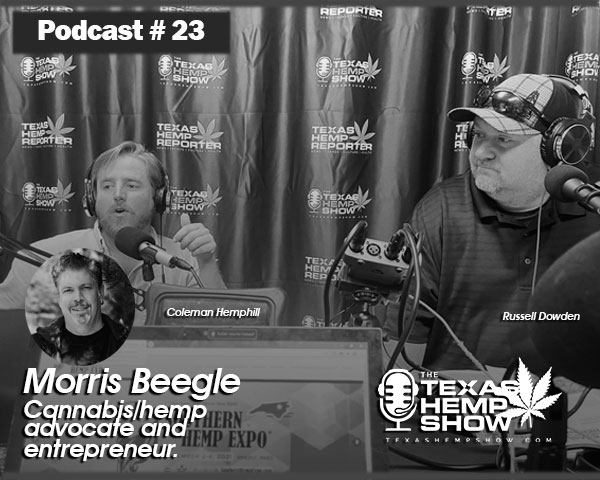 Morris talks with Jesse, Coleman and Russell about their recent visit to NOCO 7 in Denver. ( listen podcasts 21-22)
Expectations in the coming years with the Texas Market as it relates to Industrial Hemp.  Also discussed are HB 99, Texas HB 1535 by Rep. Stephanie Klick and other related bills for Hemp or Cannabis in the Lone Star State. 
Texans deserve medicine like many other states citizens who have legally made the plant available. In fact, 15 states in the U.S. have decriminalized its use. In addition, a total of 36 states, District of Columbia, Guam, Puerto Rico and U.S. Virgin Islands have approved comprehensive, publicly available medical marijuana/cannabis programs.
Texans are hoping that this current 87 Legislature at the very least expands on its current medical marijuana.
Cannabis/hemp advocate and entrepreneur Morris Beegle is Co-founder and President of the WAFBA (We Are For Better Alternatives) family of brands, including the NoCo Hemp Expo, the world's most comprehensive hemp-centric exposition, trade-show and conference, and Let's Talk Hemp Media.
WAFBA also includes Silver Mountain Hemp Guitars, maker of hand-crafted hemp guitars, cabinets and components; the Tree Free Hemp paper and printing company, and more.
Spanning education, advocacy and entertainment, Beegle engages audiences around the world through podcasts, digital and print media, radio, and live events.
More information available at morrisbeegle.com


I think the regulated cannabis industry should only be the medicinal side, where patients want and require stricter manufacturing and…

Absolutely, we need to expand TCUP and provide folks with alternative natural therapy that actually works.

This is Dan Bowling, I think I am registered for the sky to soil solutions program for January 26th at…

This is the most in your face display of Corruption ever displayed by any of the states that issue licenses…

Hey Thanks for the kind words . . I'll try to make that correction