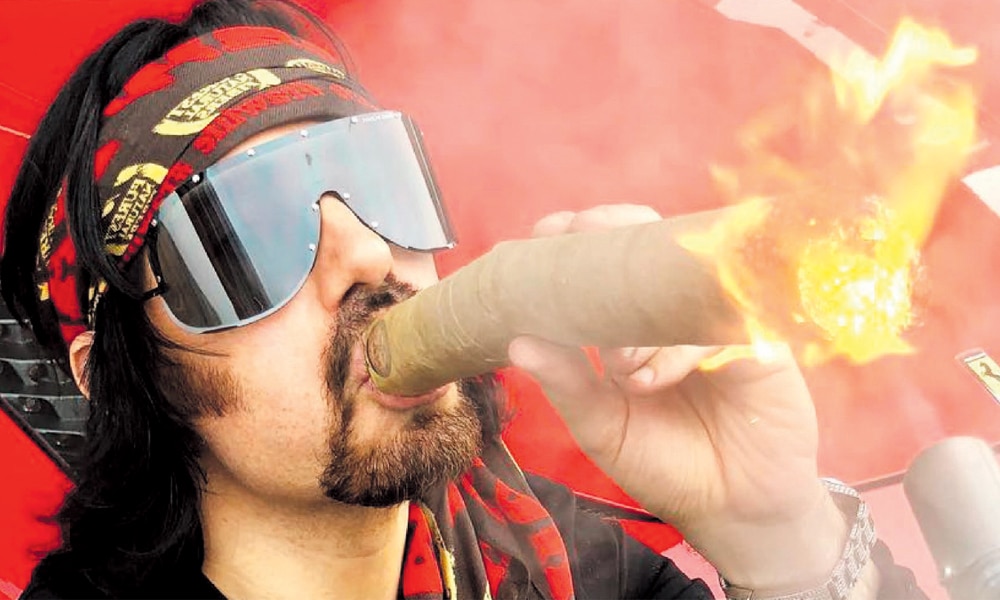 As a child Josh Kesselman would watch his father's trick- lighting a rolling paper on fire throwing it in the air and POOF! It would vanish. Josh became obsessed with rolling papers and amassed a large collection as a hobby. In college during the 90's he researched a class project of the aspects of opening a small smoke store in Gainesville Florida. "I got an A then decided hey what about really opening an actual store." Josh tells. But nobody would fund or rent to a hippie, Harley-riding wannabe entrepreneur who would attract a stoner clientele. Finally someone agreed to lease an old record shop for 400 dollars a month. Being poor Josh moved into a friend's shed. He was quite blank on how to move forward. He employed his "Tom Sawyer" theory of questioning customers what they wanted to see displayed, and would promise to have the product within two weeks. He always did and satisfied his clientele. People wanted oddities and Josh found that selling rarities increased his margins.
Then Josh sold a bong to the daughter of a US Customs Official. The police closed the store, confiscating bongs, pipes, but not the rolling papers.
Josh relocated to Phoenix, Arizona, a mecca for counter-cultural smokers. Josh found a pro-marijuana movement in the city as Arizona has become an adult-use state now. He did well with a shop selling hi-end European rolling papers. A Spanish craftsman came on and they developed an all natural product, no bleach, no chalk, vegan, plant-based. Some detractors called them brown bags but Josh was unmoved. Persistence paid off and RAW was born. In a year the papers had flooded the local market.
He approached a mill and promised to purchase one million tons. Once again he put all his money in his mouth. In 2008 hip hoppers began singing about RAW papers, Currency, Wiz Khalif, then 2Chainz, Chance, Rae Sremmund, Action, Chief Keef, and of course the Raw Song itself. Next Dom Kennedy, Ozworld and RAW became the shit.
Then there's Josh the celebrity himself. YouTube, social media, gatherings, conventions, podcasts. Giving to charity: forming the RAW Foundation for philanthropy. Water is Life Intentional and Wine to Water, Trees for the Future, CarbonFund.org, Home "Fur" Good (for homeless animals), and KIVA, a crowdfunding source for the underprivileged.
Josh fought the FDA in their Tobacco Bill which banned flavored blunts, and there was a huge consumer backlash. "I believe in humanity strongly" Josh says of how inspiring it was to see regular people standing up for thier rights. Today Josh Kesselman employs over 2000 people and has a net worth of 42million. RAW is the most popular rolling paper brand in the world.
In 2020 a Spanish company HBI International sold rolling papers four times to hired investigators that were of an inferior quality under the RAW label. Mark Giangiuli and his partner Dawn were defendants as alleged operators. A lawsuit claimed the couple sold papers likely manufactured in China and India, whereas the bulk of rolling papers are made in Alcoy Spain. Pay Pay was the first rolling company in the world, in the 1700's cigarettes used to be rolled in leaves and even newspaper. Mark Giangiuli responded to press inquires blaming HBI calling them "thugs" and referred to a prosecuting attorney as an "asshole". Dawn his wife also left seriously viscous voicemails for inquiring journalists. Cited in court documents Giangiuli repeatedly denied selling counterfeit products and counter-sued. HBI also counter-sued asking for profit-loss of 2 million in damages. Neither side responded to journalist inquiries. In late 1990's HBI had invited CEO RAW Josh Kesselman to Spain for a business meeting. In an article called "The Unfiltered History of Rolling Papers and Tommy Chong's Big Jamaican Vacation" Kesselman admitted that he contacted a Niles from HBI.
Although the pandemic hurt sales RAW came out on top as the most health-conscious innovation in the smoker's world. It's hemp-based, burns slow, even, smooth and Josh reminds us "Blunts are not to be inhaled, just as cigars are not to be inhaled."
Hey Thanks for the kind words . . I'll try to make that correction

I recommend the Texas hemp reporter ? Be seen and be heard with Russell ✌️

Hey, yall had great coverage of the event, any way yall can email me photo one of your lady photographers…

Hello Stacey, I really enjoyed your article about Shayda and Sydney Torabi at Re-Start CBD. Their cannabis knowledge, enthusiasm, and…

Aw, this was an extremely nice post. Taking a few minutes and actual effort to generate a really good article……