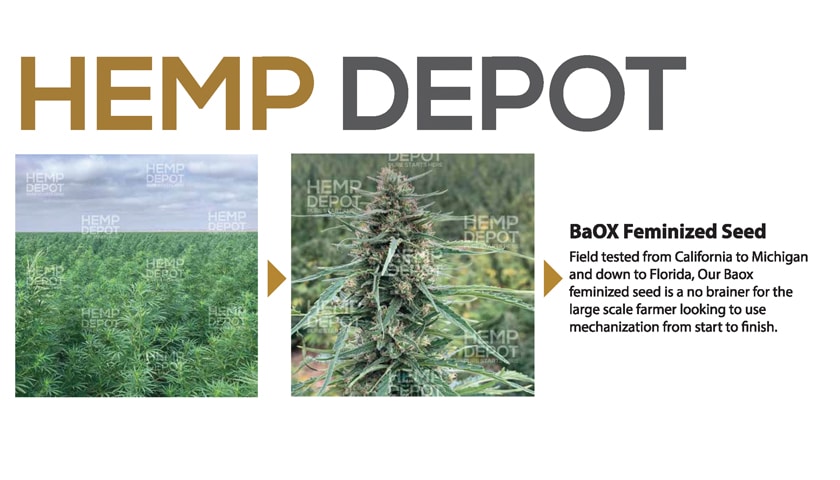 Hemp Depot is one of the largest providers of the highest quality hemp CBD oil products, seeds, and clones in the US and the extreme care they've put into their growth and vertical integration has taken the company to new heights.
Now a complete seed-to-shelf operation, Hemp Depot did not initially set out with this business model in mind when they were founded in 2015. Andy Rodosevich and Luke Pickering, co-founders of the company, set out in the scope of creating and selling CBD but upon beginning to farm their crops they found there were no good seed genetics for cannabidiol. Out of default, they started a project to create genetics to fit the .3 THC limit and fall into the category of industrial hemp. They subsequently found that the extraction process into oil and distillate wasn't available at that time either which, again out of necessity, led them to build the infrastructure to make their systems work and this soon translated into the manufacturing side as a whole. Their recognition early on that total control of the process allowed for total traceability and that is what has set Hemp Depot apart in the industry.
The company has grown into three farms across Colorado – a hemp seed production and genetics & testing research facility in Yoder, one in Rush, and another farm containing an extractor in nearby Cope just east of Denver. Colorado Springs houses their manufacturing facility and headquarters where they push production and sales. Hemp Depot deals in retail, wholesale, and white label CBD distribution in a range of topical, tinctures, isolates, and soft gels & tablets – all of which are made in their newly expanded 30,000 sq.ft. facility that houses high speed liquid filling machines, dry powder tablet presses, gummy producing equipment, hot & cold fill topical machines, and high speed labeling capabilities. Their commercial line ranges from high end topical and beauty brands, medicinal ingestible pain relief, tinctures and topicals, and a new smokable line that they are preparing to release called 'Eddie.' Hemp Depot's seed sales are also a consistent line of their business offering custom genetics for grow operations.
2020 brought about a lot of change across the board worldwide, and the hemp industry saw some shifting as well. Many new farmers experienced growing pains of going hot in their inaugural season, while others chose not to grow at all following the surplus harvest of 2019. With a 70% reduction of hemp-growing acreage this past season it is estimated that 2021 will mirror that same farming pattern due to the overproduction in the marketplace. With no futures market, some farmers remain reserved about growing hemp and are reverting back to traditional grow crops they're familiar with as their prices are currently higher in the market, but from a consumer standpoint they benefit in the market. All of which the company takes into consideration in their operations.
Mike Wandzek, Sales Director in seed & genetics and bulk at Hemp Depot, explained that the company's viewpoint in structuring and conducting business has been pivotal in their success, even in the 2020 pandemic pivot many businesses had to face. "We were on of the companies fortunate enough to have enough vertical integration and enough sales to pull through and I don't believe we had a single layoff at the company [during the pandemic.] We were able to keep our manufacturing side employed and busy and had preordered enough to keep us going. 2020 was obviously a little bit of an unknown and now that it has passed we've come out better and stronger on the other side."
Hemp Depot continues to reinvest in their business while viewing it from both an industry and consumer standpoint in efficiency and quality and strive to help the CBD industry as a whole more forward with their focus. With a notable list of certifications with their name including Platinum ISO 9001, Kosher and Leaping Bunny, FDA registered, CBPHE, NSF, Colorado Hemp Authority, National Hemp Association, and all hemp authority certifications, Hemp Depot proves to put quality into their products and production and follows through from start to finish.
I think the regulated cannabis industry should only be the medicinal side, where patients want and require stricter manufacturing and…

Hey Thanks for the kind words . . I'll try to make that correction

I recommend the Texas hemp reporter ? Be seen and be heard with Russell ✌️

Hey, yall had great coverage of the event, any way yall can email me photo one of your lady photographers…

Hello Stacey, I really enjoyed your article about Shayda and Sydney Torabi at Re-Start CBD. Their cannabis knowledge, enthusiasm, and…