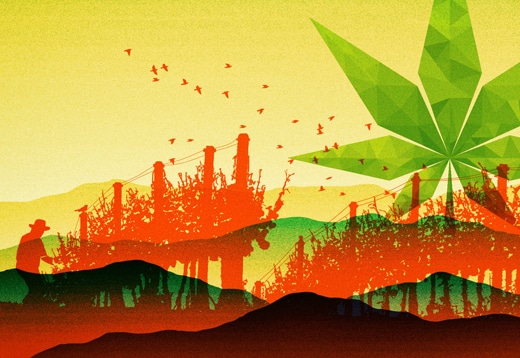 BY DANIEL JONES
California's wine industry is quite the behemoth, a staple in the American economy.
If it were its own country, the state would be the fourth largest wine producer in the world. California makes 81 percent of all U.S. wine, and three out of every five bottles sold in the country comes from the Golden State.
Just look at last year's numbers for more proof: In 2019, 241.5 million nine-liter cases of California wine were sold within the U.S., amassing an estimated $43.6 billion in sales. Also in 2019, American wine exports totalled $1.63 billion, with 95 percent coming from California wineries.
California wine sales in the U.S. grew 6 percent in 2019, despite the state legalizing adult-use cannabis in January 2018, which some feared would eat into the state's wine market.
But 2020 may tell a vastly different story for the industry, says Robert P. Koch, president and CEO of the San Francisco-based Wine Institute. "This year will be more challenging, especially for small- and medium-sized wineries, because of the closure of tasting rooms and restaurants," he says in a wineinstitute.org article.
These changes have emerged because of COVID-19, of course, and while it is too early in the year to predict a drop in the California's total revenue from wine, we can surely expect a noticeable dip based on the recession alone: People with a slash in their disposable incomes are less likely to buy a $50 bottle of Cabernet Franc from the Napa Valley, perhaps opting instead for $8 bottle from Argentina.
So considering this inevitable dip, should California vineyards, each with hundreds of acres perfect for agriculture (bountiful sun and cool air from the Pacific Ocean), consider pivoting to a crop with perhaps an even more promising future? Such as hemp?
After all, according to the Brightfield Group, the market for hemp-derived CBD is expected to reach $23.7 billion by 2023, thanks in part to the passing of the 2018 Farm Bill. And this doesn't even include the market for hemp alone, which can be grown for construction, textiles, clothing, food, paper, bioplastics, insulation and biofuel.
And so the hemp market doesn't rely on a selective niche of consumers that use its product for recreational purposes only (such as wine drinkers and cannabis users). Just about everyone could benefit from hemp in one way or another.
Also, unlike wine grapes which take several months to grow and several months to ferment before they ever become drinkable wine, hemp plants can mature in just a few months.
But, say, a commercial vineyard in a place like the Sonoma Valley wants to reserve a few acres of its property for growing hemp. Does the growing of either crop affect the other's final product?
A Wine Spectator article titled "Can Cannabis and Wine Coexist?" tells how the drift of fungicides (used by many California winemakers to prevent mildew) have been known to render a cannabis harvest unsaleable when the crop is tested for regulation. And one can speculate the same would apply to hemp plants, especially if they're used for CBD products.
The opposite occurs, too. "On the flip side, cannabis can release organic compounds called terpenes," the article's author Aaron Romano writers, "one of which is eucalyptol, known for tainting the flavor of grapes." It should be known that hemp plants also have terpenes.
Corey Beck, CEO of Francis Ford Coppola Winery and former president of the Sonoma County Vintners, was quoted in the article, saying, "If cannabis can co-exist with the right regulations, and not be intrusive to our neighbors, then it should be available to a farmer who needs to put food on the table for their family." He added that the wine industry is changing because of consumers drinking less and, therefore, wineries growing few grapes.
"I'm not suggesting the trend is here to stay, but if you are a grapegrower and can't find a buyer in the short term, your choice in agricultural crops which provide a return such as grapes are limited."


I think the regulated cannabis industry should only be the medicinal side, where patients want and require stricter manufacturing and…

Absolutely, we need to expand TCUP and provide folks with alternative natural therapy that actually works.

This is Dan Bowling, I think I am registered for the sky to soil solutions program for January 26th at…

[…] The Texas Green Machine – Texas Hemp Reporter Texas Hemp Reporter recently wrapped a new delivery vehicle for making…

This is the most in your face display of Corruption ever displayed by any of the states that issue licenses…