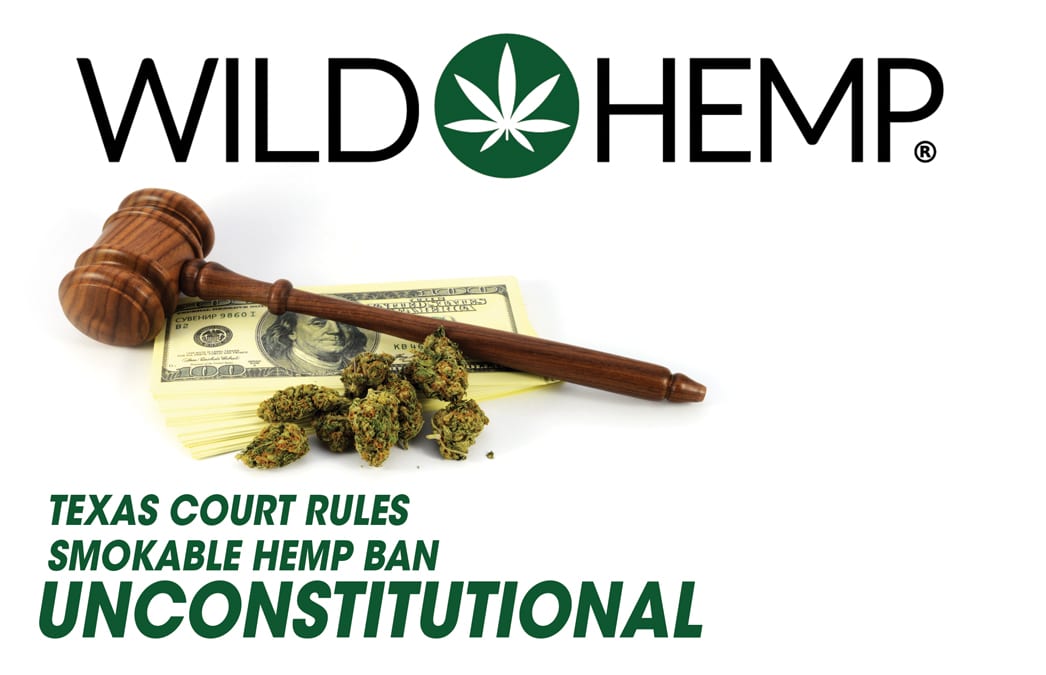 The Inside Story of How Wild Hemp® Won the Smoekable Hemp Ban Lawsuit
On August 23rd, 2021, smokable hemp products officially became legal to manufacture and sell in Texas. Many never noticed since the smokable hemp ban hadn't been put into enforcement yet. Nevertheless, an invisible battle brewed between one company and the Texas Department of State Health Services, which ultimately decided the future of cannabis in Texas.
After the 2018 Farm Bill passed, legalizing hemp across the United States of America, an entirely new market emerged after decades of prohibition. At the that time, Global Tobacco® was the largest manufacturers of tobacco in Texas. Since tobacco manufacturing is a legacy industry with decreasing sales, Global Tobacco® was actively attempting to innovate and expand their product portfolio. When they heard the news that hemp was legalized, they saw this as their golden opportunity to completely revolutionize the smokeables industry. Under the brand Wild Hemp®, they created the first cigarette styled hemp pre-roll in the world, called the Hempette®. This product spread like wildfire across America becoming the first nationally recognized brand associated with the smokable side of the hemp and CBD industry.
This success was soon met with struggle when the State of Texas passed regulations that attempted to ban the manufacturing and sale of smokable hemp in Texas. Fortunately for the hemp industry, the parent company of Wild Hemp® put forth litigation to challenge this law, which ultimately became the case Crown Distributing LLC, et al. v. Texas Department of State Health Services, et al. Crown Distribution LLC is the distribution arm of Global Tobacco® and is owned and run by the same management.
While Wild Hemp® was challenging this case in court, Texas granted a temporary injunction allowing manufacturers and distributors of smokable hemp to continue operations while the case was being tried. If this injunction wasn't granted, all retail and wholesale sales of hemp would have had to cease in Texas, and Wild Hemp® would have had to move their entire manufacturing base from Texas to a cannabis friendly neighboring state such as Oklahoma. Hundreds of Texans work in manufacturing smokable hemp, mostly for the Hempette®, and would have to either lose their jobs or relocate to continue making money. Moreover, many Texas farmers who are investing in and growing hemp would have a harder time selling their crops, since there would be no local market for smokable hemp. This would have put our farmers years behind other states in hemp and cannabis. Finally, Texas would lose out on millions of dollars in future tax revenue and economic growth.
The trial took over two years from putting forth the litigation to ultimately hearing the final verdict from Judge Lora Livingston. Not only did this take time, but it also took over $400,000 in legal fees mostly paid by Wild Hemp®. They also spent millions of dollars on a warehouse in Oklahoma before the injunction was granted, so that they could make sure their manufacturing continued no matter what happened.
Though the cost was steep, Wild Hemp® continued in their success and were able to grow their Hempette® to even higher sales and international recognition. Wild Hemp® have also expanded their smokable hemp line to include hemp wraps, disposable CBD vapes, and CBD cigarillos. With this victory under their belt, Wild Hemp® is excited for their future and are eager to develop and design more smokable hemp products in Texas.
To learn more about Wild Hemp® or the Hempette®, you can email us at [email protected], call us at +1 888 968 8273, or visit www.wildhemp.com.


I think the regulated cannabis industry should only be the medicinal side, where patients want and require stricter manufacturing and…

Absolutely, we need to expand TCUP and provide folks with alternative natural therapy that actually works.

This is Dan Bowling, I think I am registered for the sky to soil solutions program for January 26th at…

This is the most in your face display of Corruption ever displayed by any of the states that issue licenses…

Hey Thanks for the kind words . . I'll try to make that correction