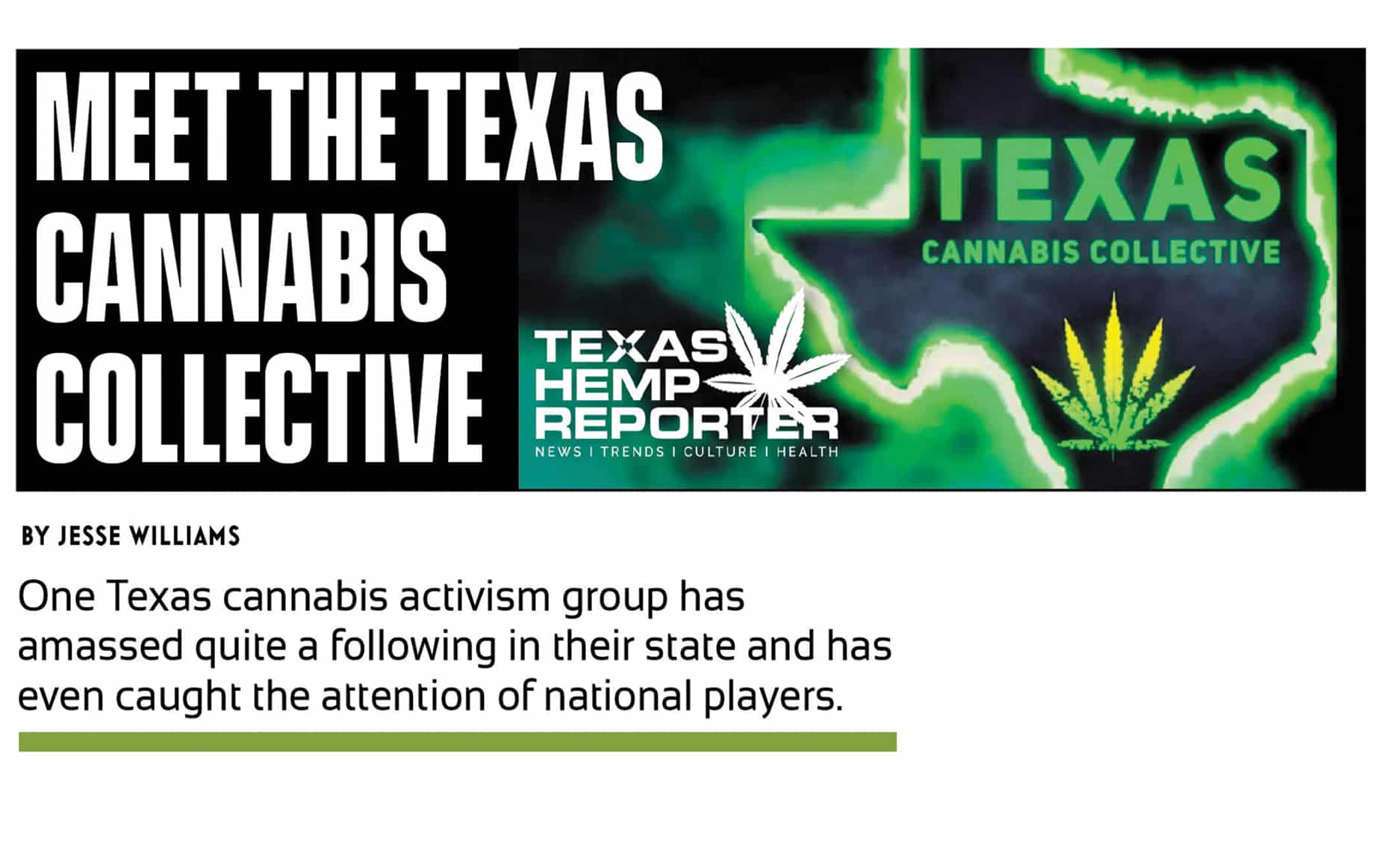 One Texas cannabis activism group has amassed quite a following in their state and has even caught the attention of national players.
As the Deputy Director of the Texas Cannabis Collective, what exactly is the TCC is a question people have been asking me recently. The easy answer is that it is a project aimed at changing the cannabis laws in Texas and doing so by distribution of information for the voting public about the state of cannabis affairs in Texas. The true technical answer is something much longer.
The Texas Cannabis Collective came to be a thing in 2016 by Austin Zamhariri
out of Dallas, Texas. At first the concept started as a Facebook page. As time went on Austin slowly got a website together with a few friends in the cannabis activism space. From there the site started publishing articles about their experiences and views on the Texas legislature. The first article to go up was in late December of 2018 by Austin.
At the beginning of the site's history Austin touched on things such as the fact that one could be arrested for possessing CBD oil at the time, veterans weighing on medical marijuana and approaches of legislative leadership to cannabis bills. The first 6 months really took off from the 86th legislative session of 2019 providing plenty of information on the changing landscape of Texas. The federal farm bill had just passed towards the end of 2018 and gave Texas room to grow with a new hemp program. Austin's current wife Sarah and current writer Josh Kasoff were pumping out articles with Austin.
Toward the end of session El Paso NORML director Colt Demorris started contributing as well. Colt brought a distinct view from west Texas during his prime time of writing with
TCC. El Paso being one of the first cities to bring prohibition of cannabis to reality, Colt shined a light on the topic in the town, and was able to give an insight to another state. Colt works at a dispensary across the state line in New Mexico and was able to help Texas patients get the info needed for out of state patients to participate in the NM program. This is also the district which state Rep Joe Moody covers and DeMorris was able to occasionally get insights to legislative goals with cannabis.
June of 2019 was when Jesse joined the TCC as a writer. Jesse had been writing about the legislative side of things on his own site and was invited to write for the TCC. It's almost the same thing for him writing for the Texas Hemp Reporter.He started with writing about how we would have to research how to objectively measure impairment from cannabis and how bills on a federal level were moving along. After several months of writing for TCC, Jesse became the web administrator for the website and did a complete redesign it. Then, roughly about the start of COVID in 2020 saw Jesse also take on the role of Managing Editor.
In June of 2020 the TCC launched its own social network community called Community.txcannaco.com. At the time Facebook and other social networks were facing heavy scrutiny from selling user data. On top of that, even to this day Facebook and its subsidiaries along with Twitter and the like are not fond of allowing users to speak openly about their cannabis consumption.
The rules of the software providers for the social network were that no personal information about members and no posted information by members could be shared or sold to a third party. That community is still up and running to this day and serves also as a backup if Facebook decides to nuke the scene, which isn't uncommon with cannabis pages.
TCC has remained active on reporting the smokable hemp ban case from its beginnings and reported heavily on the 2021 Texas 87th legislative session. Whether it was the filing of bills testimony at the capitol, or even floor hearings, TCC was reporting in person pretty much every step of the way. It even got to the point where national reporting site Marijuana Moment was following the TCC live streams at the capitol to gain information on what was transpiring.
In June of 2021 TCC decided to officially become a non-profit organization. TCC had officially started lobbying within offices alongside the likes of TXNORML and Texans for Responsible Marijuana policy at the capitol. The organization wanted to make the paperwork official and become as transparent as possible, so that process began to raise funds to create that official entity on paper.
TCC officially held its first meeting on a monthly basis, in June of 2021. The second meeting was the official kickoff party to Lucky Leaf Dallas 2021, and recently held its third meeting on August 11. TCC will be taking a break for the month of September as uncertainty has arisen given the resurgence of COVID and mask mandates in Dallas County. It's possible that the next monthly meeting will be a virtual meeting.
TCC hopes that it will be able to not just inform constituents from this point forward, but lawmakers in the state of Texas as well. IT wishes to put businesses that are working towards creating a proper business environment for both businesses and consumers in front of the public and doing alongside other publications and activist groups within the great (it's a big place) state of Texas. TCC plans to launch its own podcast titled Lonestar Collective within the near future.
Anybody wishing to find TCC online can find them on Facebook at @txcancollective Instagram @txcannabiscollective and Twitter @txcannaco.


I think the regulated cannabis industry should only be the medicinal side, where patients want and require stricter manufacturing and…

Absolutely, we need to expand TCUP and provide folks with alternative natural therapy that actually works.

This is Dan Bowling, I think I am registered for the sky to soil solutions program for January 26th at…

This is the most in your face display of Corruption ever displayed by any of the states that issue licenses…

Hey Thanks for the kind words . . I'll try to make that correction