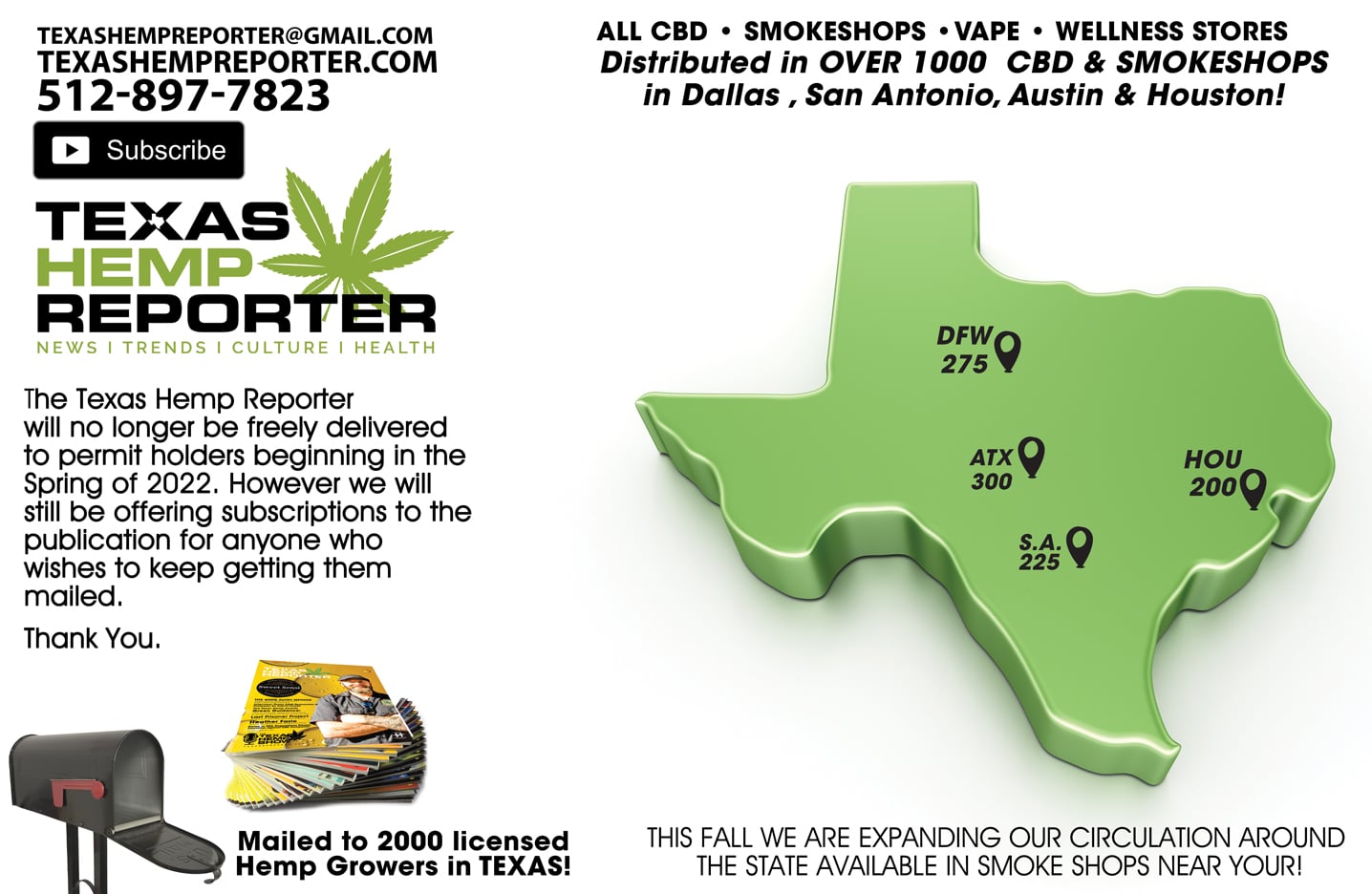 The Texas Hemp Reporter this November will be blooming itself across the Lone Star State in time for Harvest Season. With the recent expansion of Houston Texas market to receive the September edition, the Austin TX based Cannabis publication is headed north and south this November adding in two more metros totaling over a 1000 smoke shops in Texas. Dallas and San Antonio will begin receiving the free magazine in area CBD stores and smoke shops this holiday season. The expansion is a good thing for the growing Texas cannabis and Hemp market. With recent public awareness about new legislation and readily available medicines , cannabis has a growing fan base with fellow Texans.
The producers of the magazine also host a popular podcast in the Texas arena , The Texas Hemp Show discuses legislative concerns, banking challenges, and often interviews business professionals in the Hemp space around the State. Tommy Chong, Sid Miller, Freeway Rick Ross, and recently Cheech Marin appeared on the podcast that also currently airs on local Talk Radio News Radio 590 KLBJ.
For more information or to advertise your business with the radio show or the magazine reach out to Publisher and Host Russell Dowden at 512-897-7823 or email [email protected] for more details on how to be a guest on the show or have your business profiled in the magazine.


I think the regulated cannabis industry should only be the medicinal side, where patients want and require stricter manufacturing and…

Absolutely, we need to expand TCUP and provide folks with alternative natural therapy that actually works.

This is Dan Bowling, I think I am registered for the sky to soil solutions program for January 26th at…

This is the most in your face display of Corruption ever displayed by any of the states that issue licenses…

Hey Thanks for the kind words . . I'll try to make that correction