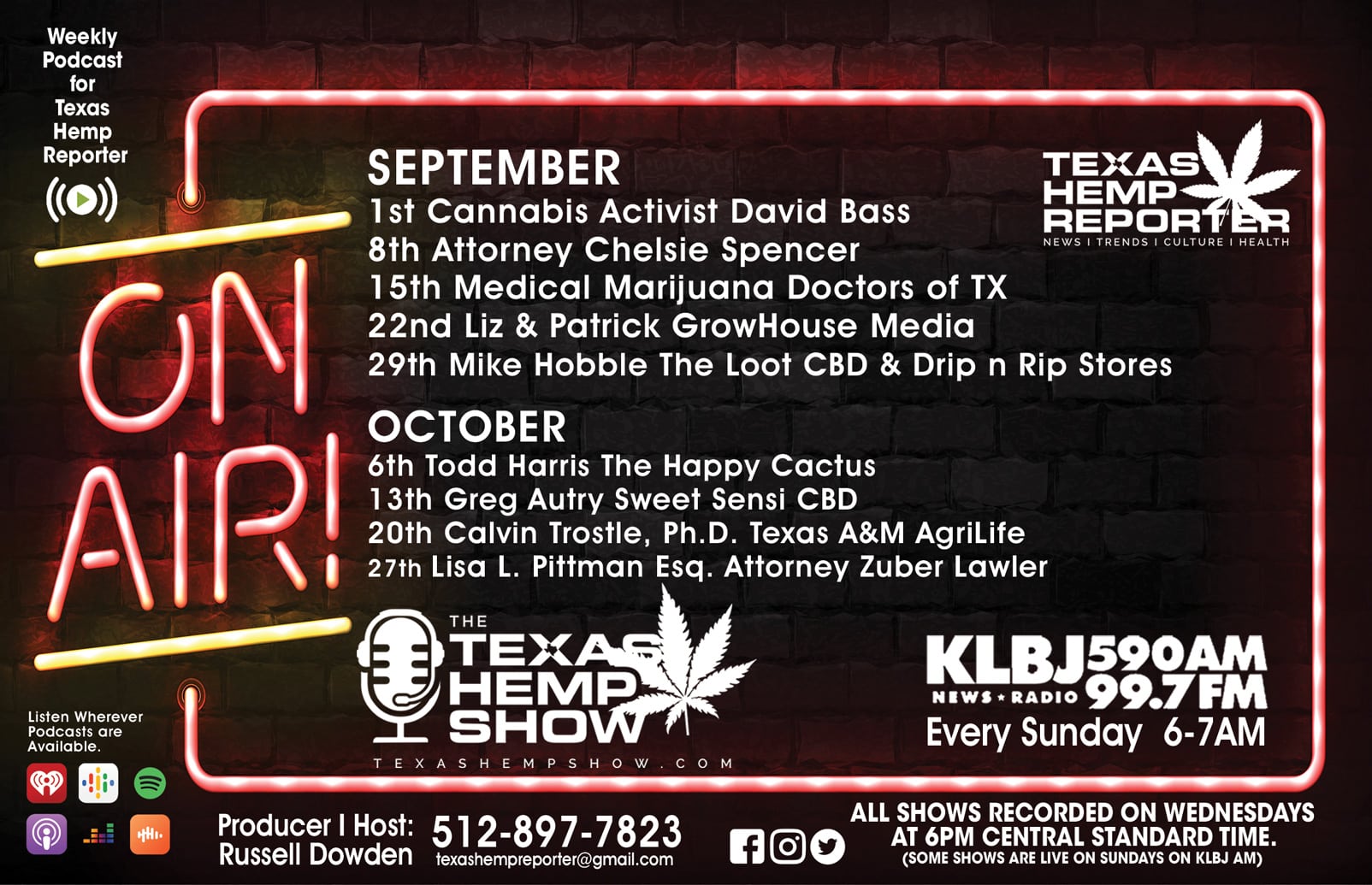 The Texas Hemp Show is moving from podcast to broadcast on Austin's News Radio KLBJ. Russell Dowden, the show's host and editor of Texas Hemp Reporter Magazine, teamed up with Dennis Carter to bring the idea to life on Austin's longest running station to educate Central Texans on all of the up to date information in the rapidly growing hemp industry.
The show airs every Sunday from 6am to 7am, simulcasting on two different frequencies: the legacy signal 590AM and 99.7 FM as well as available to stream on newsradioKLBJ.com and all streaming apps. The advantage Dowden saw expanding to the airwaves was a much larger reach as the station has the largest signal in the state reaching over 177k weekly listeners and over 450k streaming sessions. It opens up a new audience in the station's 35-64 year old professional demographic.
KLBJ Account Representative Dennis Carter is working closely with the show on the radio's end to help mold it going forward and create opportunities to expand listener-ship and implement the potential to bring on advertisers, sponsors, and industry partners to become involved and capitalize on the show and share in the exposure of this burgeoning industry. "I'm excited about the opportunity working for Russell and taking the Texas Hemp Show to the next level." Carter added that this is a special addition topic to the station for Central Texas listeners and with the show still in it's infancy of under a month on the airwaves that there is nothing but opportunity in front of them.
The show is currently pre-recorded with the expectation to move into a hybrid division of the show with occasional live call in episodes and special programming as more listener-ship data and show feedback comes in. They also anticipate opportunities for co- and guest hosts as they will continue well-rounded programming covering all aspects of the industry as the content of the podcast and publication provide.
Tune into The Texas Hemp Show for all up to date news and information as it grows with Texas.
https://texashemp.transistor.fm/


I think the regulated cannabis industry should only be the medicinal side, where patients want and require stricter manufacturing and…

Absolutely, we need to expand TCUP and provide folks with alternative natural therapy that actually works.

This is Dan Bowling, I think I am registered for the sky to soil solutions program for January 26th at…

[…] The Texas Green Machine – Texas Hemp Reporter Texas Hemp Reporter recently wrapped a new delivery vehicle for making…

This is the most in your face display of Corruption ever displayed by any of the states that issue licenses…