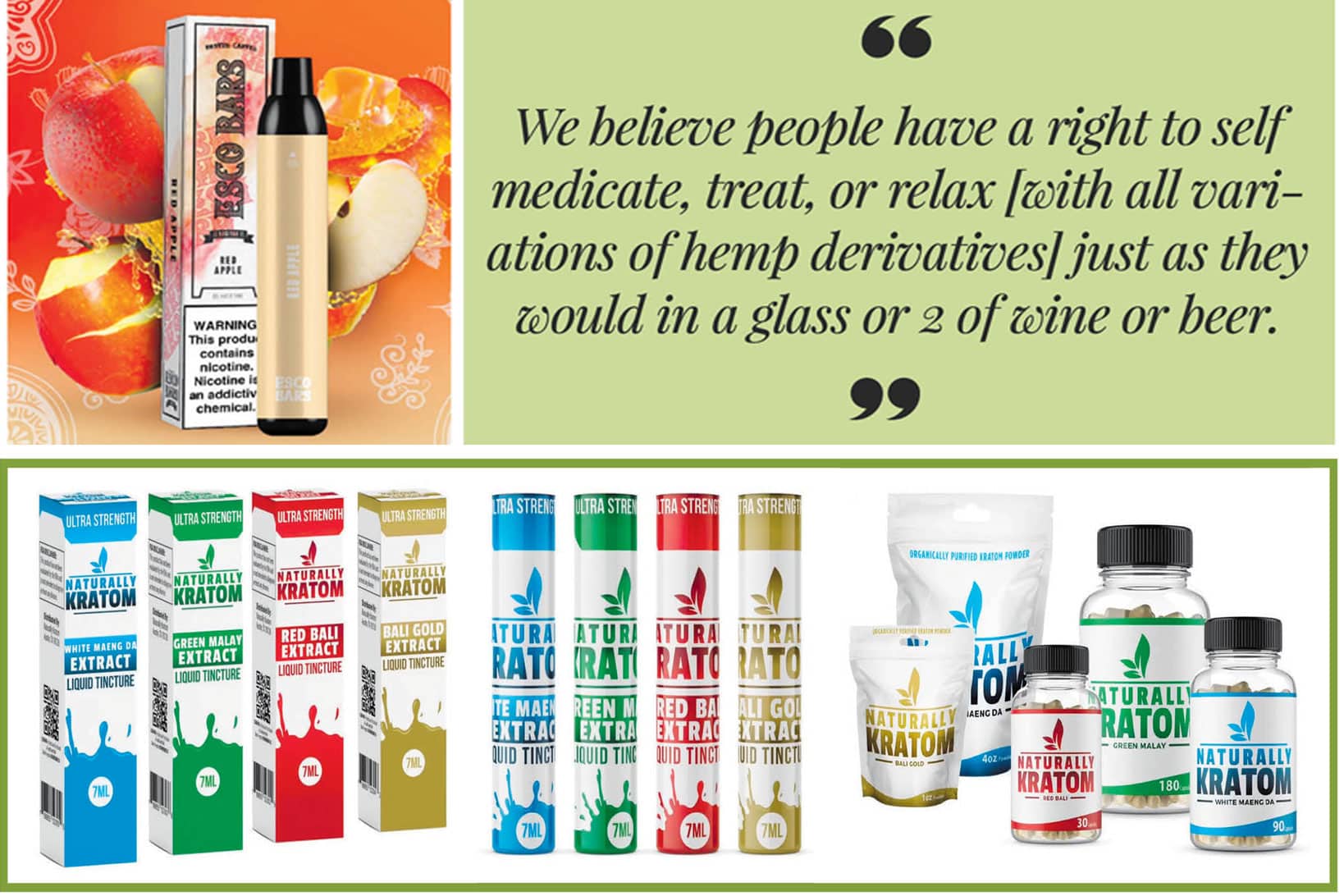 The conversation on Delta 8 has been a continuous hot topic in the state of Texas with many already invested in the hemp-derived product pushing for regulation over prohibition in the vested interest of their companies, the industry and the responsible consumer. Darrell Suriff of Naturally Hemps discussed with Texas Hemp Reporter how Delta-8 and the looming possibility of it's legal status looks from a company standpoint.
Naturally Hemps is an alternative solutions company under the umbrella of Naturally Distro which operates over 30 retail stores across Texas, Louisiana, and Tennessee to include the Austin Vape and Smoke franchise. The company manufactures a large variety of natural CBD, kratom, e juice vape and legal hemp related products out of their 30k square foot main manufacturing facility in Pflugerville. While they offer a variety of product on their name, Delta-8 specifically makes up about 20% of their gross business over the last 12 months moving into the largest growth category in the industry.
As this time period has also seen a tremendous amount of legislative process on the same topic, Suriff says it has been difficult to gauge business around potential legislation. The fluctuation of legality is costly not only as it comprises 20% of his revenue, but in considering the cost of entry into it as a manufacturer is quite extensive regarding liability, machinery, and wages for his 180 employees which all makes a huge impact on their bottom line.
While Delta 8 is fully legal in Tennessee, constant restructuring and vague state law keep him from selling it into his Louisiana stores. There are no clear cut guidelines currently for Delta 8 in our neighboring state and Texas leads between the two on education and communication between state officials and hemp businesses. While Delta 8 is currently still fits into a legal category following the lack of advancement or changes in the hemp bill last legislative session, it's status still stands on shaky ground.
States that have fully legalized cannabis are historically the ones who try and ban it most as they get taxation on THC but not off of Delta 8. Right now Texas has enacted the Compassionate Use Program effective September 1, 2021 which allows patients access, through their physician, to prescription low-THC cannabis in the treatment of medical conditions like cancer, autism, PTSD, and seizure disorders. The single operating medical marijuana license holder in the state have been the leaders in the ban on Delta 8 which lead many to question if they will simply see taxation on a state level or full market control. A drastic shift in the industry and lawmaking would not only cause large companies like Naturally Hemps to take a massive hit, but consumers as well as Suriff states, "We believe people have a right to self medicate, treat, or relax [with all variations of hemp derivatives] just as they would in a glass or 2 of wine or beer." And with that statement backs it with the push for regulation beyond minors into consenting responsible adults.
Darrell Suriff himself knows the firsthand benefits it can bring with chronic pain and the success of his business was built on his own personal success story. A little over a decade ago, Suriff suffered a broken back which led to permanent rods placed in his spine and persistent pain. His corporate insurance plan at the time offered many opioids at his disposal which led to a year-long addiction before he discovered the benefits of Kratom, CBD, and, later, Delta-8. He was able to then craft a daily regimen with these products which allowed him to function without pain and without the use of opioids or any other addictive drugs. From there he built his new endeavor of vape retails stores from an initial $26,000 investment into a $70,000,000 empire based on the products that saved his life – all organically with incremental growth.
With full understanding of the scope of all Delta-8 offers, and standing by what his own business and life is built on, Darrell Suriff hold his position alongside many other Texan hemp product manufacturers and retailers who call to maintain a regulated market on the product for the livelihood of Texans all around.
I think the regulated cannabis industry should only be the medicinal side, where patients want and require stricter manufacturing and…

Hey Thanks for the kind words . . I'll try to make that correction

I recommend the Texas hemp reporter ? Be seen and be heard with Russell ✌️

Hey, yall had great coverage of the event, any way yall can email me photo one of your lady photographers…

Hello Stacey, I really enjoyed your article about Shayda and Sydney Torabi at Re-Start CBD. Their cannabis knowledge, enthusiasm, and…