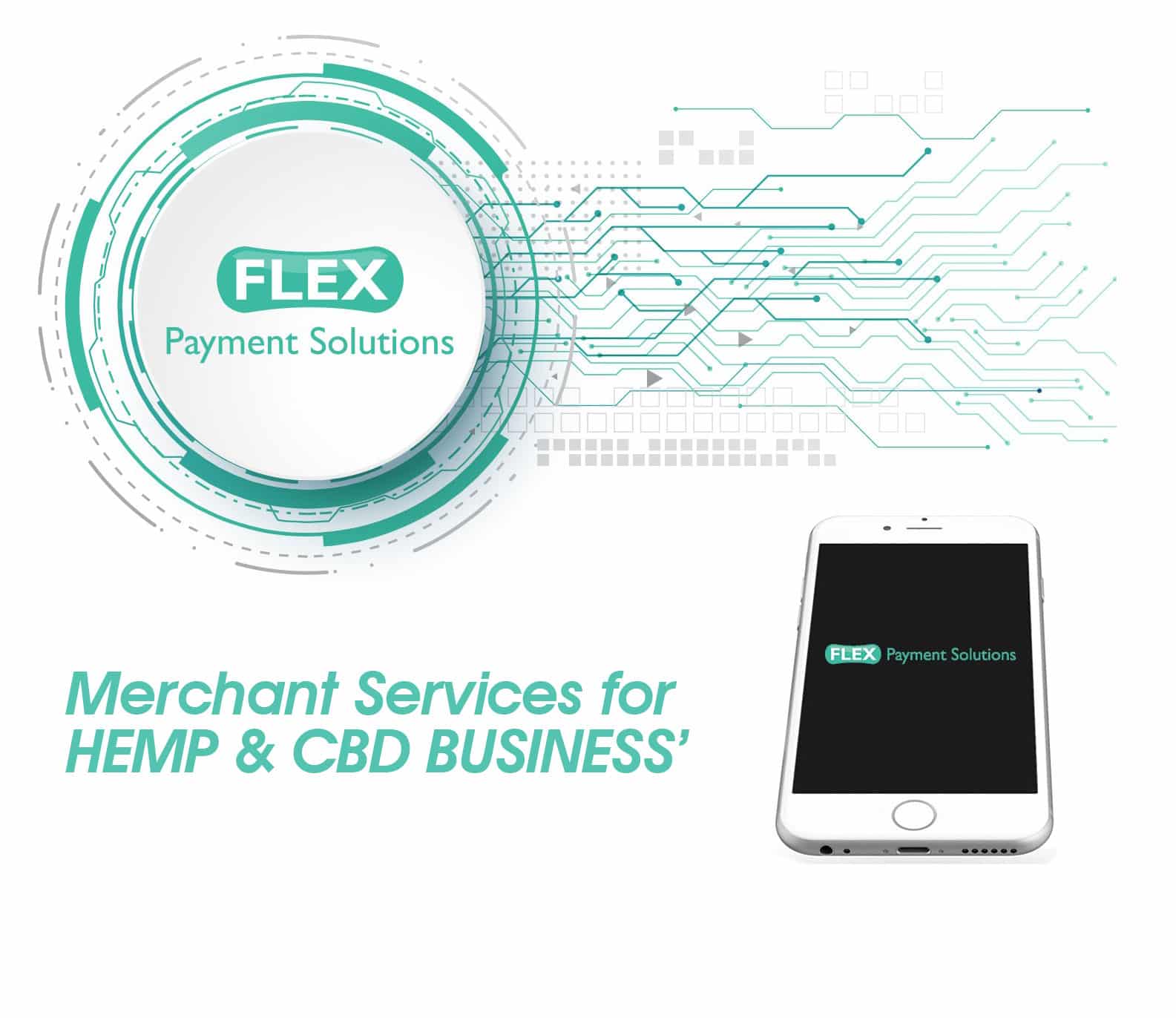 With the nature of CBD and hemp being high risk products in the eyes of the financial world, finding stability and even options in merchant services has not always been an easy feat for retailers in the industry. Flex Payment Solutions offers a personal approach in their dedicated CBD merchant accounts as well as adaptability to business' processing needs.
A family owned company based outside of St. Louis, MO, Flex Payment Solutions offers credit & debit card processing, ACH, e-check, and fund-to-debit-card solutions while allow retailers a range of savings in both fees and time. Each merchant with Flex gets their own monitored account and ID, unlike many of the mainstream batch-model processors, which allows them individuality no susceptibility to any chargebacks and payment issues that commonly arise in aggregate accounts. This often leads to the entire portfolio being bounced by the bank and a resulting inconvenient disruption in business for the retailer. With this tendency, Flex encourages redundancy to merchants in this space. With a backup processor, they ensure a constant focus on their business.
Flex places focus on the attention to intricacies in the industry, staying informed and transparent among the fluctuating state regulations and new laws. Strenuous pre-vetting and underwriting eliminates many potential issues in the groups they bring on. They understand the nature of the space of CBD and hemp historically and take into account the discord present in review structures throughout the processing spectrum. Compliance is key in both industry regulations and typical business operations. In their vetting process, Flex requires proof of valid licensing, lab testing, and COAs which make the underwriting process a lot longer for this industry but ensures proper observance to the legal standards on both sides. With financials, businesses must show a successful operation of a merchant account in the past and that bank accounts reflect activity and ability to pay their debts.
Traditional ISOs are more widespread but come with more stringent guidelines on what products retailers can process through their services; many have policies against smokables, edibles or Delta 8. Flex Payment Solutions is all encompassing in regards to all hemp and CBD products outside of Delta 10 and HHC which require further education in legalities for banking institutions.
The bulk of Flex's current clientele are online retailers with a secondary pocket of wholesalers. They are open to helping all facets of the industry including farms, co-ops, and equipment companies as the primary or redundant processor which allows for cheaper pricing based on the specific business model as their commercial nature poses less of a risk than a high volume of daily retail or wholesale orders.
Flex Payment Solutions began with the motivation to aid businesses in the more complex niche industries. They built up relationships with Native American tribes in online lending and business as their initial clientele and added in the branch of CBD not long after the Farm Bill passed as a continuation of their existing model of success that they've built. Alongside putting in the effort in vetting and compliance, they provide additional value in their intention, not just being a race to the price. Flex is conscientious on choosing industries where they can provide value with their services offered with a personal approach that has proved a big impact among users.
They remain involved and invested in the industry participating in the US Hemp Roundtable and have grown to have a centralized focus in Texas specifically with a Flex representative based in Houston. With founding members and representation in the Texas Hemp Coalition they do their part to keep the industry as safe and profitable as they can.
Flex Payment Solutions is always willing and available to help those looking to build long term, reliable relationships in their processing solutions and remain focused on growing their programs to meet the current landscape. More information and contacts can be found at www.flexpaymentsolutions.com.
Hey Thanks for the kind words . . I'll try to make that correction

I recommend the Texas hemp reporter ? Be seen and be heard with Russell ✌️

Hey, yall had great coverage of the event, any way yall can email me photo one of your lady photographers…

Hello Stacey, I really enjoyed your article about Shayda and Sydney Torabi at Re-Start CBD. Their cannabis knowledge, enthusiasm, and…

Aw, this was an extremely nice post. Taking a few minutes and actual effort to generate a really good article……