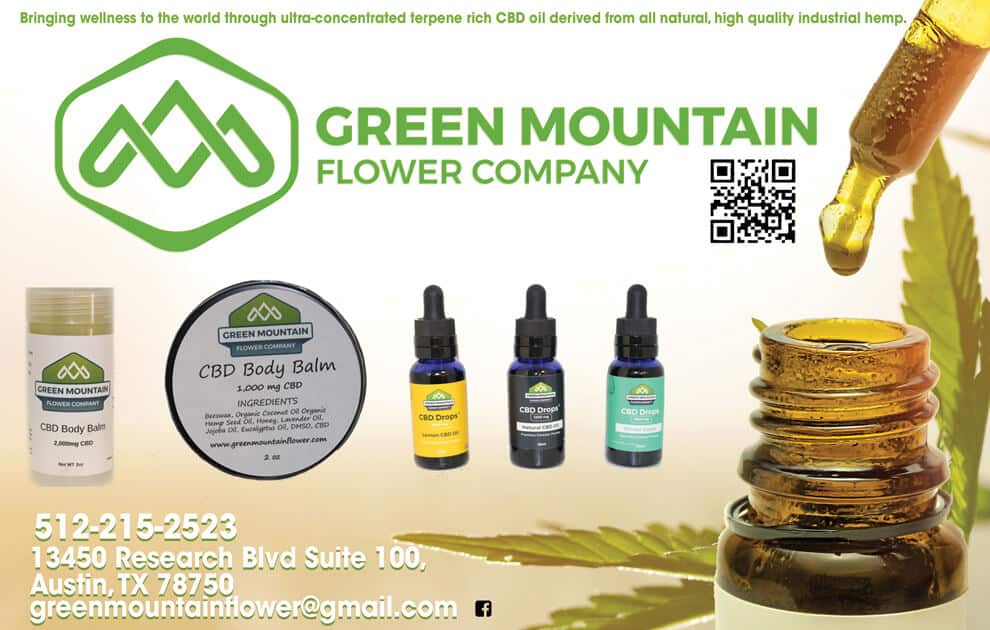 When committing to a lifestyle change, the quality of the product and service chosen is everything and exactly what Gene and Elsie Dietrich strive to provide to every client who passes through their door.
The couple own Green Mountain Flower Company – a premier CBD boutique located in North Austin off of 183 and Anderson Mill – and their mission is to curate a personalized experience to your journey into hemp-based healing. When you walk into the doors of their store you're immediately greeted with tranquility and a welcoming smile. Their products which range from tinctures, edibles, balms, to even raw flower is thoughtfully displayed around the space and available for them to explain the benefits of the product setting you up on a plan with exactly what you need. And that is something that the couple takes time to provide to every customer, a knowledgeable non-judgmental consultation listening to your needs and goals and aligning you with the products that best suit you.
Not only have they made a commitment to their customers but to the industry overall. Following 30 years as a custom home and commercial builder he poured his retirement into growing with the licensed CBD industry as well as the research and development of their own Green Mountain line.
A tremendous amount of effort has gone into developing the Green Mountain Flower Company's product line and the evidence shows in the resulting quality and many happy customers. Each product has a long story behind it, how each went from just an idea or concept to a finished product now regularly depended upon by many. The CBD Body Balm has such a story, developed from a concept with much trial and refinement to become the highly effective and demanded product it is today.
Customers can stand assured that they're purchasing quality straight from the source and product ingredients that are carefully and personally chosen by the same people who are selling it. Quality is key with Green Mountain Flower products.
Their CBD Oils are a great example of these facts – the color says it all – it's not too diluted, not too refined, not too hempy or over flavored. It stands a cut above the average product being sold in retail stores and sets a high standard for boutique blends to be understood and valued more in the mainstream spectrum of CBD. The complementary sample of their tincture proves right there in the store the time and effort put into creating the optimal recipe towards meeting what you' re wanting to achieve with CBD, and their loyal grassroots grown customer base speaks for the rest.
The Dietrich family doesn't plan to stop there. They will continue to expand the Green Mountain product line with many exciting additions on the way such as their new CBD Water which they have been working on for over a year. As well as actively expanding their wholesale market.
The skill, will, and desire of the Dietrichs' dedication to the industry cannot be compared. All they have worked towards in setting the bar so high through their dedication to providing quality products and unprecedented service to new and established CBD users alike opens up a more welcoming educated market to introduce the benefits of it to the mainstream.
Change begins at a personal, local level and requires a real investment that is fueled by passion. Whether it's helping someone learn what benefits of CBD can bring to their health and lifestyle, educating existing users on the quality of products they choose, or helping revolutionize the industry, Green Mountain Flower Company is a pivotal part of the transformation of truly holistic service.


I think the regulated cannabis industry should only be the medicinal side, where patients want and require stricter manufacturing and…

Absolutely, we need to expand TCUP and provide folks with alternative natural therapy that actually works.

This is Dan Bowling, I think I am registered for the sky to soil solutions program for January 26th at…

[…] The Texas Green Machine – Texas Hemp Reporter Texas Hemp Reporter recently wrapped a new delivery vehicle for making…

This is the most in your face display of Corruption ever displayed by any of the states that issue licenses…