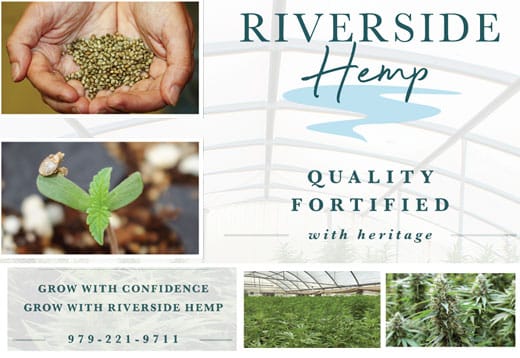 Where are you located?
Hempstead, Texas
When did you begin farming?
We have been growing ornamental landscaping plants since 1992 and started growing Hemp in April 2020.
Is hemp your primary crop? And what do you produce (pulp, CBD, textiles)?
No, hemp is not our primary crop. Riverside Hemp is currently growing hemp seedlings for indoor and outdoor farmers with a focus on CBD varieties.
Do you offer any specialty products you would like to talk about (organic body care, construction materials)?
We are not producing any specialty hemp products at this time, but we are researching all possible outlets.
Can you describe your growing/processing operation?
The growing processes at Riverside Hemp are organic methods and indoor greenhouses for the highest quality consumable CBD products.
What are your hopes or expectations for the future of hemp farming?
Our roots run deep in Texas Agriculture. We want to see additional avenues that will help our local ag families thrive.
How have the challenges you encounter every day helped you become a better farmer?
We have been growing for 28 years. You learn from your mistakes and you grow everything with a scientific and methodical approach. Look for the best varieties in your region and through trial and error you figure out what doesn't work. The Hemp industry isn't any different. Always set yourself up for success.
Has growing hemp presented any special challenges?
There haven't been any unique challenges in growing our hemp seedlings, but there is always something to learn when producing a new crop.
Do you find hemp farming a more rewarding endeavor than your ornamental landscaping business?
It is not more or less rewarding than our ornamental plants for landscaping. It is definitely different. It is exciting and an honor to be making history with Texas.
What were the major steps involved in adding hemp farming to your operation?
The major step was updating greenhouses to be better suited for hemp plants, as well as additional security. We are also very strict on sanitation stations before entering to keep the most sterile environment for our plants. 
Hey Thanks for the kind words . . I'll try to make that correction

I recommend the Texas hemp reporter ? Be seen and be heard with Russell ✌️

Hey, yall had great coverage of the event, any way yall can email me photo one of your lady photographers…

Hello Stacey, I really enjoyed your article about Shayda and Sydney Torabi at Re-Start CBD. Their cannabis knowledge, enthusiasm, and…

Aw, this was an extremely nice post. Taking a few minutes and actual effort to generate a really good article……