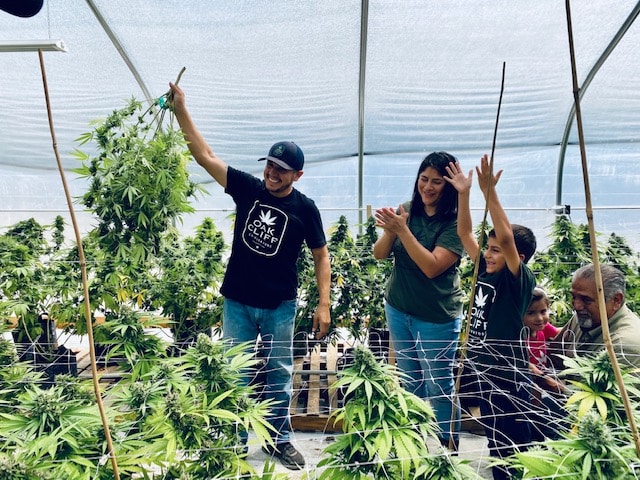 Eddie Velez, Oak Cliff Cultivators
Oakcliffcultivators.com
Texas Hemp Reporter: Where are you located?
Eddie Velez: Our hemp farm is centrally located in Brady, the heart of Texas.
THR: When did you begin farming?
Eddie: I'm not your typical farmer and I had no farming experience until recently. In my previous life, I spent 15 years responding to disasters across the country, with over 10 of those years with the Federal Emergency Management Agency (FEMA), Region 6, in Denton, TX.
In early spring of 2020, my wife and I quit our careers, cashed out our retirement, and dove headfirst into the Texas hemp industry.
THR: Is hemp your primary crop? And what do you produce (pulp, CBD, textiles)?
Eddie: Hemp is our primary and only crop. We cultivate award-winning hemp flower. In December of 2020, we won "Best hemp flower in Texas," at the Taste of Texas Hemp Cup. Additionally, we won 6 out of 9 categories at the cup, to include: "highest CBD, best indoor, most pungent, most ripe, and final presentation."
We produce premium CBD and CBG hemp flower.
THR: Do you offer any specialty products you would like to talk about (organic body care, construction materials)?
Eddie: Cultivating Cannabigerol (CBG) has been a great success for us. CBG is still new to many people and offers a great alternative to CBD. Unlike CBD, CBG interacts more directly with your body by binding with your CB1 and CB2 receptors and typically has no THC, which opens the door to many clients wanting to use hemp products without the THC.
Another specialty we have but not necessarily a product, we like to educate and inform our clients about each of our products' terpene profile and potential beneficial use.
THR: Can you describe your growing/processing operation?
Eddie: We are a family and veteran-owned Texas hemp company. We operate a boutique hemp farm, focusing on cultivating exceptional hemp genetic products for your wellness & culinary needs. Our farm consists of 6,000 sq ft of greenhouse growing space and a 2,000 sq ft indoor climate controlled dry house. We did a lot of research and visited hemp farms across the country, and we noticed that drying was essential in producing premium hemp flower.
THR: What are your hopes or expectations for the future of hemp farming?
Eddie: We involve our children in everything we do with the hemp farm – from planting seeds to the finished product. We hope to instill the knowledge and experience with them, so they can continue to redefine cannabis in Texas.
THR: How have the challenges you encounter every day helped you become a better farmer?
Last year was our first grow and everything was a challenge, from building the greenhouses to go-to-market strategies, to delivering our products.  We've asked a lot of dumb questions over the past year which has helped navigate us through those farming challenges.  Building a network and fostering positive relationships has helped us tremendously.  


I think the regulated cannabis industry should only be the medicinal side, where patients want and require stricter manufacturing and…

Absolutely, we need to expand TCUP and provide folks with alternative natural therapy that actually works.

This is Dan Bowling, I think I am registered for the sky to soil solutions program for January 26th at…

[…] The Texas Green Machine – Texas Hemp Reporter Texas Hemp Reporter recently wrapped a new delivery vehicle for making…

This is the most in your face display of Corruption ever displayed by any of the states that issue licenses…