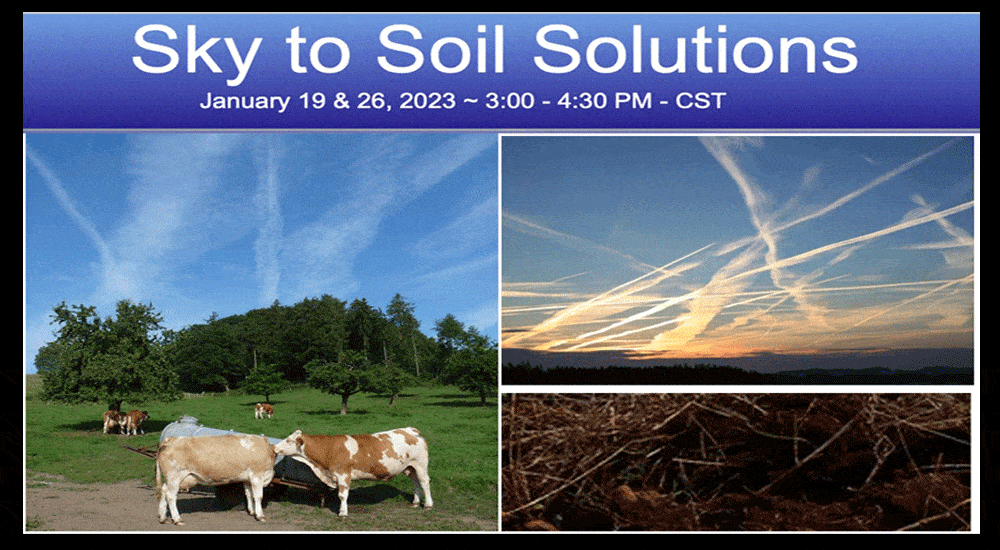 A 2 Part Series: Weather Modification, & Soil & Water Support
for Ranch/Ag, Conservation & Fire Protection. January 19 & 26, 2023 ~ 3:00 – 4:30 PM – CST
Miles Research: Advanced Weather Modification for TX 1.19.23
Click here to register:
https://us06web.zoom.us/meeting/register/tZUpf-GurTkvEtIqjDfiwtsrAN_rFgJrVXqP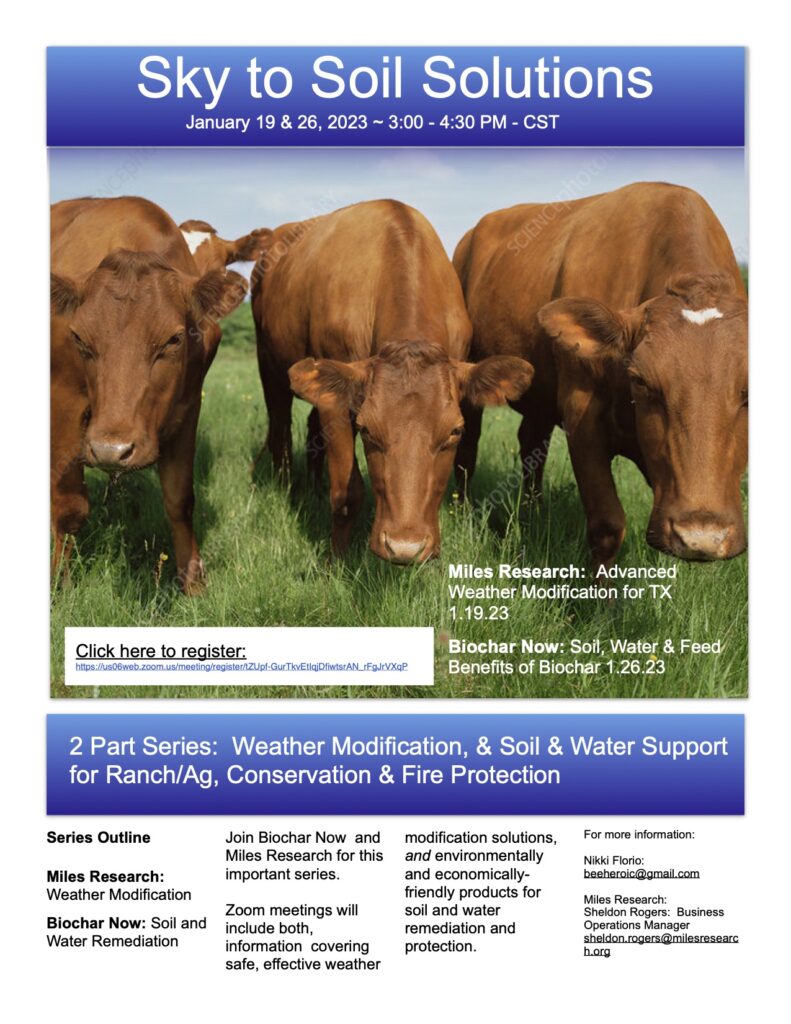 SKY:
Sky to Soil: 2 part zoom series on mid-to-large scale solutions related to weather and soil
About: From farms, to forests, to coastlines, current extreme weather events are impacting our
food and eco systems. This is taking a dramatic toll the lives and livelihoods of those who work
as America's food and ecosystem, producers and protectors. CEOs of two of the most remarkable
environmental companies to date – David Miles (Miles Research/Atmospherica), and
James Gaspard (Biochar Now) – will be providing information on advanced weather modification
and severe weather protection – and – the benefits, uses, and funding, available for biochar.

Sky- beginning January 19, 2023 – 3:00 pm CST/1:00 pm PST (1.5 hr)
Miles Research/Atmospherica: Mid-scale Advanced Weather Modification Attendees will
learn about the range of advanced weather modification solutions (allevi- ation of extreme
drought/wildfire/tornadic events, flooding and more); including:
• overview of technology
• examples of successful projects
• timeline
• cost
• benefits and ROI
• Texas regulation and licensing
SOIL:
January 26, 2023 – 3:00 pm CST / 1:00 pm PST (1.5 hr)
Biochar Now: Biochar for use in agriculture, feed, wild lands, wetlands, and car- bon credit.
Attendees will learn about the scope of uses, benefits and effectiveness, and funding available
for various projects.
• agriculture/soil/water/wild lands uses
• grants
• costs and ROI • grants
For more information, or to register, contact Nikki Florio: [email protected]


I think the regulated cannabis industry should only be the medicinal side, where patients want and require stricter manufacturing and…

Absolutely, we need to expand TCUP and provide folks with alternative natural therapy that actually works.

This is Dan Bowling, I think I am registered for the sky to soil solutions program for January 26th at…

This is the most in your face display of Corruption ever displayed by any of the states that issue licenses…

Hey Thanks for the kind words . . I'll try to make that correction