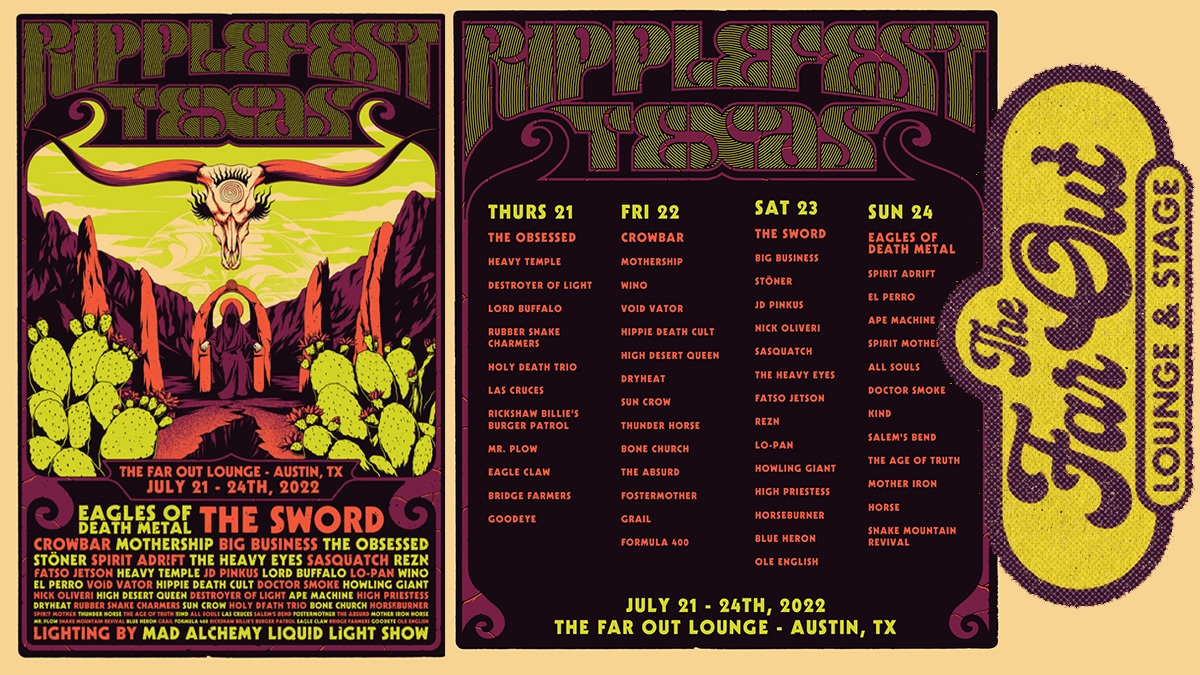 California-based record label Ripple Music is known for promoting retro 70's heavy rock, stoner, heavy psych, sludge and doom bands. Texas got a full dose of it's glory hosting one of their famous worldwide marquee events – Ripplefest – in 2021 and is returning to Austin this July for a four-day string of heavy riffs at Far Out Lounge. THR met with Ryan Garney of Lick of My Spoon Productions – the show's promoter and organizer, as well as frontman of Texas Desert Rock band High Desert Queen to get the scoop on this year's festival.
Thanks for taking the time out to speak with us, especially on the heels of your own European tour which sums up right before Ripplefest. Tell us about the origin of this festival on Texas soil and your involvement with it.
First of all thank you so much for having me. RippleFest Texas was spawned when my band High Desert Queen was signed to Ripple Music in early 2020. I talked to Todd Severin (CEO of Ripple) about the possibility of doing a show with all Ripple bands to showcase the bands he had signed from Texas. He gave me the full endorsement to do so, and also mentioned that every "RippleFest" that had every happened across the globe was always put together by the bands themselves. So I got to work and it quickly grew from a show with a few bands, to a show with 15 great Ripple bands in just the first year (July 2021). This year we decided to go all in, and are bringing bands across all kinds of labels from all over the world. One of the things I love about Todd and all the people at Ripple, is that they are all about the scene and don't care about only having bands from their label. This festival is 100% all about the love of music and people getting together. We know it's not about making money which is why our 4 day passes are the cheapest you'll find for a music festival of this size. It's all about getting the people together to enjoy these incredible bands, and growing our "musical family."
This year brings 4 days of music to the stages of Far Out Lounge. What all can concert goers expect and how did you go about choosing the lineup?
I"m EXTREMELY proud of the lineup we've put together. I brought my brother Shay on board this year to help me organize it and we've hand selected each band that's playing. Many of these bands are some of our favorites and that we've never seen in the same lineup before. We go to music festivals all the time and we sat down and made lists of all the things we love about festivals and what don't we love. One of our biggest complaints about large festivals is having to make a decision which bands you're going to see and which ones you're going to miss because their sets overlap or they are at a different venue. We made sure to find a venue that could be large enough to host all the bands and allow us to have absolutely zero band overlapping so that people who buy a ticket, will actually have an opportunity to see every minute of every band. Then we came up with a list of all the bands we would love to see at a music festival, and be sure to include bands that people need to see and don't get an opportunity to. We didn't get every band we wanted, but every band we got we are thrilled to have. Then we wanted it to look a certain way so we've hired the best stage lighting company in the business in The Mad Alchemist Liquid Light Show. Lance is an absolute artist and he will be lighting up the entire grounds to make it a unique visual experience as well.
We also wanted a festival that would have art, food, vendors, games and all the things we love about some of the music festivals we've gone to. There will be plenty of all of that, and we actually still have room for more sponsors and vendors that we'd love to add to help enhance the experience of RippleFest.
How would you best describe the music that Ripple supports and the culture surrounding the genre? Are all of the bands on the bill signed to the label?
Ripple supports ALL music! Now as far as the bands they sign, they typically sign Heavy Rock, Psych Rock and Metal. We have all of all of that and more. We've got everything from the Desert Rock sounds of Fatso Jetson, to the punishing metal of Crowbar and Spirit Adrift, to Stoner rock legends Eagles of Death Metal and The Sword, and even some banjo fingerpicking by JD Pinkus of Butthole Surfers and Melvins fame. We also have some acoustic sets from Wino and Nick Oliveri. There are jam sessions planned and even an improvised music and puppet show from desert legend Sean Wheeler and his super group of musicians called Dryheat. So we plan on having all kinds of variety as well as one of kind performances that may never happen again. RippleFest Texas has 55 artists performing and about half of them are on the Ripple Music label. The rest are all family and there to share their love with us.
What is the background of Lick of My Spoon productions and what all does it do for the local music scene?
LOMS came about during the lockdown in 2020 when artists and musicians were really feeling the pain of not being able to share their creativity at a live show. I became very proactive at organizing events even when the world was closed because I knew that the world would open again and people would need to see live music right away. I've never had any interest in making money with it and it's all about the bands and the venues that I can help. Being in a band myself I understand the struggles of getting your music heard and being compensated for your art, so we try and take care of the artist first and foremost. The rest will hopefully take care of itself.
There will be no shortage of pre-parties for Ripplefest – where should we look out for those?
We have just started announcing some shows in surrounding cities like Houston, Dallas and San Antonio that are official RippleFest Texas sponsored events with artists that will be at the fest. As it gets closer to the festival you can anticipate others to be announced, as well as some parties around the weekend of the festival.
Where can everyone follow updates and information on the festival?
The best way to stay updated is to follow RippleFest Texas on Instagram and Facebook. Also www.lickofmyspoon.com will have information about the festival and showcases going on around the event. Plus the venue The Far Out Lounge does an amazing job themselves of sending out information or answering any questions anyone has. We really hope to see everyone there! If we can make this a success we will hope to keep making it bigger and bigger every year! Thanks again for having me and much love goes out to everyone who supports live music and the art these incredible musicians make. Cheers!
I think the regulated cannabis industry should only be the medicinal side, where patients want and require stricter manufacturing and…

Hey Thanks for the kind words . . I'll try to make that correction

I recommend the Texas hemp reporter ? Be seen and be heard with Russell ✌️

Hey, yall had great coverage of the event, any way yall can email me photo one of your lady photographers…

Hello Stacey, I really enjoyed your article about Shayda and Sydney Torabi at Re-Start CBD. Their cannabis knowledge, enthusiasm, and…