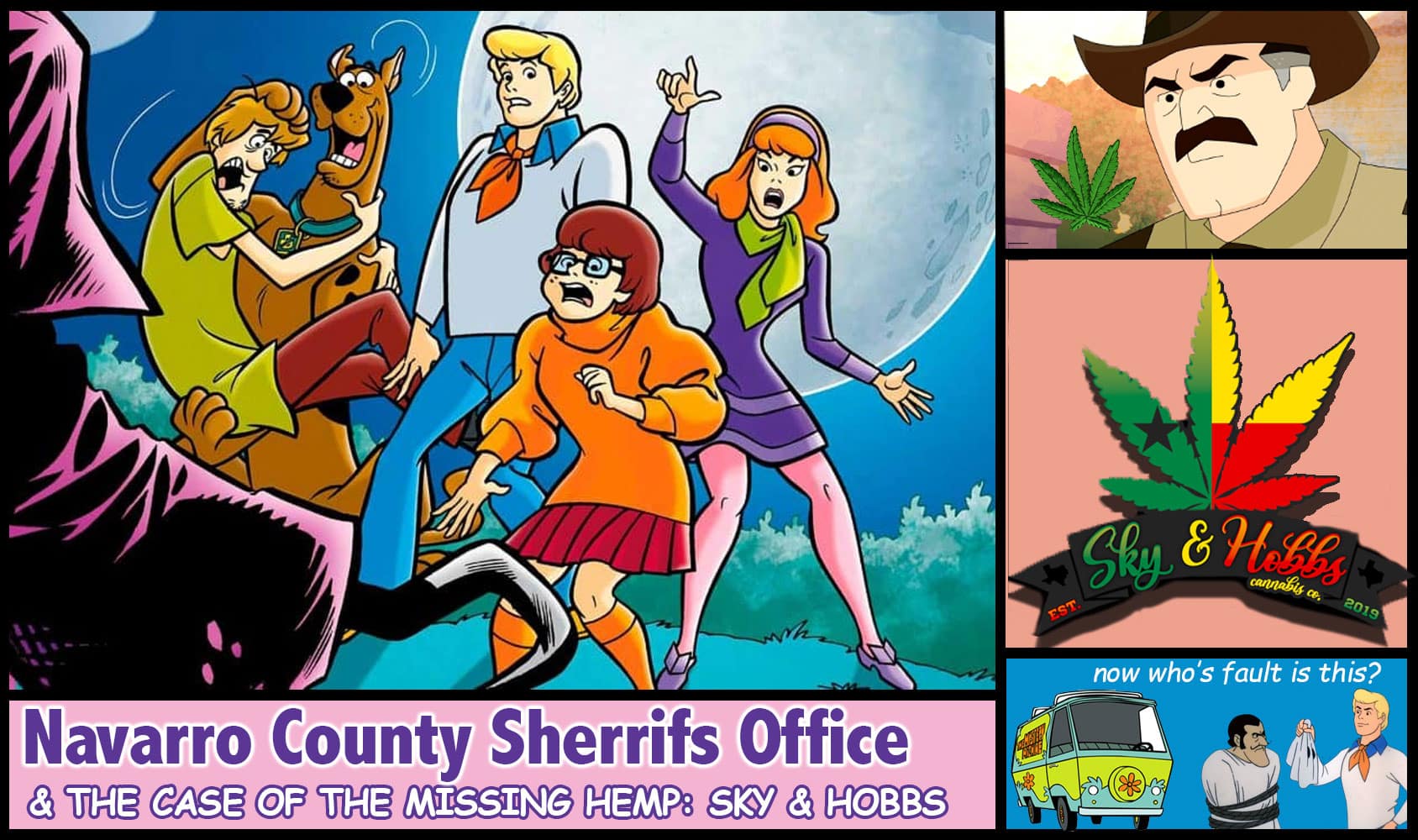 For nearly a year, Hunter Robinson had felony drug charges looming over him after he says he grew hemp legally in Navarro County.
"It's been quite rough on my family, myself, everything. You name it — it's impacted me. It's been terrible," he said.
Robinson, a 27-year-old disabled U.S. Navy veteran who said he greatly benefitted from using CBD products, received a hemp producer license from the Texas Department of Agriculture (TDA) in 2021. He and his business partner, 28-year-old Skyler Purcell, said compliance was at the top of their priority list when they launched Sky & Hobbs Organics, LLC with the intention of producing CBD flower and oil.
"We spent hours upon hours going through every single genetic variety that was on the TDA's approved variety list," Robinson said.
Rather than selecting the coolest-looking varieties or strands with the catchiest names, the pair said they picked the lowest testing varieties they could get their hands on. Each time the TDA tested samples of Sky & Hobbs' products, they passed all criteria.
"All of our product had already been tested previously and deemed by the state of Texas and Texas Department of Agriculture as approved, compliant hemp." Purcell said. Purcell, who was a 50% co-owner of the business, was never charged with a crime.
"They were trying to produce the best legal quality product they could find, and they took extraordinary steps to do that," defense attorney David Sergi said.
Robinson and Purcell said they were stunned when their indoor growing facility was raided on June 10, 2021, by the Navarro County Sherriff's Department, which had a search warrant signed by Navarro County District Judge James E. Lagomarsino. When nobody answered the door, officers used forced entry and seized three product varieties.
Robinson and Purcell said they provided the officers on scene with documentation that proved they were operating a legal business, but that didn't stop them. For more than two months, the property remained an active crime scene that Robinson and Purcell were not allowed to access.
Law enforcement officers returned to Sky & Hobbs Organics on Aug. 25 with an arrest warrant for Robinson — also signed by Judge Lagomarsino — that alleged he knowingly and intentionally possessed "a usable quantity of marijuana against the peace and dignity of the state." According to the sheriff's office, two of the company's samples contained 0.378% and 0.468% of delta-9 THC by dry weight, which is over the legal limit of .3%.
Robinson was arrested and charged with felony posession of marijuana. He spent 30 hours in jail before bonding out.
The Texas Hemp Program was launched after the U.S. Farm Bill legalized the cultivation of cannabis in 2018. According to the law, if the THC level falls above 0.3% but below 1%, the crop must be destroyed. If a product tests for higher than 1% THC levels, the grower can be cited with negligence by the TDA. If the TDA determines that a grower deliberately produced a crop with 1% of THC or higher, they can face criminal charges. This provision allows for natural variations in THC levels, Sergi said.
"From our point of view, the product was within legal limits and all the testing showed that it was under .03% Delta-9 THC, and at worst there is a reason why there is a negligence factor built into the code, and this is exactly where this falls in," Sergi said.
The legal battle ahead
In May, the state dismissed the case against Robinson, stating there was not enough evidence to prove he was in possession of marijuana.
"I'm on cloud 9. I'm celebrating every day," Robinson said. "I'm at work, and I'm celebrating. I'm outside last night, it's getting reaedy to pour down, the wind is coming through … a storm is coming through, and I'm outside with a cigar and a glass of whiskey just celebrating. I mean, it's been a year. We've been dealing with this for so long."
Currently, Purcell and Robinson are asking for the public's help to raise funds for their ongoing legal costs. Those who want to contribute can visit texashempfederation.com and click on the "Donate" button on the home page.
According to Jay Maguire, executive director of the Texas Hemp Federation, everything the organization raises will support this cause until their goal is met.
"We just want everyone involved in this industry to understand what's taking place is possible, and if they see this as a problem, hopefully they would feel how we're feeling and contribute," Robinson said.
People can also help by sharing the story to raise awareness about the fact that — while hemp farming is legal in Texas with the proper licensure — there is an apparent disconnect when it comes to educating jurisdictions about hemp farming laws.
"The Sky and Hobbs case also points to a deficiency in Texas regulations about how to even out, or remediate a crop, which can vary in THC levels from plant to plant," Maguire said. "It's a bit like blending different varietals of wine."
According to the U.S. Department of Agriculture, remediation can be achieved by separating and destroying non-compliant flowers while retaining stalks, leaves, and seeds, or by shredding the entire hemp plant to create a homogenous biomass that can be retested for THC compliance. So, even if one batch is a bit over the limit, by mixing it in with lower-THC, compliant biomass, the resulting batch would fall at or below the legal limit.
"My understanding is police here simply took samples from plants that weren't even in the stream of commerce yet, and which could have been remediated or destroyed according to the current regulations," Maguire said.
Also questionable, Purcell said, is the fact that the Navarro County Sherriff's Office never filed an administrative report about the incident with the TDA as protocol states.
"Before there's any accountability you have to go through the steps," Sergi said.
Shattered dreams
As childhood friends, Robinson and Purcell dreamed of one day starting a business venture together.
"We wanted to do the right business at the right time and take advantage of a situation," Robinson said. "We realized that cannabis was coming sooner rather than later and that hemp was the starting point."
Robinson and Purcell invested $75,000-$100,000 into Sky & Hobbs Organics and continued working full-time jobs while pouring a majority of their spare time into the business.
"We wanted to be able to say we were producing the cleanest, the best legal product that Texas had to offer. Every dollar we got went back into our business. In our five-year plan, me and Sky weren't going to be taking any money for a long time," Robinson said.
Now, rather than building a lucrative revenue stream, Robinson and Purcell are scrambling to get back on track financially.
"We had to close our business, our business account, our website," Robinson said. "We've relaunched our website and we're actually going to start doing stickers and see if people are willing to do a $5 donation for a sticker."
Throughout the process, Robinson said he feared what a felony conviction would interfere with his job as a mechanical engineer. He also relocated to be closer to his wife's family so she and their children will have support in case anything happened to him. In addition, both men say they are devastated about what's been lost.
"We put everything into this — life savings. I'll never get that time back. We were doing it with something in mind. We wanted to build something for our families, and it's a shame that there are no protections for us. I have contacted the TDA. There's no one to help us."
Robinson and Purcell both say they were robbed of a chance a pursuing the American dream.
"And not only that, I got taken to jail for following the American dream," Robinson said. "I loved doing what we were doing, but the only way I would ever participate in this industry again is if I knew that the state or the feds would protect the people participating in this legally."
I think the regulated cannabis industry should only be the medicinal side, where patients want and require stricter manufacturing and…

Hey Thanks for the kind words . . I'll try to make that correction

I recommend the Texas hemp reporter ? Be seen and be heard with Russell ✌️

Hey, yall had great coverage of the event, any way yall can email me photo one of your lady photographers…

Hello Stacey, I really enjoyed your article about Shayda and Sydney Torabi at Re-Start CBD. Their cannabis knowledge, enthusiasm, and…