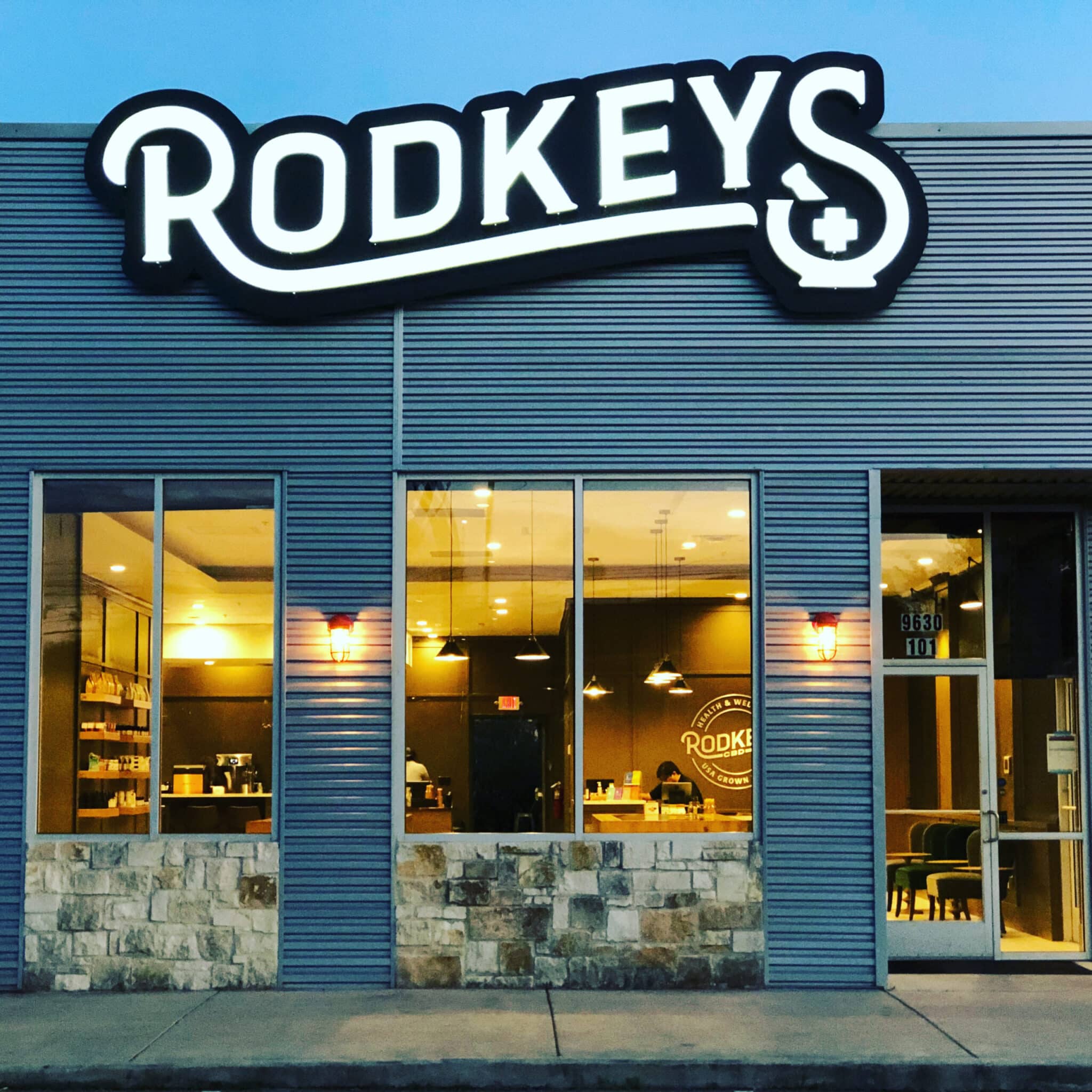 Rodkey's Health & Wellness, San Antonio, Tx, I rodkeys.com
Charles Rodkey Jr. is a true pioneer in the CBD retail and manufacturing space.  A self-proclaimed plant science savant, Charles had already spent years researching and studying cannabis when he left a successful 20-plus year career in the medical supply industry.  Motivated by a desire to follow his true passion, Charles formulated CBD products designed to grant his mother some much-needed relief from inflammation.  Recognizing the vast market for affordable salves and tinctures, he opened the first exclusive CBD retail store in Texas in 2017.  After enjoying immediate success and expanding the business to a second store, Charles and his family decided to move in a new direction.  They created Structure CBD, which quickly became a well-recognized manufacturing and wholesale brand, while staying active in retail with a combined store and coffee shop-Rodkey's Health and Wellness.  The proprietary blend of ingredients in his formulations have taken the industry by storm, and he notes with pride that all of his products are manufactured in a Texas-licensed facility right there in his home city of San Antonio.
Texas Hemp Reporter: Can you explain the difference between plant and isolate products?
Rodkey's Health & Wellness: Whole plant (full spectrum) extracts are going to contain a wide range of plant cannabinoids and terpenes along with trace amounts of THC. CBD Isolate is the isolated CBD molecule with all other cannabinoids and terpenes removed during the refinement process, it is a 99.9%+ pure CBD extract. Isolate products are a better choice for those who have regular drug screens or simply want to stay away from THC in general.
THR: What products do you offer for pets?
Rodkey's: Rodkey's carries the Structure CBD Pet line which includes sublingual tinctures and bacon cheeseburger treats. Some pet parents also opt to use our Rodkey's water-soluble CBD "Rapid" to add directly to their pet's water bowl.
THR: You have many different coffees, teas and drinks, as well as kombucha and shots.  The shots can be added to any of the drinks?
Rodkey's: Yes, customers have the option to add CBD, Immune Boost, our natural allergy formula, collagen, and several other health-based adaptogenic compounds to any beverage. We wanted to keep these offerings optional so our customers can essentially create their own beverage, there is truly something for everyone! We also offer a variety of craft pastries from various local businesses.
THR: You also have some cosmetics, tinctures and topical solutions, all with your name on the label.  Do you manufacture these yourself?
Rodkey's: Yes, we procure high-quality, raw ingredients and produce all of our products in a state-regulated and licensed lab in the heart of San Antonio, Tx. Our products then go through a vigorous third-party testing process to ensure purity and potency.
THR: Rodkeys is a one-stop health and wellness shop.  Do you have plans to add any more products or consumables in the near future? Or more locations?
Rodkey's: We are constantly watching this ever-evolving industry and adding new products, our latest addition being the new Structure CBD line of Delta 8 products. New locations are always a possibility!
THR: I see by your Facebook page you have also hosted DJ's from San Antonio, the Panhandle and Austin.  Can you talk about your dedication to local talent?
I have been involved in the local DJ scene for many years and have always had a passion for house music. I decided to incorporate Friday night music into our business in light of COVID to help support local musicians during a difficult time, while offering a safe, fun, and relaxing Friday night option for our customers- it is a win/win!
In their 6+ years of being in the Hemp CBD industry, Charles and Meggie have seen "very positive results from thousands of clients."
You can visit Rodney's Health and Wellness and design your own drink at 9630 Huebner Road, Suite 101 in San Antonio, Tx.  You can check out their Green Couch Sessions on Friday nights from 6-9pm, when they have local DJ's spinning house music, free coffee, CBD and pre-roll specials, and check out rodkeys.com/shop.


I think the regulated cannabis industry should only be the medicinal side, where patients want and require stricter manufacturing and…

Absolutely, we need to expand TCUP and provide folks with alternative natural therapy that actually works.

This is Dan Bowling, I think I am registered for the sky to soil solutions program for January 26th at…

This is the most in your face display of Corruption ever displayed by any of the states that issue licenses…

Hey Thanks for the kind words . . I'll try to make that correction