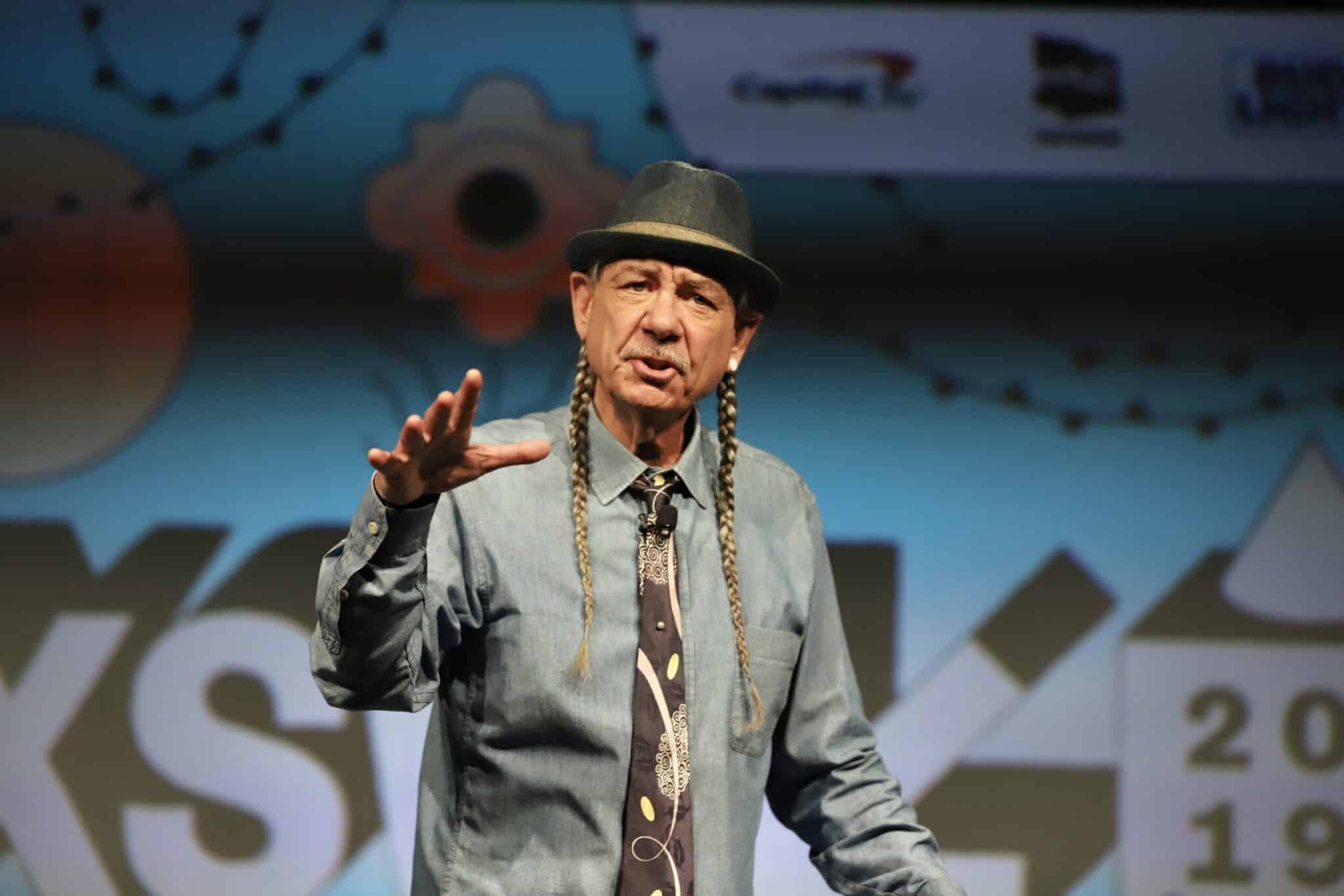 Texas Hemp Reporter: It is quite an honor to speak with you Steve. Most interviewers would ask this kind of a question toward the close, I'll flip the coin. What is the future of cannabis?
Steve: The future of hemp is to become the most profitable cash crop on Earth. Dollar per dollar volume cannabis will begin to outsell actually any other single product. Here's some statistics, since legalization in California alcohol use is down by 25%.. in most areas where legalization has occurred alcohol use reduction is between 15 and 20%. And I should mention Pabst Blue Ribbon has come out with a non-alcohol hemp tonic.
So many products can be replaced with hemp-based ones that are equal in price or cheaper to construct. If you press hemp seeds you get a wonderful emerald thick liquid that is bio-fuel for diesel engines. If you mix hemp seed oil with 10% ethanol, also derivable from hemp, you have a perfect bio-fuel for any diesel engine. Grind hemp seeds up you get hemp milk, a delicious beverage to put in your coffee or granola. Take a truck. Some of the truck's body could be made from plastic from hemp oil, the engine could run on hemp diesel, the boxes the truck carries could be hemp fiber, the socks and shoes of the driver could be hemp..
Hemp is the toughest fiber, much tougher than cotton. They found wills and bequests from the middle ages where people would bequeath their hemp linens to new generations because they don't wear out. The Levi
company has come out with jeans that are 30% hemp. That's because they see that hemp is eco-friendly and sustainable. Using hemp paper and for furniture we could eliminate the need to cut down trees. Hemp wood is 20% stronger than oak and 100 times faster to grow.
There's something like 25,000 products that are hemp-derived.
Texas Hemp Reporter: You've co-founded or founded about ten businesses and organizations. Are you a counter-cultural hero?
Steve: I don't think it is very heroic for someone to refer to themselves as a hero. I think that I am very lucky to have seen the light at a young age and to have the skills to organize things. I love to found, I love to get a business going then as it grows and others can manage it I move onto to something new. As far as the counter culture is concerned.. look the hippies gave us the personal computer right? The hippies gave us organic food to eat, the hippes gave us the electric car, introduced the west to yoga.
Texas Hemp Reporter: I personally believe there is a strong subculture surrounding the whole CBD thing, and medical marijuana. Do you think we can tap into this culture to make the industry more compassionate? To "love the plant" as you say?
Steve: Yeah. I believe so. Look we better, we're destroying this planet real fast, we as consumers have a mission and we better act on it. I didn't start
out to create a new industry but a new kind of industry. As with our Last Prisoner Project I approached the industry for support and they came through. In only a year and a half we have seen the release of thousands around the world, some due to Covid 19 petitions. Michael Thompson was released after serving 24 years of a minimum 40-years sentence. He was the longest serving non-violent prisoner of Michigan. All for selling 3 pounds of marijuana.
Also we hope to widen the investment in new licensees, as with Arc-view. We are interested as much in how not to invest.. there is a large disproportion of new cannabis licenses in disadvantaged communities. We have to see black and brown people thriving in an industry they had a lot to do with founding. We need to find out how to support, create capital flow, sustain, educate and see those people grow.
Texas Hemp Reporter: I have been studying some of your writings. From your website, "A Lesson From Another Teacher" it is exciting because you're talking about medical psychedelics.
Steve: Yes. I was traveling over four continents meeting with growing cannabis ventures when right in my hometown of Oakland California the city decriminalized natural visionary plants making psychoactive substances the lowest priority of the Oakland Police Department. I have always wanted to see visionary plants decriminalized as a Drug Reform activist. Also as a person who has incorporated psychedelics and cannabis into my own spirituality.
If you follow the history you know of cannabis, from the oldest known usages in central Asia, if you go east you find that marijuana became central to Hindu culture in India, and Buddhism such that it is a medicine in the Ayurveda canon. Excavations have found cannabis in temples, around statues, if you travel to Japan, the indigenous religion of Shinto, there will be a long hemp rope at the entrance to Shinto temples.
It has been shown in Israel use of cannabis as a grave offering, especially young women who had died in childbirth. And in Egypt it was burnt to clear temples. Really everywhere it is woven into the spiritual practices of peoples. It was central to ancient Greece, as were many other psychoactive plants. It wasn't until Rome solidified their empire making Christianity the state religion which banned all psychoactive plant use. You see all those old Greek statues that are missing arms and such, that was hordes of Christians who would come in and search out anyone using any psychedelic plant, take them out of their homes and execute them. Even all those philosophers of the Academy which gave us western civilization they were using all sorts of psychoactive plants.
Interview conducted by Sana v'Ritzvah
Steve DeAngelo is a globally recognized cannabis leader who was dubbed "the father of the legal industry" by former Speaker of the California Assembly & 41st Mayor Willie L. Brown Jr. From grassroots community campaigns to appearing on national television networks and every uphill battle for legalization in between, his trailblazing work and creation of a model medical cannabis dispensary that set best practices for an entire industry make him one of the world's top cannabis experts, foremost thought leaders, and recognized entrepreneurs.
Steve is Co-Founder and Chairman Emeritus of Harborside, now a publicly-traded company on the Canadian Securities Exchange with California dispensary locations in Oakland, San Jose, San Leandro, and Desert Hot Springs-only the second dispensary in California to feature a drive-thru. The vertically integrated California cannabis company founded in 2006 has more than 300,000 registered patients. Rooted in Steve's belief that cannabis use should be wellness centric, Harborside was one of the first in the nation to support comprehensive cannabis education for seniors, veterans, and families with severely ill children. Featured in numerous high profile media pieces and winning multiple awards, including Best Dispensary in California (2017), Harborside continues to set the industry gold standard and is a leading advocate for diversity, environmental sustainability, and economic justice in the cannabis sector.
Steve is also Co-Founder of Steep Hill, Inc., the first commercial cannabis lab in the country, and Co-Founder of Arcview Group, the first cannabis investment firm. Steep Hill has grown to become a world leader in cannabis science and technology with extensive expertise in lab testing, remote testing, genetics, research and development, and intellectual property licensing. Arcview angel investment network now includes more than 600 accredited investors and has raised over $270 million for 200 cannabis-related companies to date. Steve formerly served Arcview as Vice President; the firm remains dedicated to galvanizing progressive drug policy reform by empowering a responsible, profitable industry.
Early on as an activist, Steve was skipping school to attend anti-war demonstrations and eventually dropped out to join the Youth International Party – also known as the Yippies. He went on to become the lead organizer of the annual Fourth of July Smoke-In in D.C., carrying the position for a decade. Steve graduated summa cum laude from the University of Maryland. He also opened a legendary D.C. counter-cultural gathering place that became known as a refuge for local cannabis and peace activists during the Reagan-Bush era, including William Kunstler, Wavy Gravy, and author Jack Herer. Steve helped Jack Herer edit and publish the manuscript for his soon-to-be-famous book, "The Emperor Wears No Clothes," and became a lead organizer of the first Hemp Museum and Hemp Tour. He created his first cannabis business, Ecolution; the company was one of the first to ride an industrial hemp boom, manufacturing hemp clothing and accessories for retail sales in 50 states and 21 countries during the '90s.
Continuing to stand tirelessly for legalization and decriminalization of cannabis around the globe, Steve remained at the forefront of the cannabis reform movement, playing a pivotal role in the passage of Initiative 59-Washington D.C.'s medical cannabis law. After a legal battle lasting four years with the U.S. Department of Justice, he ultimately succeeded in defending their multiple attempts to close Harborside. He helped to pass Prop 64, California's adult-use law, and making history on January 1, 2018, made the first legal cannabis sale in California's first moments of legal recreational use.
As an industry pioneer and progressive leader, Steve attracts global invitations to present and appear before audiences of thousands, reaching beyond cannabis and inspiring action toward restorative and equal justice, individual and community wellness, and cultural change for the sustainability of earth and humankind. At SXSW 2019, he gave the first-ever cannabis-themed keynote to be featured at the conference and was invited to return as a featured presenter the very next year. A reputable and known American cannabis leader, advocate, and educator, he appeared by invitation to renowned Oxford Union in Great Britain for the 2017 'War on Drugs' debate sessions. Appearing before audiences around the world is a natural progression of Steve's life work. As a prime advocate of diversity, sustainability, and social justice, he carries his message to help build a world that lives by the same values cannabis can teach.
Steve is the author of The Cannabis Manifesto: A New Paradigm for Wellness, and an originator of the wellness approach to understanding cannabis. His acclaimed book is a compelling account of a personal journey with cannabis that outlines numerous solid arguments for legalization while presenting research-backed benefits of the plant. In its first week of release, the title became number one bestseller in the Wellness category on Amazon-the book's guiding statement: "Cannabis is not harmful, but prohibition is." Steve DeAngelo's special feature presentations for keynote delivery include The Cannabis Renaissance Global Edition, Whole Plant Medicine is the Best Medicine, North American Roots: The Cannabis Plant & Prohibition's Truth, and The Cannabis Creed (debuting at SXSW 2020).
Steve's great success and persevering advocacy draw top tier national media attention. In 2009 he was the subject of a NY Times cover, the first-ever by the publication to include a feature story on legal cannabis. He has appeared nationally on all major media outlets, including FOX, CBS, CNN, NBC, CNBC, and extensively in publications such as The Wall Street Journal, The New York Times, and USA Today. Special feature media projects include a starring role in Weed Wars, the first cannabis-oriented reality T.V. show (Discovery Channel), Ask Steve DeAngelo weekly web series by Green Flower Media, and development of entertainment works under DeAngelo Bros. Productions, a company founded by Steve DeAngelo and brother Andrew DeAngelo. A podcast and weekly television show documenting Steve's travels to cover cannabis culture globally are coming in 2020 to Free Speech T.V. (FSTV), a 24-hour independent television network currently available in 37 million U.S. homes.
Steve is the recipient of the 2015 High Times Lester Grinspoon High Times Lifetime Achievement Award and was named one of the most influential people and "gatekeeper of the industry" in 2015 by the International Business Times. In 2016 he was named one of the seven "Most Powerful People" in America's cannabis industry by Fortune. Most recently, he was honored with the Peter Tosh Equal Rights Award and inducted into the Marijuana Business Daily Hall of Fame.
Steve believes that an ethical and politically engaged industry will be the most powerful force in spreading cannabis reform to every corner of the planet. As Founder of the Last Prisoner Project (2019), he will not stop until the last cannabis prisoner is free. As host of the Radio Free Cannabis podcast-launched in 2020, his role as an activist seeking global unity for equal justice, advocating for human rights around the world, for cannabis legalization across planet earth, and the end of criminalizing medicinal plants worldwide, continues.
Steve DeAngelo
Father of the Legal Cannabis Industry
Global Cannabis Ambassador
Founder of Last Prisoner Project
Host of Radio Free Cannabis Podcast
Author of The Cannabis Manifesto
stevedeangelo.com | Website
Steve DeAngelo | LinkedIn
@steve.deangelo Instagram 23K+ followers
@TheSteveDeAngelo | Facebook 4K+ followers
@stevedeangelo | Twitter 29K+ followers

Awards Highlights:
2019 MJ Biz Award 2019 Hall of Fame Inductee
In the computer industry, there's only one Bill Gates. In the automotive space, only one Henry Ford. And the marijuana world has only one Steve DeAngelo –MJBizDaily recognizes Steve DeAngelo
2019 Peter Tosh Equal Rights & Justice Award
Recognized for making an outstanding contribution to the struggle of basic equal rights for all.
2019 Lifetime Achievement Award from California Cannabis Awards
2019 MGO ELLO Honoree
2019 Cannabis Business Awards Hall of Fame Inductee
2019 Harborside's KEY Takes Home Top Spot at High Times Cannabis Cup Bay Area
2015 High Times Lester Grinspoon Lifetime Achievement Award
Social Media Hits:
Harborside Desert Hot Springs Grand Opening feat. Steve DeAngelo & Jim Belushi DEC 2019
Marleys LPP Board Public Announcement AUG 2019
Willie Nelson LPP Public Announcement AUG 2019
Top National Media Coverage (Video):
TD Ameritrade The Watch Oct 2019
Fox Business: Varney & Co Jul 2019
Cheddar Interview in Toronto CSE Open Jun 13 2019
BNN Bloomberg in Toronto Jun 2019
Green Market Report
Cheddar Interview SXSW Mar 2019
MSNBC with Jacob Soboroff Jan 2018
ABC Feds Drop Case May 2016
National Media Coverage (Online, Print):
Steve DeAngelo Inductee into MJBiz Hall Of Fame
LA Times-OpEd on Tax-July 15 2019
Green Entrepreneur-HBOR CSE- Jun 2019
CNN Business HBOR CSE June 2019
NY Times Cannabis Goes Industrial Apr 2017
LA Times-Weed Wars-Dec 21,2011
NY Times Don't Call it "pot" 2010
Do Cannabis Entrepreneurs and Big Business Actually Need Each Other? Inc.com 2015
Forbes-Harborside Going Public-May 31 2019
Variety Magazine-Last Prisoner Project-Jul 15, 2019
Hightimes Magazine-Last Prisoner Project-Jul 2019
Speaking & Appearance Highlights:
SXSW Featured Session March 2019
Oxford Union Debate – This House Would Say No to Drugs feat Steve DeAngelo Mar 2017
Harborside Desert Hot Springs Grand Opening DEC 2019
Arcview Investors Forums
ROTH Capital Partners Conference
Cannaciencia (Bogota, Col)
ExpoCannabiz (Cartagena, Col)
CannabiSalud (Mexico)
High Hopes
CannaTech Israel
MJBizCon
Trailblazers Summit Series
O'Cannabiz (Toronto, ON CAN)
New West Summit
Aspen High
Imperious Expo
NCIA
International Police Association (IPA)


I think the regulated cannabis industry should only be the medicinal side, where patients want and require stricter manufacturing and…

Absolutely, we need to expand TCUP and provide folks with alternative natural therapy that actually works.

This is Dan Bowling, I think I am registered for the sky to soil solutions program for January 26th at…

This is the most in your face display of Corruption ever displayed by any of the states that issue licenses…

Hey Thanks for the kind words . . I'll try to make that correction