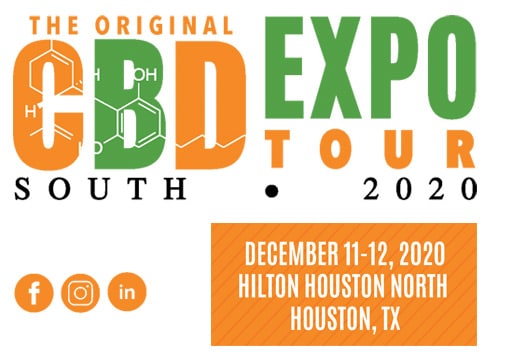 The in-person event will be held in Houston, Texas on December 11 through 12 and feature networking, exhibitions, education, and seminars
Houston, Texas – October 28, 2020 – The Original CBD Expo South 2020 will be held in-person on December 11 through December 12, 2020 in Houston, Texas. The event, hosted by MACE Media Group, is the 17th conference by the creators of the Original Expo Tour and will be an exciting opportunity to bring the cannabis, wellness, and CBD communities together after nearly a year of virtual programming.
"We are looking forward to the opportunity to connect with and bring together our strong CBD community of leaders, new-entrants, and innovators," said Celeste Miranda, founder and president of MACE Media Group and Cannabinoid Industry Association (CBDIA). "The CBD Expo is a time for us to reconnect, learn, and grow, both personally and professionally. We look forward to a safe and rewarding event."
The event will feature exhibits from end products producers, equipment manufacturers, and ancillary businesses including financial and legal service providers that display the latest and most innovative advancements in CBD. Exhibitors will have the opportunity to directly engage with consumers, dispensary owners, and buyers from well-known entities like Whole Food, CVS Pharmacy, Starbucks Coffee, and Trader Joe's.
In addition, the expo will offer unique cannabinoid education seminars from leading cannabis and cannabinoid PhDs, physicians, scientists, and researchers from around the globe. Seminar tracks include Research and Medicine, Regulation and Compliance, and Cannabinoid Education Certification.
Networking and community building opportunities will be at the forefront of this year's event. Over 190,000 individuals have attended the CBD Expo since its inception and always brings a diverse group of cannabinoid and cannabis professionals within areas of education, advocacy, and business.
To attend this year's event or learn more, visit us online at cbdexpo.net.
New restrictions and safety protocol will be in place due to COVID-19. To learn more about how we are protecting attendees and exhibitors, see here.Please direct all media inquiries to Chloe Latture at [email protected].
About MACE Media GroupMACE Media Group publishes niche cannabis industry trade publications. Its premiere title, Terpenes and Testing Magazine, was the first industry trade publication devoted to cannabis science. Its newer publications, CBD Health & Wellness Magazine, Extraction Magazine, and Hemp Farmer, revolve around the growing cannabinoid industry to provide news on trending applications, medical research, and updates with laws and regulations.
MACE also produces many trade events that attract dozens of cannabis and mainstream media journalists. Currently, MACE Media Group is producing a tour of CBD expos bringing together thousands of industry influencers, forming the most comprehensive CBD event in the United States.
Find out more at MACE Media Group or email [email protected].


I think the regulated cannabis industry should only be the medicinal side, where patients want and require stricter manufacturing and…

Absolutely, we need to expand TCUP and provide folks with alternative natural therapy that actually works.

This is Dan Bowling, I think I am registered for the sky to soil solutions program for January 26th at…

[…] The Texas Green Machine – Texas Hemp Reporter Texas Hemp Reporter recently wrapped a new delivery vehicle for making…

This is the most in your face display of Corruption ever displayed by any of the states that issue licenses…