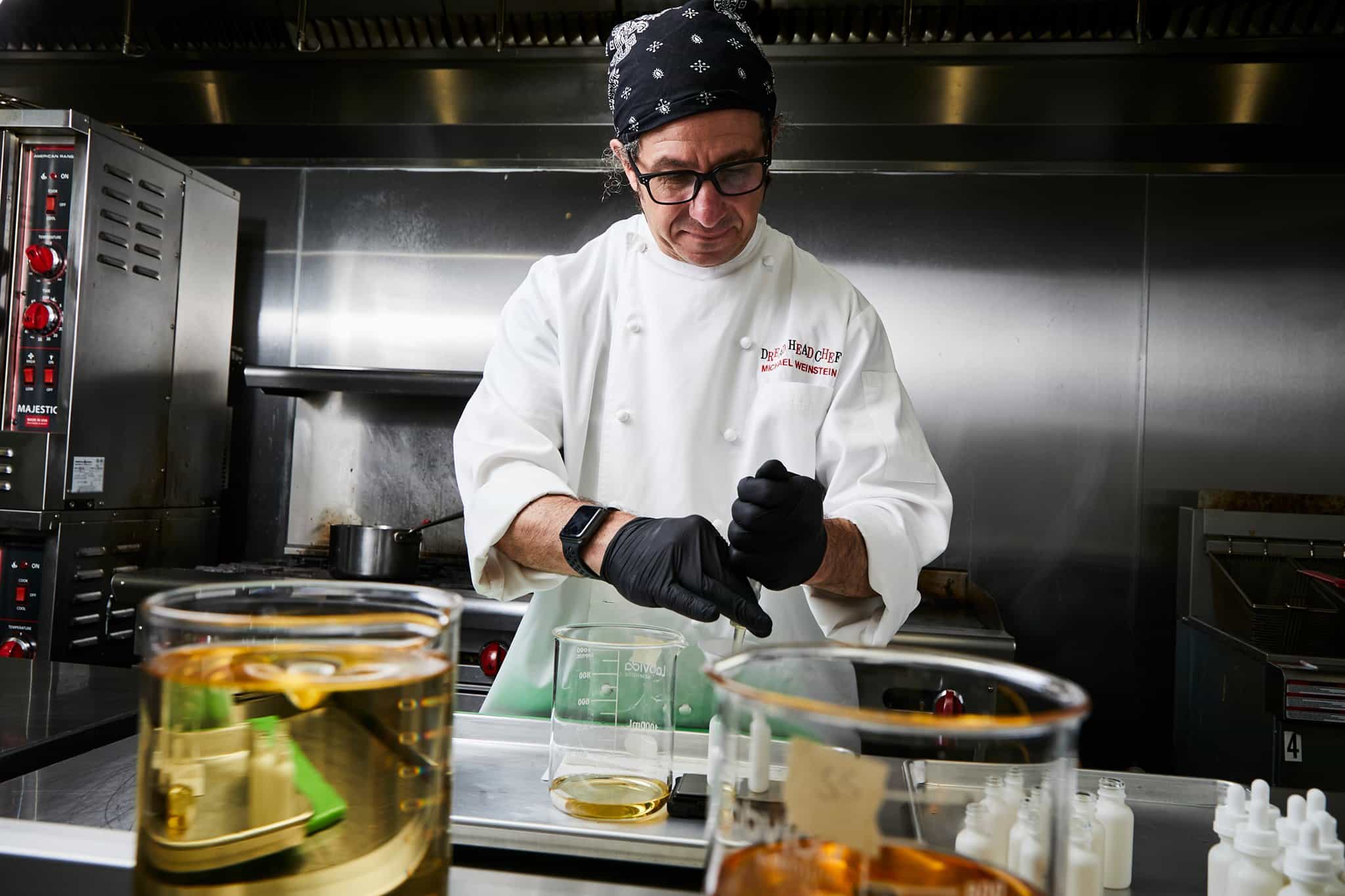 Michael Weinstein is tapping into hemp's healing power by crafting savory CBD-infused concoctions
After spending more than a quarter-century as a chef in the Dallas area, Michael Weinstein is making a name for himself as an award-winning hemp chef.
"When my dog got diagnosed with arthritis in both of his back legs, I infused (CBD) into some oil for my dog," he said. "I started noticing a difference in him getting up and down and thought, 'Maybe I could use my food knowledge in other ways.'"
His belief in the healing power of CBD was strengthened after his mother used a topical on her back.
"The first time she put it on, the pain subsided on her back," he said. "Stuff like that makes you go, 'Hmmm … maybe there is something going on with this.'"
Weinstein said he attended several Cannabis Cup events, and when Texas legalized hemp in 2019, he decided to monetize his knowledge of hemp-infused cuisine. Currently, his product line includes a variety of dessert salsas and caramels, as well as an edible intimacy serum that he said helps to ease menstrual cramps.
"I didn't want to make gummies because they're too trendy. I personally don't even like gummies," he said.
Weinstein uses a commercial kitchen to create all of his products and gets them third-party tested. He said takes pride in the quality and cleanliness of his concoctions, as they do not contain preservatives, food coloring or high fructose corn syrup.
"You can read the ingredients without using a dictionary," he said. "High fructose corn syrup has led to the obesity of America because it's a cheap sweetener. Why not use real sweeteners like sugar and honey?"
Currently, Weinstein is educating people at cooking classes, where he teaches attendees how to make specialty items — like CBD-infused deviled eggs.
"What I'm trying to teach people is if they want to go to the shows and buy flower, and they don't want to smoke it, how can they infuse it and turn it into a food product? I try to keep it pretty simple and not over-complicated, as we chefs can get complicated with some of the recipes we make. I'm trying to gear (the classes) for the home cook."
As far as upcoming products, Weinstein didn't want to give too much away about what's in the pipeline, but he offered a few hints.
"It's kind of like a cracker or vanilla wafer, and it's savory as far as texture. But there's also cheese involved," he said.
Keep checking rebeldreadscorp.shop for updates.
I think the regulated cannabis industry should only be the medicinal side, where patients want and require stricter manufacturing and…

Hey Thanks for the kind words . . I'll try to make that correction

I recommend the Texas hemp reporter ? Be seen and be heard with Russell ✌️

Hey, yall had great coverage of the event, any way yall can email me photo one of your lady photographers…

Hello Stacey, I really enjoyed your article about Shayda and Sydney Torabi at Re-Start CBD. Their cannabis knowledge, enthusiasm, and…