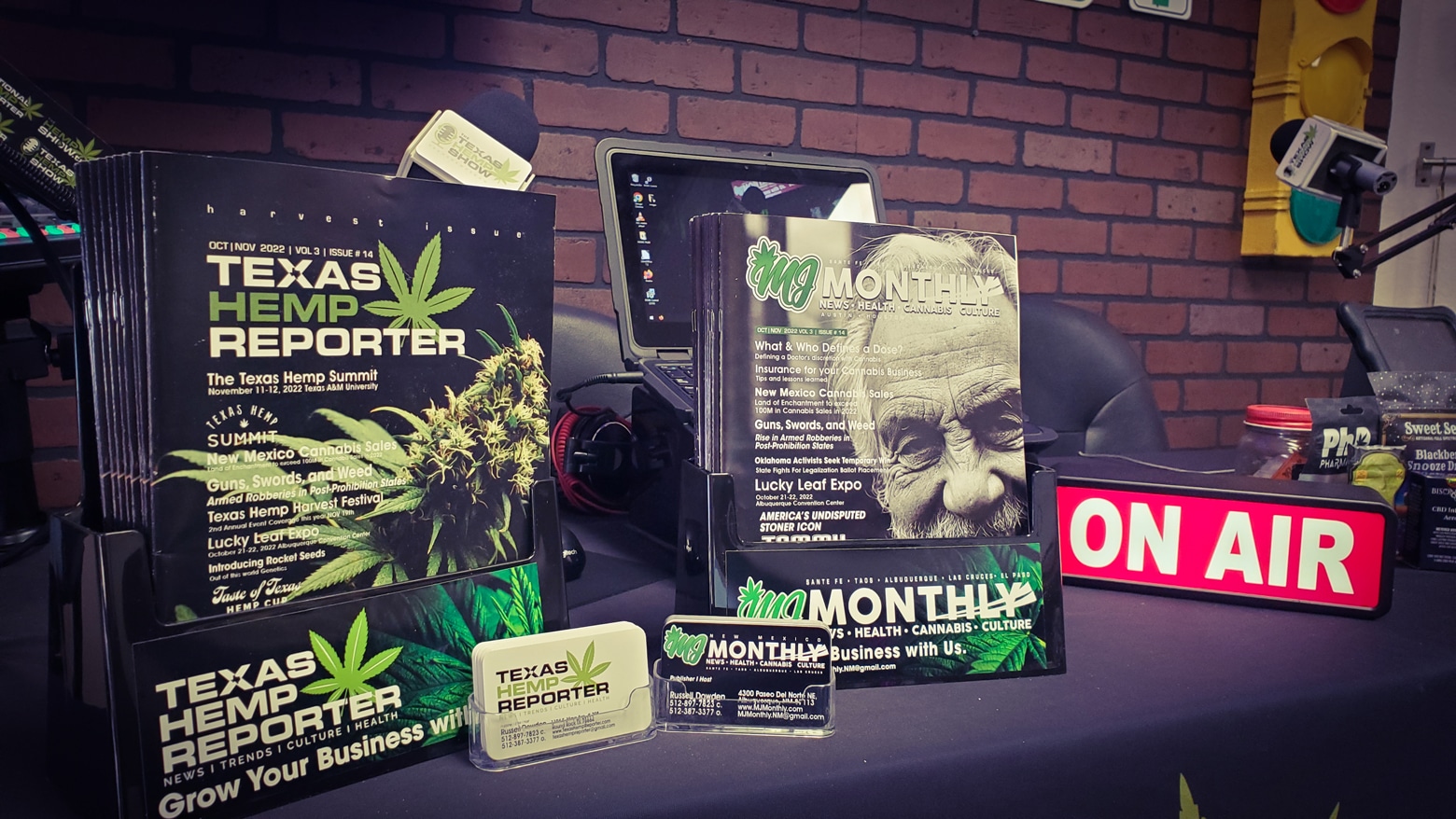 The Texas Hemp Reporter recently returned from our New Mexico trip to the Lucky Leaf Expo in Albuquerque and we left a few gifts to our fellow neighbors there. MJ Monthly is the Texas Hemp Reporter magazine with a different cover in the Land of Enchantment and now recreational Cannabis.
We often are reporting on activities in both Oklahoma and New Mexico with regards to their growing medical program in OK. as well as the successful recreational market in NM since April 1st 2022. We have been printing our publication in the last 12 months in Sante Fe and this has gained interest with our printing partners there, and they have been asking when we would like to make plans for distribution in New Mexico. So given the history with Chad and his Lucky Leaf Expo's that we've attended , we decided to launch the TX Hemp Reporter sister brand at the Albuquerque event last weekend.
We have partnered with Moo Publishing in New Mexico to handle distribution in Sante Fe , Las Cruces, Albuquerque & El Paso & Tactical Transportation in Oklahoma to handle our distribution in Oklahoma City & Tulsa. Moo recently delivered the current issue to more than 200 cannabis dispensaries and smoke shops around New Mexico. The footprint represents three of the states largest four grossing revenue markets for cannabis sales. We are only missing Hobbs which comes in 4th in New Mexico in gross cannabis sales, likely to its close proximity to neighboring Texas cities like Odessa, Big Spring, Midland and Lubbock.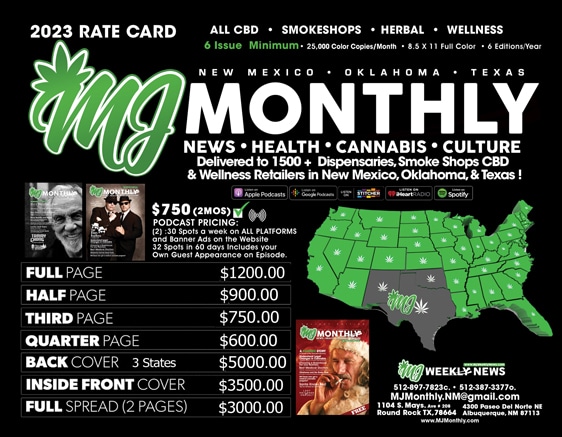 The advertising pricing is the exact same pricing as the Texas Hemp Reporter Magazine. In fact, for now . . All advertisers are sharing the the same publications real estate, so both Texas , OK, and New Mexico readers will enjoy the same content, news & advertisers for the time being.
MJ Weekly News is a forthcoming podcast / radio show that Patriot Media Group will produce covering cannabis news for the Southwest US cannabis markets. The sister website will also be MJMonthly.com in the coming weeks for the NM & OK reading audience or both sites will mirror each other similarly.
December Cover New Mexico & Oklahoma.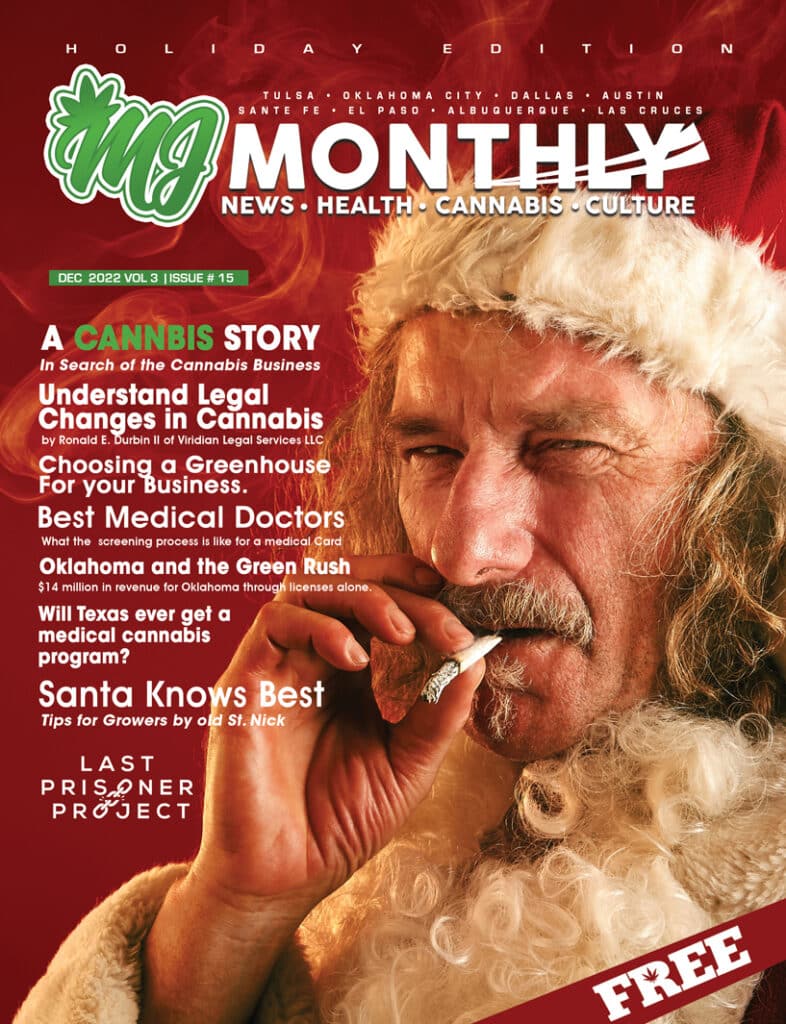 So just to recap, MJ Monthly is also available in New Mexico & Oklahoma & in Texas as "The Texas Hemp Reporter" your neighbor states of Texas also receives MJ monthly and our advertisers and marketing partners benefit from our combined circulation. Since we print in Sante Fe and deliver 1st to New Mexico and then OK & TX every 60 days while each client benefits from the 3 markets circulation.
Expanding to Oklahoma in December of 2022.
We are currently seeking media partners and advertisers to target their products to the hundreds of retailers that will be receiving MJ Monthly in their stores across the state this December. Over 1200 smoke shop retailers in 3 States!! MJ Weekly News Radio Program Coming Soon . . . .


I think the regulated cannabis industry should only be the medicinal side, where patients want and require stricter manufacturing and…

Absolutely, we need to expand TCUP and provide folks with alternative natural therapy that actually works.

This is Dan Bowling, I think I am registered for the sky to soil solutions program for January 26th at…

[…] The Texas Green Machine – Texas Hemp Reporter Texas Hemp Reporter recently wrapped a new delivery vehicle for making…

This is the most in your face display of Corruption ever displayed by any of the states that issue licenses…