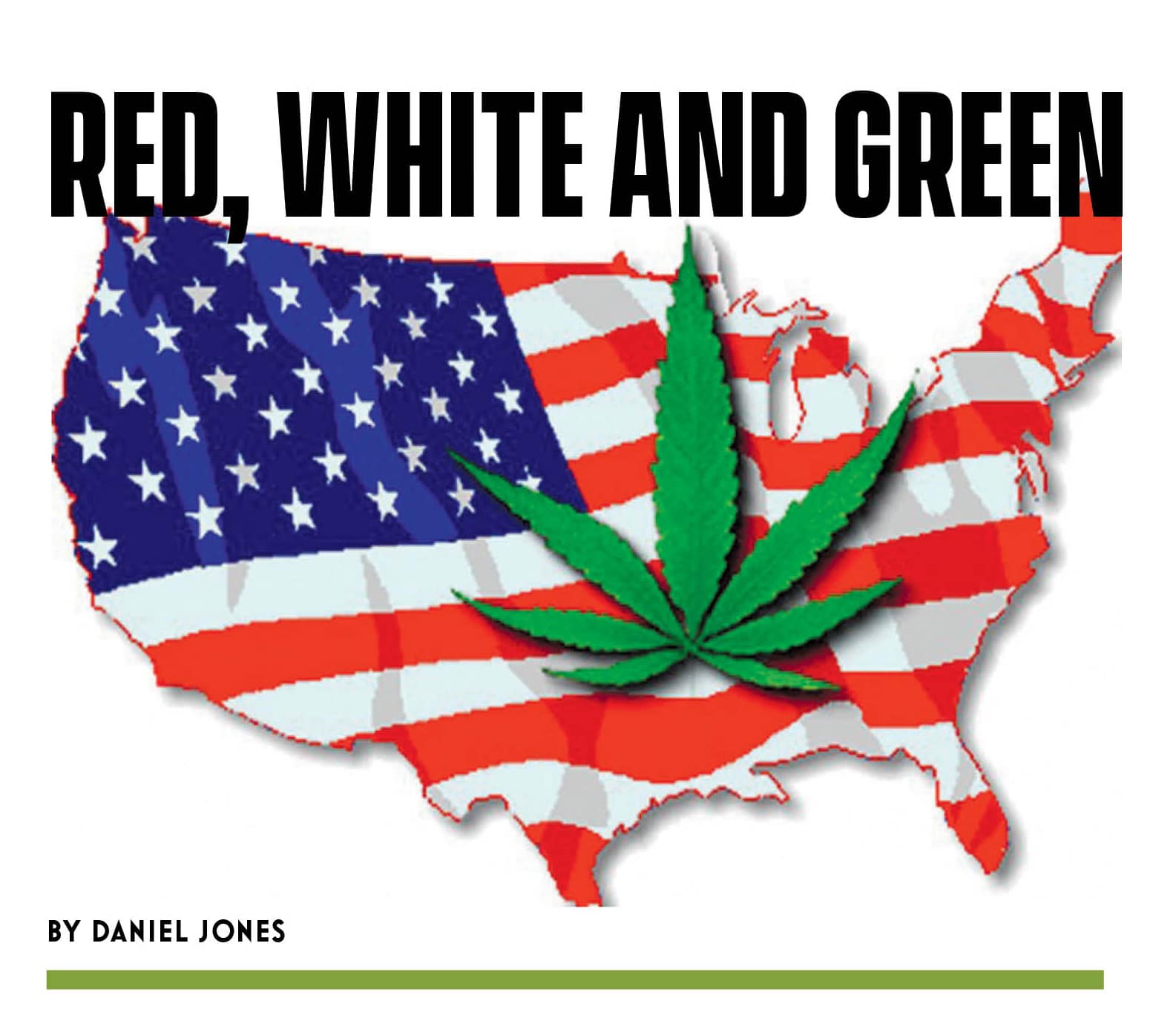 The State of Recreational Cannabis (Is Texas Playing It Safe? Or Just Missing Out?)
The fact that the Lonestar state is still vehemently anti-cannabis (at least in legislation at the state level) despite being surrounded by a sea of green is a true testament to the independent Texas spirit. It seems Texas is more likely to secede from the United States than it is to legalize recreational cannabis.
America's coalition of green – or pro-weed – states is vast, snaking from Washington state down the West Coast, then east to Arizona and New Mexico, up over the Texas panhandle into Oklahoma; and from Arkansas, it goes straight north to Canada and all the way along the Gulf of Mexico to Florida. And that's not including several other Southwestern states, as well as most of the Mid-Atlantic and Northeastern states.
As of this writing, a grand total of 18 U.S. states have legalized recreational cannabis for personal use, including our immediate neighbors Colorado and New Mexico; and three others, Arkansas, Oklahoma and Louisiana, are part of 18 states that allow only medical cannabis (and, therefore, have the infrastructure to fully legalize in the coming years.)
The 12 states without some kind of cannabis industry, aside from hemp and CBD, are now the minority. We can't blame it on politics either. Even blood-red states like Montana, Alaska, Alabama and West Virginia have some version of legalization.
But don't think Ol' Big Red is bone-dry on the sticky-icky. Far from it. Consider these numbers:
Given the likelihood of steady, easy transport of cannabis into Texas from these red-eyed neighbors (in addition to the cartel-sponsored black market already operating here), the state of about 30 million people likely has, at any time, more illegal cannabis than several other legal states. Just look at population alone: Less than 750,000 people live in both Alaska (legalized in 2014) and Vermont (2018); Montana's (2020) population is just over 1 million.
If that probability doesn't convince you that Texas is one of the most weed-heavy states, consider the average age of a Texan is just 34.6 years old, a Millennial; and Millennials love getting down on some ganja. A new Gallup survey says as much as 20 percent of those belonging to my generation say they currently use cannabis. But that number doesn't include much of the other 80 percent too stoned to complete the poll.
Perhaps Texas is just being strategic in entering the country's multi-billion-dollar legal cannabis market that is reported to reach $41 billion in annual sales by 2026. That means it could soon be about the size of the craft-beer market. In 2020 alone, legal sales across the U.S. hit a record $17.5 billion, up 46 percent from 2019. Colorado, one of the first to sell recreational cannabis, grew by 26 percent to hit $2.2 billion. California, America's largest cannabis economy at $3.5 billion, increased sales by more than half a billion dollars. (Yet illicit cannabis sales, via the black market, are estimated at more than $100 billion every single year.)
But here's some relief: At least local governments are getting on board. Several of Texas's most populated regions have decriminalized possession of cannabis, including the cities of Austin, Dallas, Cedar Park and El Paso, as well as major counties (Bexar, Harris, Travis and Williamson).
Then there's hemp, at least. Thanks to the 2018 Farm Bill, Texas politicians are embracing the hemp-derived CBD market, expected to reach $23.7 billion in 2023.
And at least Gov. Abbot is starting to come around to this magical plant. When he's not crusading to ban books from children, he's doing what he can (but not all he can) to help Texans suffering from cancer and PTSD. In 2021 he very compassionately signed a bill into law that allows the increase of the current 0.5 percent THC cap on "medical cannabis" to a whopping 1 percent! Tax dollars well spent.
If this legislation is any indication of cannabis progress in the Lonestar state, start saving your beer money for a trip to New Mexico or Colorado. Because it's going to be a long while before legal weed comes to Texas.
Editors Note: At Posting of this article the State of Illinois just released tax revenue statement on their states Cannabis Tax revenue surpassing the states alcohol tax. Illinois Collects Nearly $100 Million More From Marijuana Tax Revenue Than Alcohol In 2021, State Data Shows


I think the regulated cannabis industry should only be the medicinal side, where patients want and require stricter manufacturing and…

Absolutely, we need to expand TCUP and provide folks with alternative natural therapy that actually works.

This is Dan Bowling, I think I am registered for the sky to soil solutions program for January 26th at…

This is the most in your face display of Corruption ever displayed by any of the states that issue licenses…

Hey Thanks for the kind words . . I'll try to make that correction