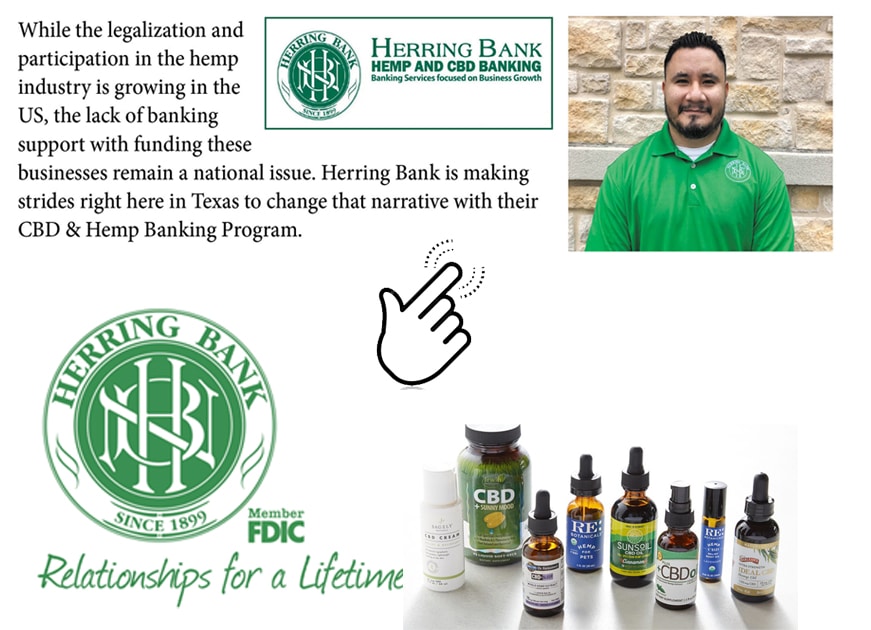 While the legalization and participation in the hemp industry is growing in the US, the lack of banking support with funding these businesses remain a national issue. Herring Bank is making strides right here in Texas to change that narrative with their CBD & Hemp Banking Program.
Herring Bank is a FDIC insured institution that must adhere with federal, as well as state regulatory requirements. In banking the Marijuana Related Businesses, Related Entities, Hemp and Hemp Derivative businesses, Herring Bank, if not in compliance with federal and state regulatory requirements, faces the potential of severe penalties.
The bank began serving the Marijuana Related Business, Related Entities, Hemp and Hemp Derivatives industry in April 2019 and has since built a multi-state program that now services over 20 states. Headquartered in Amarillo, Texas, Herring Bank has branch locations in Texas, including Grand Prairie, Vernon, Azle, Clarendon, Seymour, in Colorado (Colorado Springs) and in Oklahoma (Altus). Herring Bank has also grown outside of their branch footprint to other Texas cities such as Dallas, Houston, Austin, San Antonio, and McAllen in which to serve the hemp and hemp derivative industry. Herring Bank's Marijuana Related Business, Related Entities, Hemp and Hemp derivatives strategy has positioned the Bank to take advantage of opportunities that may be available with the passing of any future cannabis legislation.
Andrew Escamilla is Herring Bank's Hemp and Hemp Derivative Product Manager. With nearly 15 years banking experience behind him, Mr. Escamilla has the knowledge and excitement to assist businesses in obtaining banking services. Herring Bank has, and continues to, learn about and reach out to the industry. Mr. Escamilla explained that the regulatory/legal environment and the required resources and infrastructure required to support a compliant program. Mr. Escamilla explained that it is important for a bank to understand the industry to know the challenges experienced by industry businesses and individuals, to ascertain the importance of providing a banking service solution as well as identifying the various state compliance requirements the industry must adhere with.
Mr. Escamilla explained that industry clients must provide certain information to the Bank in order to receive access to banking services. The information provided to the Bank is carefully reviewed by the Bank prior to providing any banking service to a potential client. The submission of the information is important to ensure that Herring Bank meets its federal and state compliance requirements as well as it allows the Bank to monitor the respective client's adherence with its applicable state's compliance requirements. Mr. Escamilla explained that information prospective clients must submit, includes such things as, information about their respective location(s), the intent of business, type of products being sold, the business structure, business ownership details, supporting documentation such as lab reports on crops, state licensing, etc.
Mr. Escamilla explained that the Banks willingness to Bank the entire spectrum of cannabis related businesses, of all sizes and types. Mr. Escamilla enjoys working with and assisting, potential and existing hemp and hemp derivative clients with their banking needs. Mr. Escamilla believes in staying up to date with what is occurring in the industry and continuing to learn as much as he can about the industry, including the associated federal and state laws that impact the industry. Escamilla has seen many customers come in who have been closed out 2-3 times by banks before they get to him, just trying to operate but encounter limited tolerance of the industry or simplistic pilot programs that cannot fully support their needs.
Herring Bank paves the way in cannabis related product banking to help the industry. Herring Bank's moto is "Building Relationship for a Lifetime", which is something the Bank lives every day. Herring Bank would like to establish a relationship with everyone in the hemp and CBD industry. Mr. Escamilla would love to meet you and discuss what Herring Bank can offer you.


I think the regulated cannabis industry should only be the medicinal side, where patients want and require stricter manufacturing and…

Absolutely, we need to expand TCUP and provide folks with alternative natural therapy that actually works.

This is Dan Bowling, I think I am registered for the sky to soil solutions program for January 26th at…

This is the most in your face display of Corruption ever displayed by any of the states that issue licenses…

Hey Thanks for the kind words . . I'll try to make that correction