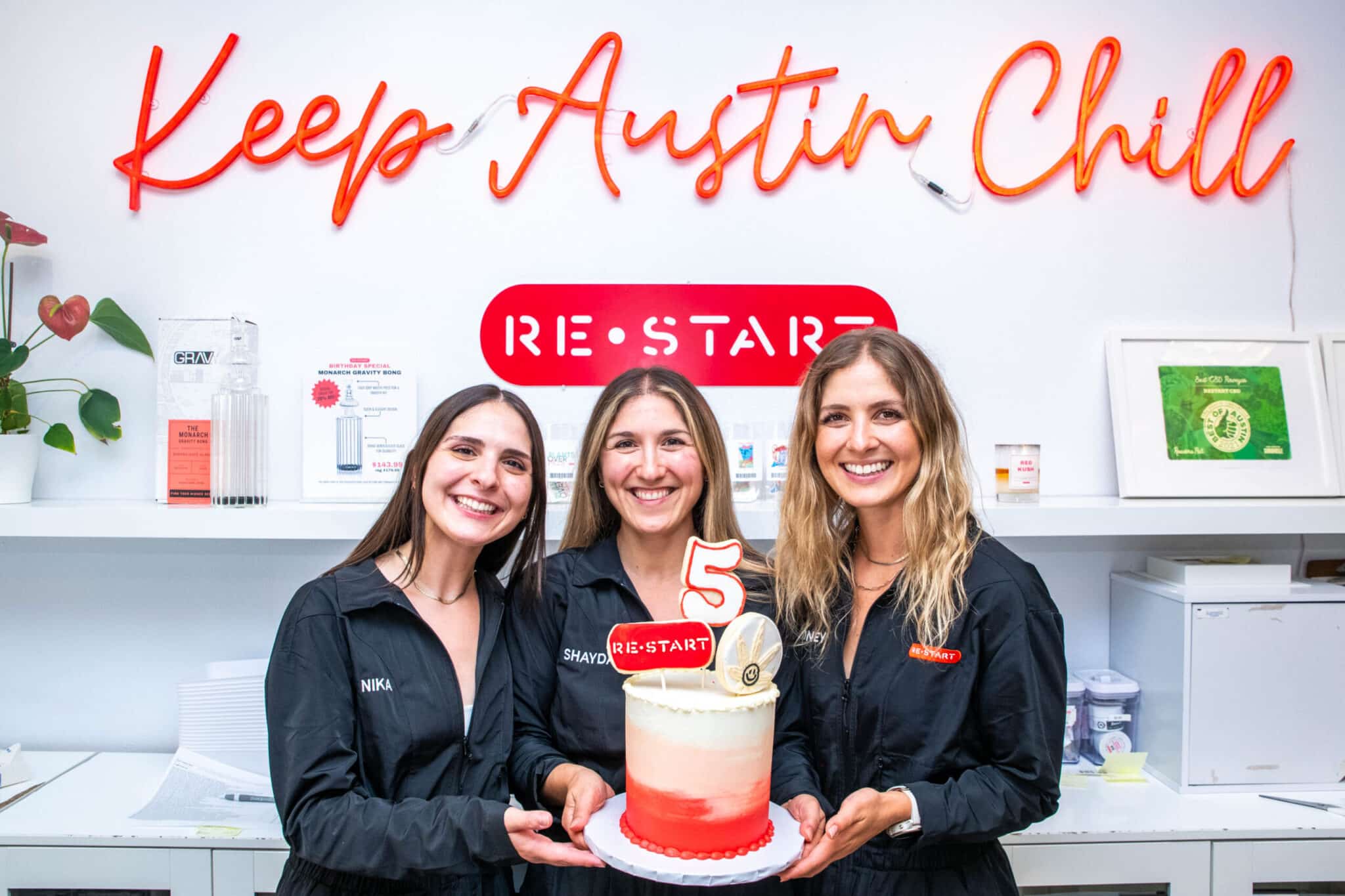 August 2023 marked 5 years of RESTART, the hemp based retail cannabis brand I own and operate with my two sisters in Central Austin (in addition to hosting the To Be Blunt podcast).
We hold one of the states original hemp licenses in what has grown to become a sea of operators ranging from dispensaries to wholesalers, distributors, manufacturers, cultivators, labs and processors.
We've navigated through two legislative sessions and countless other industry lawsuits like the smokable hemp ban that was imposed last summer, not to mention the ongoing attack on Delta 8 THC.
Since 2020 we've been executive board members with the Texas Hemp Coalition, which has enabled us to advocate and influence policy – In fact I just made my second trip back from D.C. where we got to meet with key federal stakeholders regarding pressing issues impacting hemp operators and retailers like myself.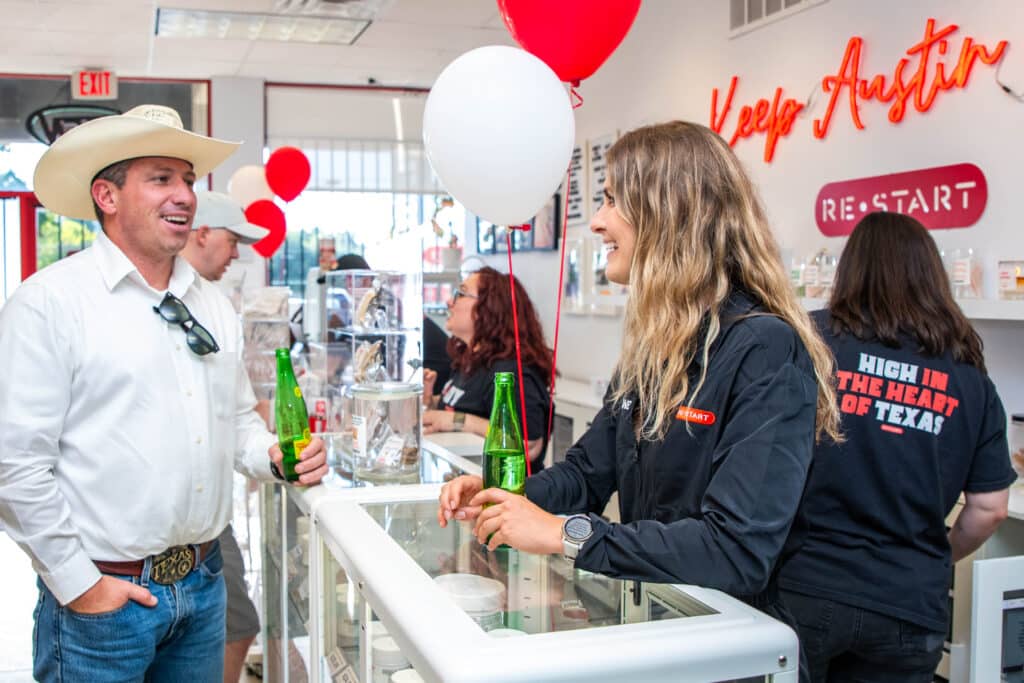 And we lead by example and focus heavily on educating our team so that we can pass that education onto our customers.
I'm super proud of what we've accomplished, and as a native Texan, still a bit in disbelief that we have the opportunity to work in this industry in my home state.
It does come with it's set of challenges from marketing, and banking, to compliance, but it's also been rewarding pioneering in the industry and helping pave a way for this new market to exist.
All I can hope is that the next five live up to the first five.
So in honor of that, here are five lesson's I've learned in five years in Texas Hemp:
Always Have a Backup Plan – Whether it's a backup payment processor or a backup plan for packaging because your shipment of pop tops got held at customs, you must always be prepared due to unforeseen circumstances. Running a business is hard, but running a business in hemp/cannabis is like driving to a destination without GPS. You may generally know the direction you are going from A to B, but you have no idea what road closures or detours may be up ahead so you have to be prepared for anything to happen. If you fail to plan, you plan to fail, so be prepared and keep rolling with the punches and probably have a backup plan for your back up plan just in case.
Evolve or Die – Things move fast, like super sonic. From science expanding, to laws changing, what we know about the boundaries of this industry are constantly evolving and to stay in the game you have to keep moving. When we first entered the marketplace in 2018 the primary product we were selling was CBD sublingual oils, which is a complete 180 to what my top product category is in 2023 (it's THC edibles in case you're wondering.) Plus, here we are five years later and we have a plethora of cannabinoids to choose from in addition to CBD like THC, CBG, CBN, and THCV. Of course, this could all change on the flip of a dime, which is reinforcing my motto to always have a backup plan and keep evolving!

Don't Believe The Headlines – In the spirit of our industry being so knew, there is going to be a lot of chatter and hype, and in reality misinformation. It's always served me well to keep an open mindset and to pay attention to as much perspective as possible. As a Texas operator, what is going on in Texas is extremely personal to me, but other states looking in might not be able to relate to what's going on and vice versa. We have an opportunity to make a real impact with this plant, but we have a lot of stigma to work through both inside and outside of the general hemp and cannabis community. Because this is a moving target the information is updating constantly so paying attention to the fine details and not getting caught up in headlines is key.

Stay Curious – To succeed you must become a sponge! Talk to as many people as you can and learn as much as you can about the laws, the plant, the science, and the market. Talk to your peers, talk to your operators, get involved, watch the trends, and then apply that to your own business or brand. Putting on the To Be Blunt podcast over these last three years has enabled me to stay in tune with what is going on nationally while also allowing me to have a platform to share realtime updates about our market here in Texas. Additionally organizations like the Texas Hemp Coalition are invaluable for connecting key stakeholders together so that the rising tide can lift all boats. It's been great to meet other operators and have a community of peers that are also going through the same things which feels empowering to know we're not alone.


Think Like a Consumer – At the end of the day, this industry is becoming a CPG (consumer packaged goods) industry and I put emphasis on the "consumer" part. The customer comes first, and if you're smart, you'd actually talk to your customers and get their feedback. Especially here in Texas where, for example, a lot of our community is unaware of variances between Delta 8 THC and Delta 9 THC which causes us to have to overly educate and think through their challenges when engaging with these products. We should also take into consideration all the aforementioned information included in points 1-4 when it comes to bringing these consumer packaged goods to market. There is a legal landscape, a regulatory landscape, quality assurance and safety concerns, as well as efficacy that the consumer is seeking that all need to be taken into consideration if you want to succeed not only today but tomorrow too.
So the final piece of advice is to now figure out what that looks like for you, your brand, your business and then implement a plan to take the next best step forward to help you better navigate and understand the playing field.
Maybe that's joining an advocacy group like the Texas Hemp Coalition, or pressing play on one of my many free To Be Blunt episodes which you can tune into Monday's at TOBEBLUNTPOD.com.
Whatever you do, don't take your foot off the gas!


I think the regulated cannabis industry should only be the medicinal side, where patients want and require stricter manufacturing and…

Absolutely, we need to expand TCUP and provide folks with alternative natural therapy that actually works.

This is Dan Bowling, I think I am registered for the sky to soil solutions program for January 26th at…

[…] The Texas Green Machine – Texas Hemp Reporter Texas Hemp Reporter recently wrapped a new delivery vehicle for making…

This is the most in your face display of Corruption ever displayed by any of the states that issue licenses…