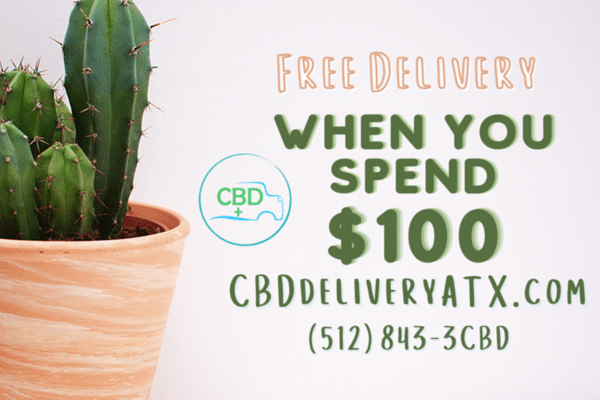 Get a Variety of Products in 2 Hours or Less
By Rachel Nelson
In March 2020, before anyone knew the pandemic would drastically change the world, three Austinites launched CBD Delivery ATX. According to co-owner Liz Pruett, timing was on their side.

"Delivery became a more important part of everyday life," she said. "A lot of our customers have been with us since the beginning because for whatever reason, they can't leave the house, don't want to leave the house or feel intimidated about going into a head shop. So I think it does kind of fill a niche market of people who want to stay closer to home."
Pruett and the other co-owners — brothers Rob and TJ Leonard — received their first delivery order a week prior to the COVID shutdown and say the phone has not stopped ringing since. Initially, the trio said they went with a delivery business model to save money on leasing a storefront, but they hoped to eventually grow into a brick-and-mortar location. However, they soon realized that "delivery was kind of the way to go," Pruett said.
"In the early days of our business we kind of thought it was going to die off when the pandemic was over, but it kind of went the other way," Rob Leonard said. "It just became more, so I guess this is what so many businesses are doing because people love the convenience of it."
The owners of CBD Delivery Service tout their assortment of locally sourced products as well as their diverse customer mix — from war veterans to soccer moms and massage therapists.
"We have some people that order bath bombs and others that want every type of THC that we carry that's legal," Rob Leonard said.
Compliance is a priority at CBD Delivery Service, and every customer must show their ID upon arrival.
"We always ensure that it doesn't get into the wrong person's hands," Rob Leonard said.
While the owners of CBD Delivery Service steer clear of making medical claims about their products, their customers have boasted many healing effects — such as relief from pain and anxiety.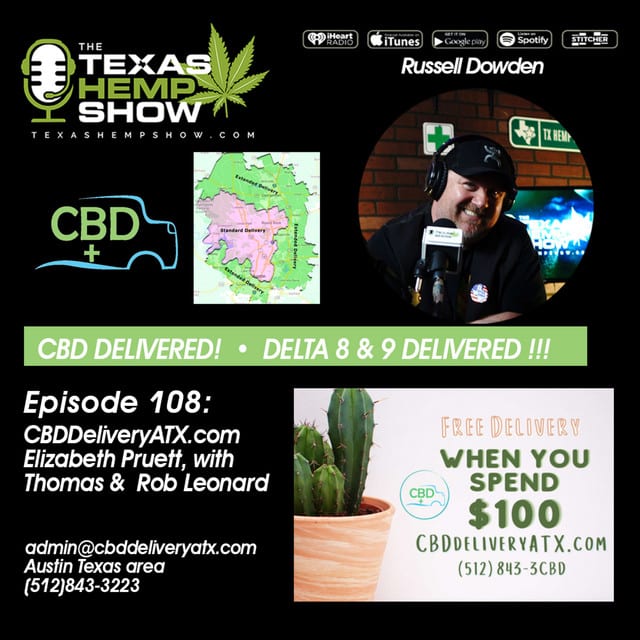 TJ Leonard said his business motivation stems from wanting to help people consume hemp legally. He grew up in Maine and later moved to California — both legal states. Now that he lives in Texas, he said he hopes the business helps keep people out of legal trouble. Additionally, CBD Delivery Service aims to be fast and discreet.
"When you go into a head shop, it kind of feels like you're doing something illegal, even though everything's legal," TJ Leonard said. "With us, it's as discreet as you can make it. We don't wear uniforms, our cars aren't decorated."
The owners all say they are pleasnatly surprised at how busy they have been since the pandemic cooled off, and their delivery area extends beyond the Austin city limits. A map of the service area can be found at cbddeliveryatx.com, and everyone who orders can expect to receive their products in two hours or less.
Standard delivery is $10 but jumps to $20 for the extended delivery region. However, all customers who spend $100 or more receive free delivery. Additionally, every new customer receives 25% off of their order total.


I think the regulated cannabis industry should only be the medicinal side, where patients want and require stricter manufacturing and…

Absolutely, we need to expand TCUP and provide folks with alternative natural therapy that actually works.

This is Dan Bowling, I think I am registered for the sky to soil solutions program for January 26th at…

[…] The Texas Green Machine – Texas Hemp Reporter Texas Hemp Reporter recently wrapped a new delivery vehicle for making…

This is the most in your face display of Corruption ever displayed by any of the states that issue licenses…