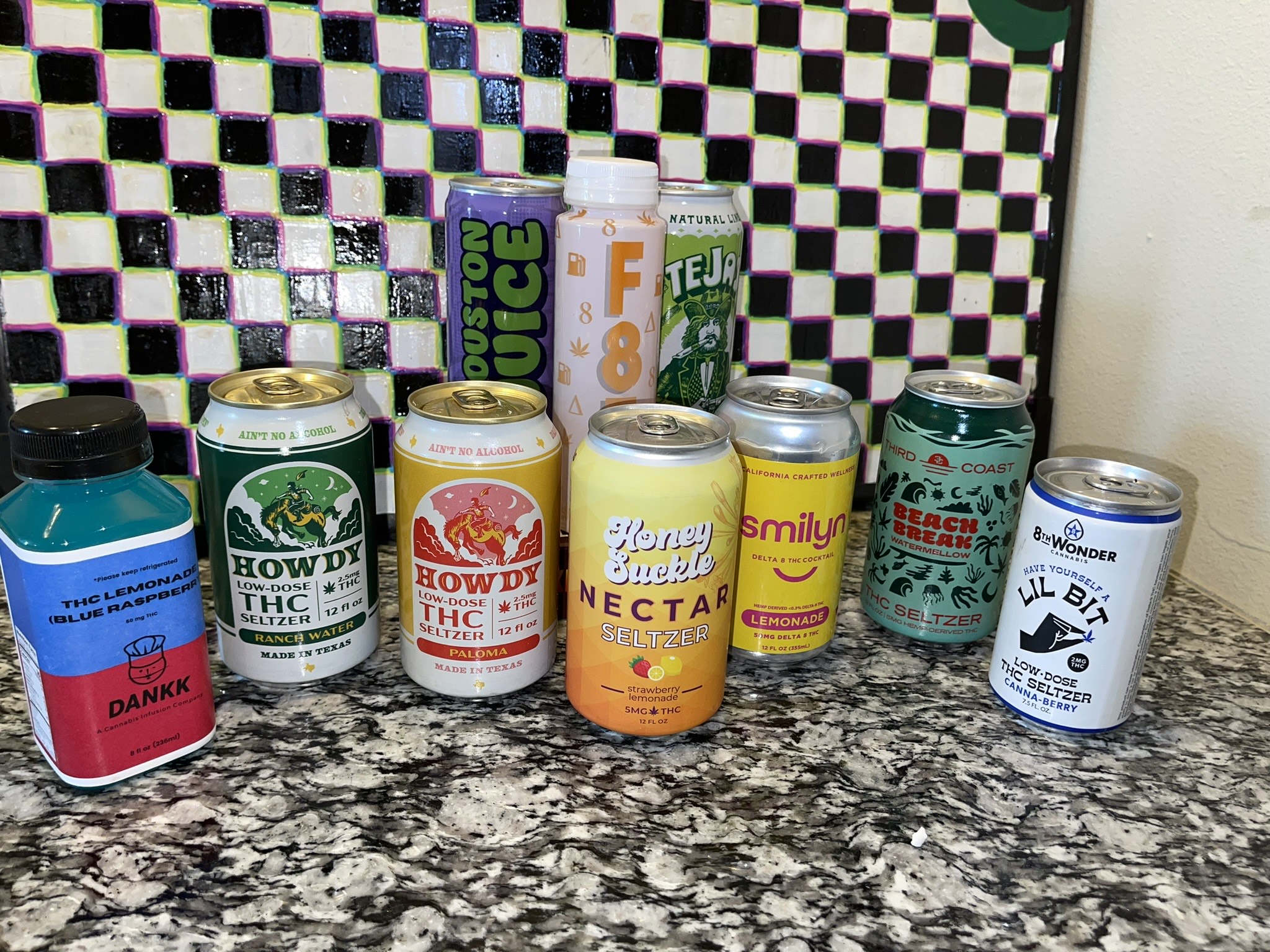 This wasn't a rushed tasting, but an exploration that spanned three hours. The students were provided with cheese, meats, and crackers as palate cleansers, allowing them to experience the>full spectrum of each drink's profile before moving on to the next one. Each beverage was rated on four criteria: taste, smell, the presentation of the liquid itself, and the brand's presentation. Taste and smell are, of course, the primary factors in any beverage's appeal. But we also recognized that the visual appeal of a beverage – its color, consistency, and even the design of its packaging – can significantly impact a consumer's overall experience. Once the blind tasting and scoring were completed, the brands were revealed, and the students could reflect on the impact of branding on their overall perception and experience. Here were the results…

1st Place – THC Lemonade (Blue Raspberry) by DANKK: A non-carbonated liquid sensation bursting with potent lemon aroma and the nostalgic taste of blue raspberry lemonade. The drink's slight hint of cannabis flavor and a juice-like consistency with lemon pulp made it a favorite, securing a perfect score. A potent concoction containing 50 mg of hemp-derived Delta 9 THC, the THC Lemonade stood proud at the top of the ranking.
2nd Place – Lemonade by Smilyn: This carbonated beverage features a delightful blend of lemon and lime flavors, with a dash of sweetness and a hint of menthol aftertaste. Its cloud-like appearance similar to Smirnoff Ice and a simple can design mirrored its straightforward Californian roots. With 50 mg of Delta 8, it received a well-deserved second place.
3rd Place – Houston Juice: This 'Zen, Focus, and Caffeinated THC Drank,' packs a punch with 12mg of Hemp-Derived THC. Its sour Skittles taste and peachy aroma, coupled with a lively can design boasting Texas's biggest city, had the students raving. This carbonated sensation won unanimous acclaim, earning a 5/5.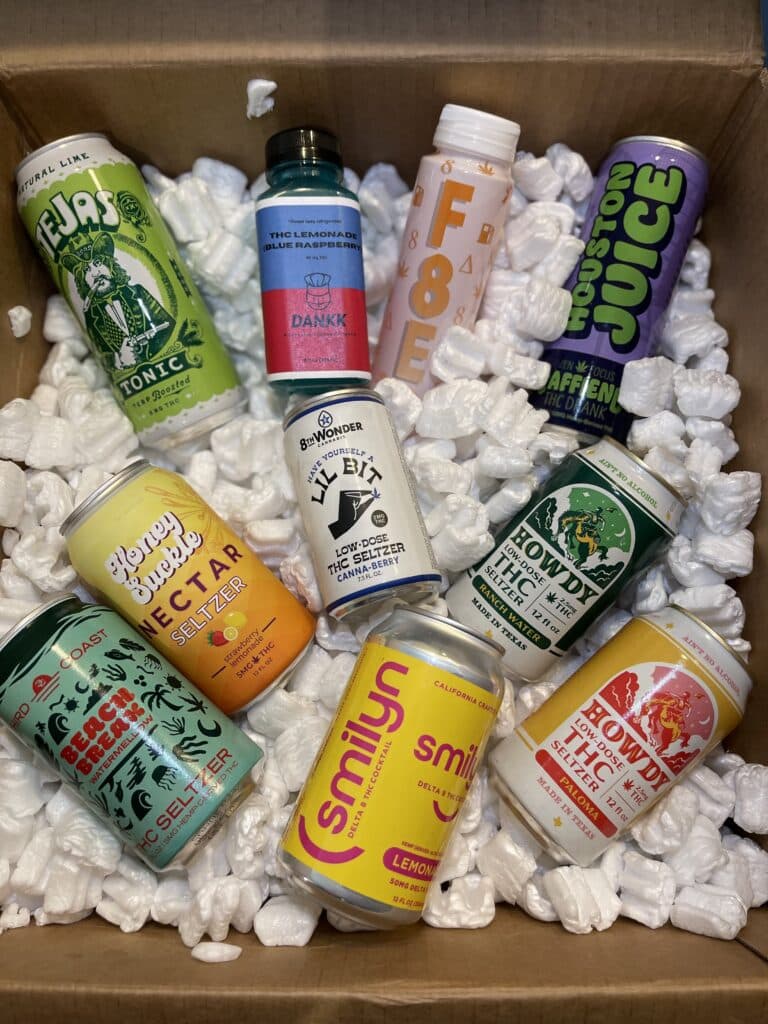 4th Place – Honey Suckle's Nectar Seltzer (Strawberry Lemonade): Scoring a 3/5, this carbonated refresher emanates a berry-like smell, with a sparkling berry water taste and a hint of citrus. Its flavor profile, despite not aligning perfectly with its name, made a positive impression. The Strawberry Lemonade contains 5mg of hemp-derived Delta 9.
5th Place – F8ED's Cosmic Blast: With a score of 3/5, the non-carbonated drink brings forth an
artificial orange flavor and smell. The vibrant orange color of the liquid matches the bottle's
elaborate decoration, housing 25mg of Delta 8 THC within.
6th Place – Third Coast, Beach Break (Watermellow): A 2/5 rating reflected the unexpected blend of cucumber and melon taste and smell. Its beachy summer vibe can design encloses 5mg of Hemp Derived Delta 9 THC, making it a carbonated treat for the taste buds.
7th Place – Howdy, Paloma: Sporting a picturesque can featuring a bronco-riding cowboy, this carbonated delight, infused with 2.5mg of Hemp Derived Delta 9 THC, offered a genuine orange flavor. One student, hailing from the Valley, Texas, fondly commented that it tasted like home.
8th Place – Howdy, Ranch Water: Another from the Howdy stables, this carbonated drink also featured the cowboy-bronco logo on a green can. Despite its overwhelming smell, the bitter-lemon taste was appreciated by a student from the Valley. However, it gathered a modest rating of 1/5. 9th Place – "Lil Bit" by 8th Wonder (Canna-Berry flavor): The can, although described as bland,contained a carbonated liquid that unleashed an artificial berry aroma and wild berry taste. This Low-Dose THC Seltzer, with 2mg of hemp-derived Delta 9 THC, scored 1/5.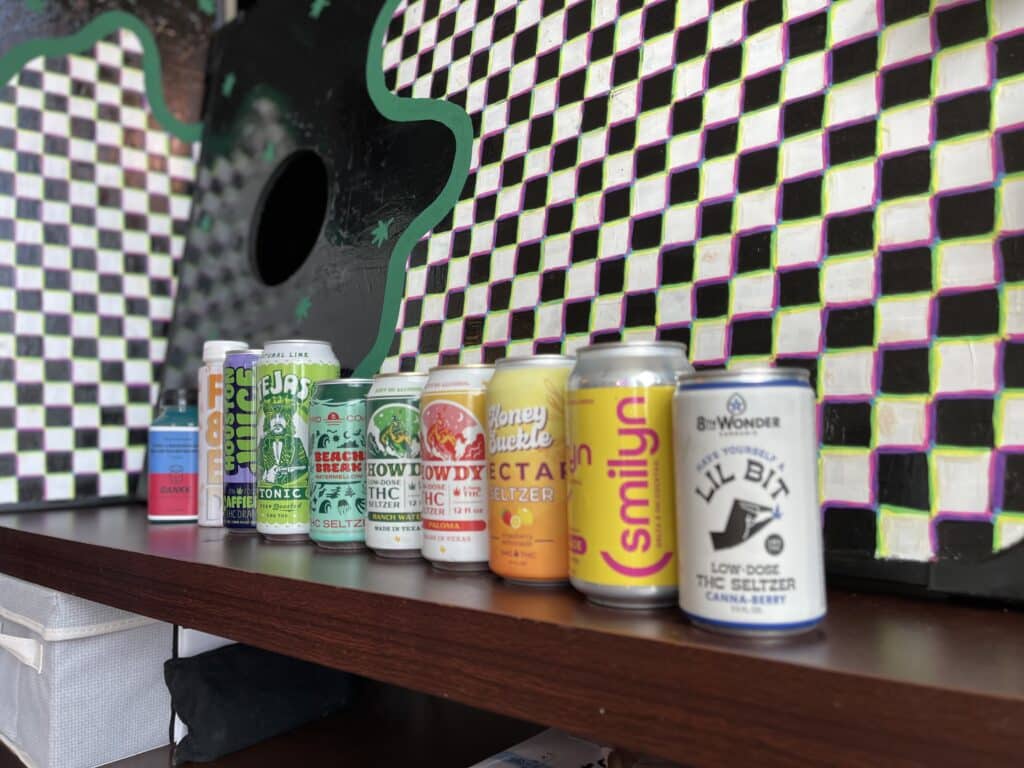 10th Place -Tejas Tonic: This carbonated, lime-centric drink, which garnered a 0/5 rating, stole the show with its can design. The testers agreed that while the beverage wasn't unpleasant, it would better serve as a mixer. Three students appreciated the distinct taste of cannabis, aligning with the 'terpene boosted' advertisement on the can, containing 5mg of Hemp Derived Delta 9 THC.
Texas, with its expanding THC-infused beverage industry, is setting trends that other states might soon follow. These beverages, their unique flavors, and vibrant packaging are reflective of Texas's dynamic culture, leaving consumers eagerly anticipating the next innovation.


I think the regulated cannabis industry should only be the medicinal side, where patients want and require stricter manufacturing and…

Absolutely, we need to expand TCUP and provide folks with alternative natural therapy that actually works.

This is Dan Bowling, I think I am registered for the sky to soil solutions program for January 26th at…

This is the most in your face display of Corruption ever displayed by any of the states that issue licenses…

Hey Thanks for the kind words . . I'll try to make that correction