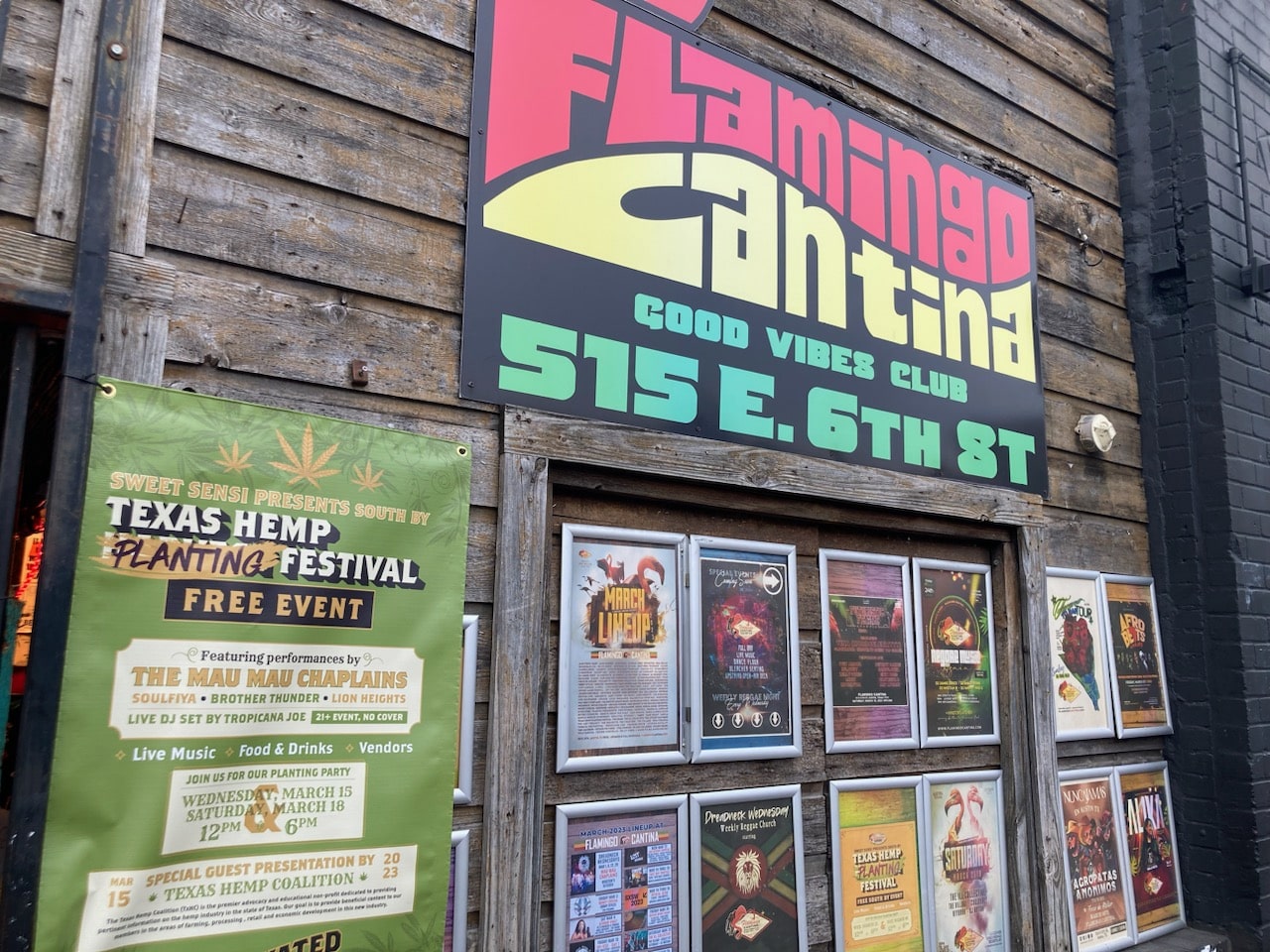 For the past 15 years, 10-piece reggae act Mau Mau Chaplains has played Wednesday nights at Flamingo Cantina, a staple of Austin's downtown live music scene. Singer and multi-instrumentalist Moe Monsarrat said people commonly refer to the standing gig as "reggae church."
"It's because it's every Wednesday, and you can come and get a blessing from the music," Monsarrat said. "We're not preaching or anything like that. It's nothing like that. We just play our stuff, and people feel like it's kind of like a religious experience.
"To put it one way, I have a heart doctor, and I went to see him one day, and he said, 'How's the music business?' I said, 'It's kind of like the doctor business.' He said, 'How so?' I said, 'Well, people come in feeling one way, and they leave feeling better.'"
Monsarrat's love for reggae music began in the '70s. In his older years, he said he has stepped into a new level of confidence musically.
"When you're younger, you kind of wonder, 'Am I really that good?' You kind of doubt yourself," he said. "I don't doubt myself anymore. I've been doing it too long to doubt myself anymore."
Regarding cannabis, Monsarrat said the band partakes regularly and is happy to see the changes that are happening in Texas.
"[Cannabis is] certainly part of our daily lives," he said. "It's something that's important to all of us, and it's something we've always had between us, and that's where we stand.
"I'm really happy that Austin is kind of relaxed about it, and of course, the police are pouting because they no longer have a reason to search you. They know that even if they find weed, the [district attorney] won't prosecute it, so it's a waste of time. So give thanks for that, and give thanks for the medicinal legalization. We can only hope that the recreational part will be passed soon. We're great supporters of Texas NORML, and I play their golf tournament. They have their meetings here at Flamingo when they have public meetings."
Last year, tragedy struck the band when drummer Miguel Pankratz lost his battle with cancer. 
"It broke everybody's heart, but you know, we've got to carry on," Monsarrat said. "The show's got to go on, and that's the way he wanted it. So that's where we're at, you know? Jah bless him, you know, because he was our brother, and we think about him every time we get up to play. There are certain songs that were his favorite songs, and we try to always include those. It's a difficult thing, but when you're getting older, it's around you more and more all the time — like more and more of your friends die."
While Tom Leslie now leads the band's rhythm section, Monsarrat said he will never forget the friend he shared the stage with for three decades.
"While we're playing it's pure bliss, and Tom Leslie is a great drummer," he said. "We never have to worry about anything being on time or mistakes or any of that kind of thing, so we couldn't really be in a lot better shape as far as the players go. But nobody could play it like Miguel because we played it for so long together, so sometimes I miss little things that he did that Tom doesn't know about or plays it differently, which is the way it should be, but still I do miss certain things about it."
Aside from Dreadneck Wednesdays at Flamingo Cantina, Mau Mau Chaplains can be spotted playing events and the occasional out-of-town gig. They also live-stream their Wednesday night performances on Flamingo Cantina's Facebook page at 10:30 p.m.
"It's a wonderful thing for us to perform. We're very thankful to be able to still do that," Monsarrat said.
I think the regulated cannabis industry should only be the medicinal side, where patients want and require stricter manufacturing and…

Hey Thanks for the kind words . . I'll try to make that correction

I recommend the Texas hemp reporter ? Be seen and be heard with Russell ✌️

Hey, yall had great coverage of the event, any way yall can email me photo one of your lady photographers…

Hello Stacey, I really enjoyed your article about Shayda and Sydney Torabi at Re-Start CBD. Their cannabis knowledge, enthusiasm, and…