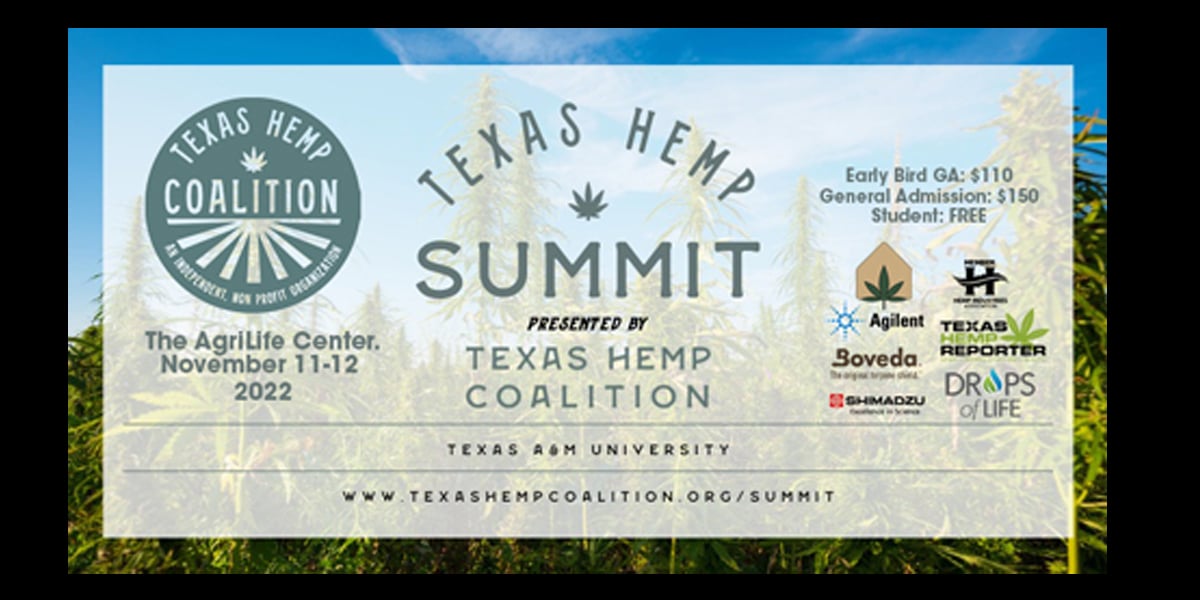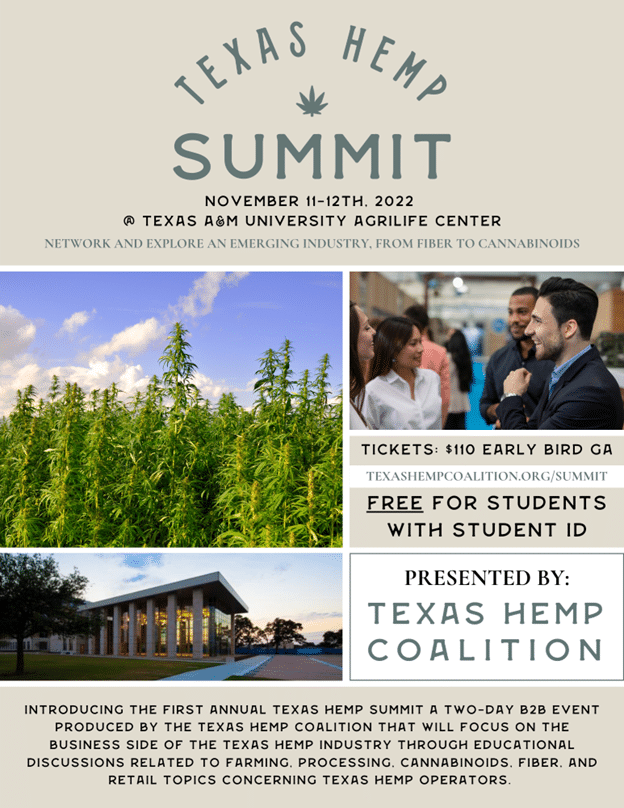 Texas Hemp Coalition, the premier advocacy group for the hemp industry in Texas, is hosting its inaugural B2B industry event, The Texas Hemp Summit, this November 11-12, 2022 at the Texas A&M Agrilife Center in College Station.
The event is poised to bring together B2B industry leaders from all across Texas and beyond to discuss farming, processing, cannabinoids, fiber, and retail topics concerning hemp operators through educational conversations and presentations.
The goal of the summit is to address trending issues that are directly impacting our state's hemp operators, as well as be a learning opportunity for those looking to get into the industry and scale.
Anyone who is interested in getting more involved in the industry, launching a brand, scaling their business, or who may be seeking job opportunities is encouraged to attend.
During these two days, the Texas Hemp Summit will pack keynote presentations, panel discussions, as well as networking opportunities for attendees to get plugged into the most pressing subjects relevant to their passions, and business interests.
Confirmed speakers are:
Keynote with the Texas Department of Agriculture, Sid Miller
A legal fireside chat with Lisa Pittman of Pittman Legal and Cameron Field of Michael Best
Overview of Texas A&M University Hemp field research with Dr. Russell Jessup


And more to be confirmed, so check the website for more details.
The event has industry support from: Flex Payment Solutions, Shimadzu, Tejas Hemp, Caprock Family Farms, Sweet Sensi, Drops of Life, Boveda, Agilent, Hemp Industries Association, Hemp Building Ventures, Michael Best, Haus of Jayne, and more who will also be in attendance to meet you and answer your questions in person during the summit.
Tickets are on sale now for $110 at the Early Bird rate until October 24th, 2022 when they will increase in price, and the event is FREE to all students with valid student ID.
To learn more about the event, and purchase tickets visit: TexasHempCoalition.com/SUMMIT
If you would like to explore membership opportunities, the Texas Hemp Coalition holds regular meetings to discuss pressing topics and would love to invite you to join us as an official member to help champion and advocate for hemp in Texas TexasHempCoalition.org/MEMBERSHIP


I think the regulated cannabis industry should only be the medicinal side, where patients want and require stricter manufacturing and…

Absolutely, we need to expand TCUP and provide folks with alternative natural therapy that actually works.

This is Dan Bowling, I think I am registered for the sky to soil solutions program for January 26th at…

This is the most in your face display of Corruption ever displayed by any of the states that issue licenses…

Hey Thanks for the kind words . . I'll try to make that correction