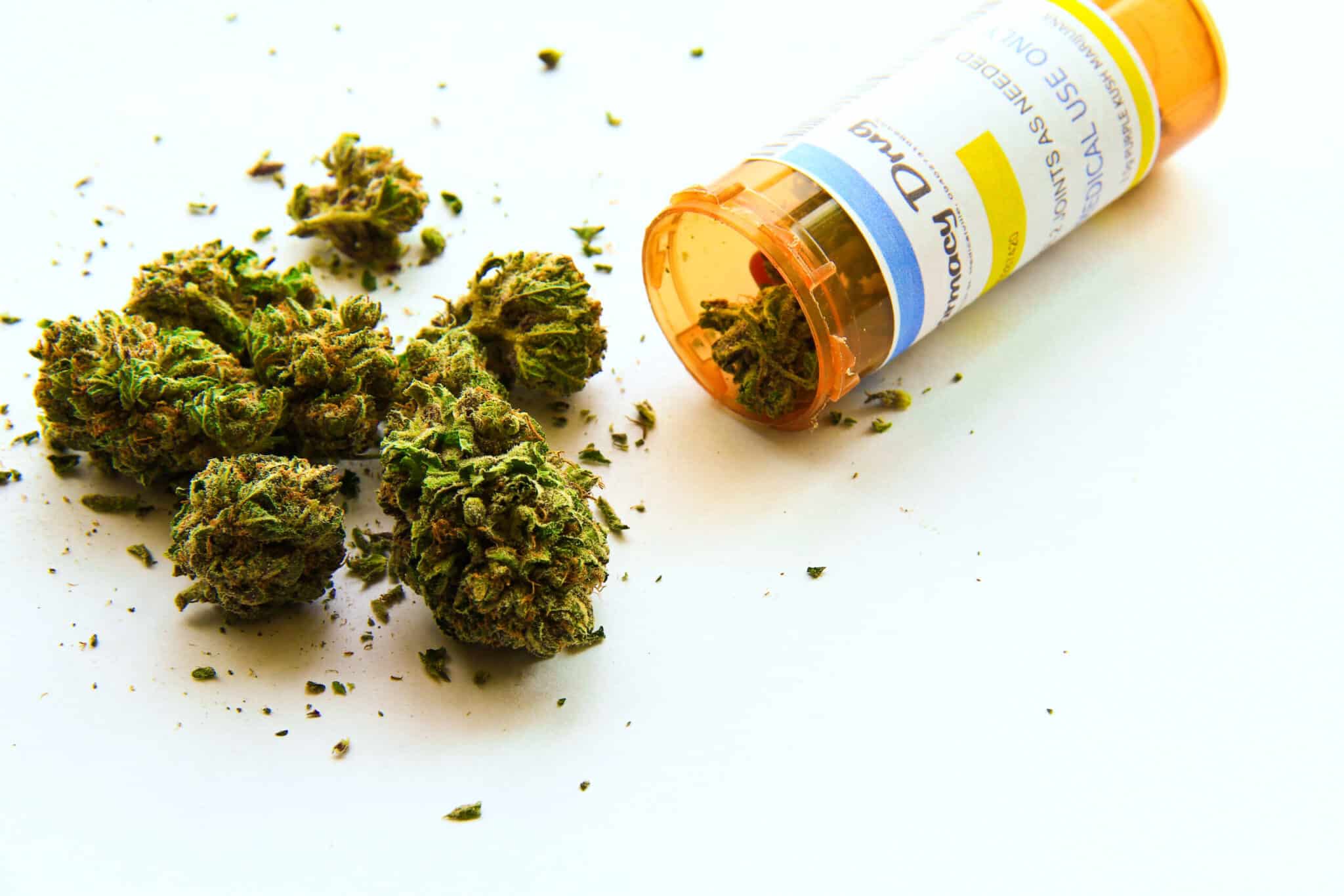 Perhaps you've just entered the market for Texas Hemponomics or maybe you're a veteran in the field already. Whichever one you are, here are 10 Texas Hemp Labs you can keep an eye on.
The list is not all inclusive, and is listed in alphabetical order. These are labs that are showing up to conventions and trade shows to showcase their abilities.
ABS LABS, LLC
In 2018 ABS launched cannabis testing consulting services, providing licensed laboratories throughout North America access to innovative, compliant cannabis analytical methods, laboratory support, and leading testing technologies. AS of today ABS continues research and development for new applications in environmental sciences and healthcare, meeting the demand for accessible, innovative solutions ABS is headquartered in the Dallas, Texas metroplex area of Carrollton. For more information and how to get in contact with them visit https://altbio.com/abs-labs/ or call (972) 241-1388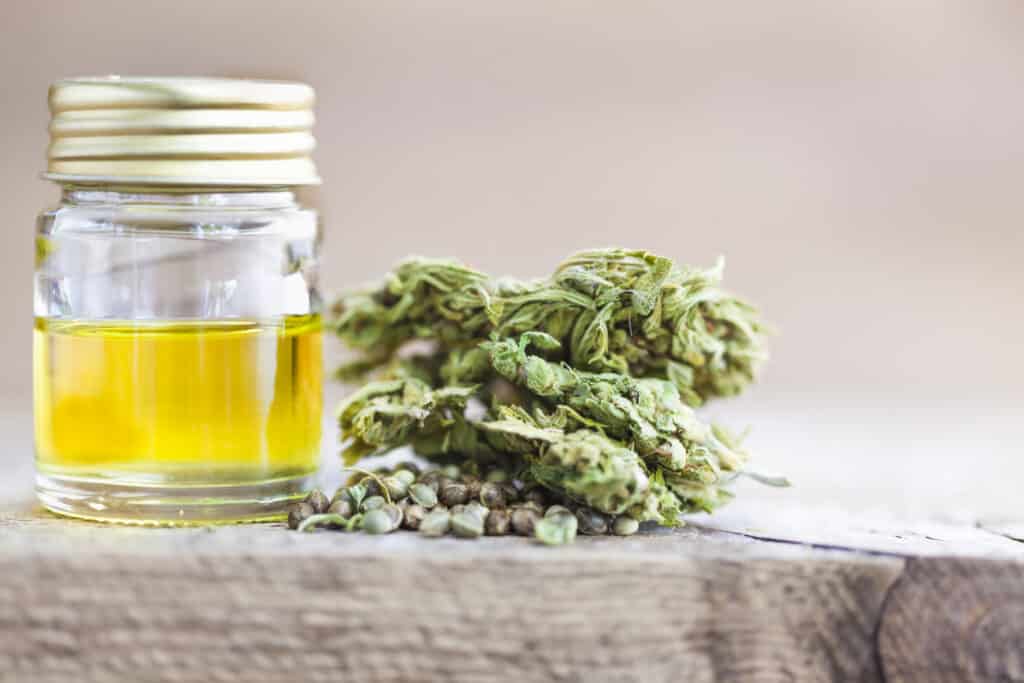 ANALYTICAL FOOD LABORATORIES, INC.
Founded over 25 years ago, in 2018, AFL joined the Tentamus Group, which was founded a decade ago, providing clients access to a global network of labs. Accredited and licensed Tentamus Group tests, audits and consults on all products involving the human body. Tentamus Group is represented in over 50 locations worldwide with more than 2,500 highly-trained staff members working in over 2 million square feet of laboratory and office spaces.
AFL can assist you with product analysis and development, trouble-shooting, quality assurance and compliance issues. Routine laboratory analysis is offered on a per test basis and to meet customer needs. AFL is an ISO 17025 accredited lab, and also holds accreditations with USDA, NELAC/NELAP and is registered with the FDA. Procedures comply with official methodologies including FDA, USDA, AACC, AOAC, AOCS, ASTA, EPA AND USP.
AFL is located in Grand Prairie, Texas. For more information about AFL, visit https://www.afltexas.com/ or contact [email protected] – 972-336-0336
BLUEBONNET LABS
Bluebonnet Labs had the honor this past year to be the official lab for testing of the submissions entered into the 3rd annual (2021) Texas Hemp Awards. BL has been serving the hemp community since 2020. Bluebonnet labs yields a quantitative analysis to determine the potency of Cannabinoids and Terpenes. Contaminants such as Pesticides, Heavy Metals, Residual Solvents, Microbiological and Mycotoxins are carefully analyzed using baseline values established as unsafe or harmful and reported to a high level of accuracy.
BL offers cannabinoid potency testing, residual solvent testing, pesticide testing, microbiological testing, terpene testing, heavy metal testing, mycotoxins testing, along with filth and foreign material inspections. BL is AL2A certified and ILAC MRA accredited.
BL is located in Farmers Branch, Texas and can be reached at 214-903-4405, https://www.bluebonnetlabs.com/ and [email protected]
EASTEX ENVIRONMENTAL LABORATORY, INC.
Eastex has been in the laboratory game since 1986. Eastex Environmental Laboratory is 100% employee owned – and they feel that ownership of their name, their quality of work, and their relationships is what sets them apart from the competition. Eastex offers along with hemp testing, (surface & core) complete soil evaluation of surface and subsurface samples per customer specifications, ground water evaluations of wells and public water systems, and water quality of lakes, ponds and creeks among other items.
EEL is Accredited for Chemical Sampling through the Perry Johnson Laboratory Accreditation, Inc. ALong with their various testing packages, Eastex provides some consultation work to help ensure farmers are getting the most out of their time with their crops.
EEL has two locations in Texas, one in Coldspring and the other in Nacogdoches. For more information visit hemp.eastexlabs.com and https://www.eastexlabs.com/ 936-653-3249 [email protected]
IONIZATION LABS
Founded by Cree-Crawford, Ionization Labs is the testing service used by the Texas A&M Agrilife Extensions Hemp Program. Ionization Labs is an ISO-17025 Accredited Potency Testing Lab and AL2A certified.The unique thing about Ionization Labs is their CANN-ID testing system which allows for farm to market in-house testing along with lab verification upon sending in samples.
This allows for anyone partnering with Ionization labs to test their products immediately upon either harvest in hand or on the shelf products to initially know what they really have. From there an official sample is sent to Ionization Labs and their team verifies the results. This eliminates having to send multiple samples over and over and wait for turnaround. Just test the samples you want to test and send in the ones you desire for verification.
Ionization Labs is headquartered in Austin, Texas and can be reached at 737-231-0772 or find them online at https://ionizationlabs.com/
KJ SCIENTIFIC INDEPENDENT TESTING LABS
KJ Scientific LLC is a certified Woman Owned Small Business (WOSB) and Historically Underutilized Business (HUB) with a global reach. KJ Scientific was founded with a mission of ensuring human and environmental health through rigorous testing and analysis of the chemicals and products introduced to the market. To uphold these high standards, they became the first product testing lab in the world to exclusively use new, innovative in-vitro technology in their chemical testing products and services outside of the hemp sphere.
KJ Scientific utilizes advanced chromatographic instrumentation and detection techniques to test and analyze each sample to ensure they're legally compliant and safe for market consumption. Consulting and Direction – their services cover every aspect of vertical production of CBD from extraction to final validation for the market. KJ Scientific is part of the National Environmental Laboratory Accreditation Program (NELAP) and has ISO/IEC 17025 certification.
KJ SCIENTIFIC INDEPENDENT TESTING LABS is located in Georgetown, Texas. For more information visit https://kjscientific.com/service/hemp-cbd-lab/ or contact them at [email protected] or 512-590-0080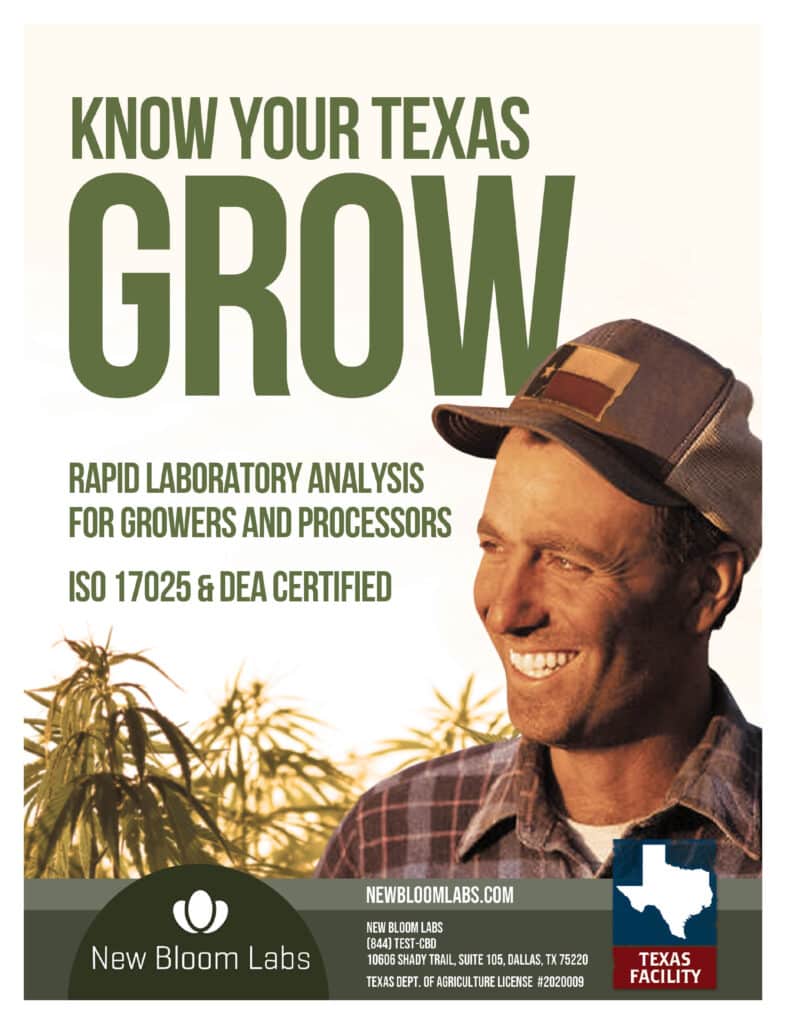 Founded by Jesse and John Kerns, New Bloom originated in Tennessee and expanded into Texas once the state passed it's hemp program in 2019. The lab is ISO/IEC 17025:2017 certified. NBL is capable of testing plant material, crude oil,concentrates, isolate, distillate, kief, topicals and ingestibles.
NBL built an entire customer service department in their company. What this means is that their dialogue with their customer doesn't end when they deliver a certificate of analysis. Instead, when a client needs a consultation or help interpreting results both their customer service team, as well as technical staff are available to help consult you on your results. NBL also commonly helps customers create a testing and compliance program that's the right size for their business. Not everyone needs to test as much as some others might. NBL will help you identify your best practice needs for testing crops and products, and keep you from ordering unnecessary testing.
New Bloom is located in Dallas, Texas. For more information visit https://www.newbloomlabs.com/, email [email protected] or call 1-844-TEST-CBD
SANTE LABS
Santé Laboratories is an Accredited Hemp Testing Laboratory in the State of Texas. Santé Laboratories has a combined 35 years of experience in analytical chemistry, drug development and pharmaceutical sciences. Santé is committed to serving the hemp and CBD industry safeguarding all end-users through premium, high quality, and transparent testing. Santé Laboratories is currently holding the ISO/IEC 17025:2017 accreditation.
Regardless of phase in development and borrowing from relevant expertise in cannabinoid formulation sciences, Santé Laboratories can provide flexible drug delivery and manufacturing solutions to overcome solubility, room temperature stability, and absorption challenges to quickly transition into the clinic. In addition to leveraging the lipid-based nanoparticle delivery system, Santé Laboratories can perform rapid formulation screening studies which can be developed into candidate formulations to be evaluated in nonclinical and first-in-man studies.
Sante Labs is located in Austin, Texas. For more information on their lineup of services visit http://www.santelabs.com/ or contact them at 512-800-9117 and http://www.santelabs.com/
TPS refers to their business as "Your Crop's Dieticians." TPS Labs has been operating in Texas since 1938 and helping farmers in various fields of vegative growth during that time. TPS Labs are one of only a few labs in the world that still use CO2 extraction to test nutrient availability. This process is very labor-intensive but mimics how plant roots extract nutrients from the soil, stating that's why it produces the best results.

Growers utilizing TPS Labs HEMPlan will have a complete picture of what soil nutrients are immediately available and what's in reserve. Customized fertility recommendations will show customers how to correct deficiencies, and sustainable practice recommendations will show them how to unlock tied up nutrient reserves.
TPS Labs' program gives growers an edge over the competition by providing advanced notification of possible heavy metal contamination in their soil. They perform a complete 32 element heavy metal analysis on your soil to make you aware of any potential problems.

TPS Labs is located Edinburg, Texas. For more information visit https://www.tpslab.com/hemplan or contact them at 956-383-0739 or [email protected]
VETERANS SCIENTIFIC LABORATORIES
Veterans Scientific has the honor of winning the best Texas-based Hemp Ancillary Support or Services category for the 3rd Annual (2021) Texas Hemp Awards. VSL was co-founded by Garvin Beach, B.A.S. and is currently led by James W. Johnson Jr as the CEO. Both gentleman are Air Force Veterans working in the cannabis space today.
VSL offers potency testing, moisture content, heavy metals, aerobic plate count, staph auerues, water activity, pesticides, coliforms/E Coli, yeast/mold, terpenes, residual solvents salmonella SPP, mycotoxins on hemp/cbd products. VSL also offers a line of fiber testing on hemp products.
Veterans Scientific Laboratories is located in San Antonio, Texas. For more information visit http://www.vetscilabs.com/ or contact them at 210-682-9883 or [email protected]


I think the regulated cannabis industry should only be the medicinal side, where patients want and require stricter manufacturing and…

Absolutely, we need to expand TCUP and provide folks with alternative natural therapy that actually works.

This is Dan Bowling, I think I am registered for the sky to soil solutions program for January 26th at…

[…] The Texas Green Machine – Texas Hemp Reporter Texas Hemp Reporter recently wrapped a new delivery vehicle for making…

This is the most in your face display of Corruption ever displayed by any of the states that issue licenses…